Can You Wear Underwire Bras During Pregnancy?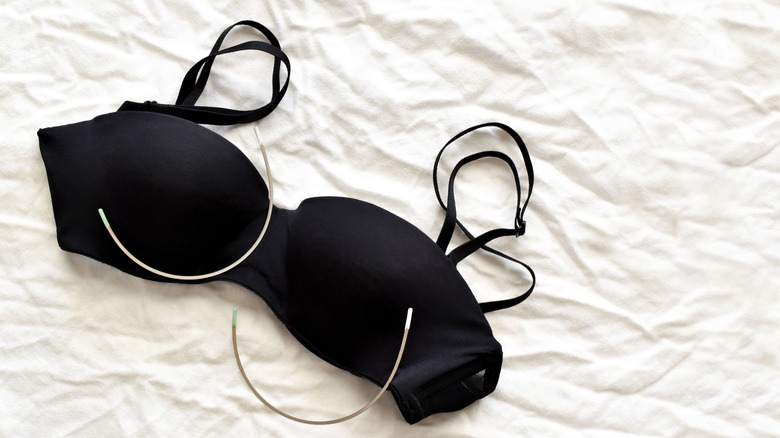 Maliflower73/Shutterstock
Pregnancy is a fun and exciting time for any parent-to-be. When there's a baby on the way, it changes so many aspects of your life as you prepare to welcome them to the world. While there's plenty of excitement to go around when it comes to these big changes — and of course a baby shower to plan! — there are also plenty of changes happening within your body. These changes that you undergo require you to adjust your routine to make things a little easier on you and the incoming baby. Even the foods you should eat as a breastfeeding mom differ from what you normally will eat.
It goes without saying that your wardrobe also takes a new turn during pregnancy. The maternity aisle has tons of options for all your pregnancy needs, including a range of bras meant to make you comfortable. These bras are often soft, flexible, and easy to get in and out of. However, some people don't wish to be confined to nursing bras. There are many who prefer pushup bras and bras with underwires that provide extra support. But is it really safe to wear underwire when you're pregnant?
Underwire bras are fine if checked regularly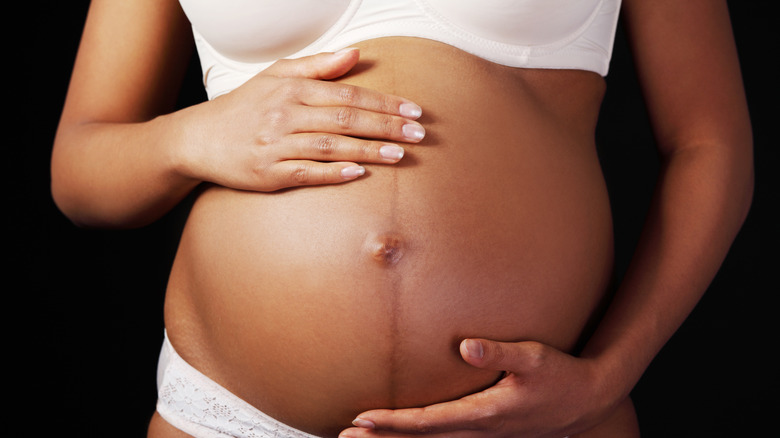 Agnieszka_m/Getty Images
Their name says it all: An underwire bra is a bra with a thin piece of wire threaded through the bottom cup area to give breasts an extra lift — and we adore them for it. However, we can't pretend they are the most comfortable bra. The wire, if exposed, can push into the breast tissue and cause discomfort. It can also give the chest a constricted feeling. For these reasons, you might be concerned that underwire bras aren't meant to be worn during pregnancy.
However, underwire bras are perfectly fine to be worn during pregnancy and even while breastfeeding. The National Childbirth Trust clarifies that the only requirement for pregnant and nursing people to wear an underwire bra is that it fits the breasts comfortably. Since your breasts can fluctuate in size when you are breastfeeding, you should check often to ensure your bra is comfortable throughout the day. An ill-fitting underwire bra could block the milk ducts and make it difficult for you to produce milk.
How to make underwire bras more comfortable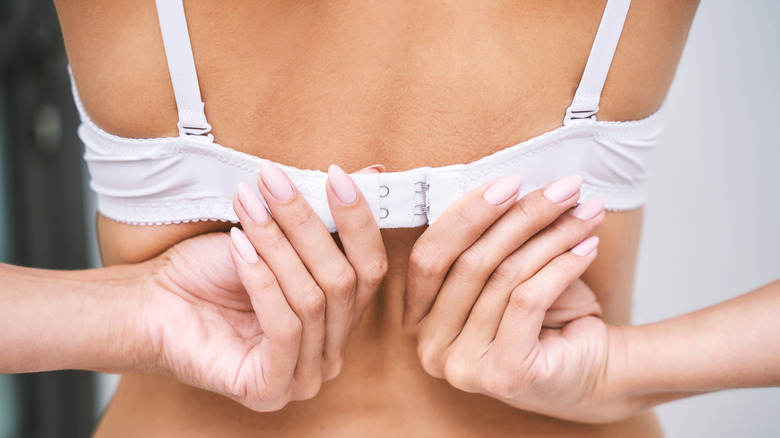 Elena Safonova/Getty Images
Your breasts go through many changes when you're pregnant. That's what can make finding the right underwire bra so difficult. It may fit you during the first few weeks, but as your body changes, you may be unable to hook the clasps together. Your bra may even start to feel too tight and even painful along your ribs where the underwire meets. This can make your purchase feel like a total waste.
Instead of buying a new bra, you should consider purchasing a bra extender or a bra extender kit. Bra extenders allow you to add a few extra inches of hooks to your back strap so that you can lengthen your bra to fit your changing body. The Hollywood Fashion Secrets Bra Extender Kit from Ulta has multiple tools included to help you customize your underwire bra to make it comfortable.
Of course, underwire bras are already uncomfortable for some people to wear, even if they're not pregnant. Pregnancy and breastfeeding tend to make breasts fuller and more sensitive, so it's advisable to give these bras a pass if you already didn't find them comfortable to begin with. Always stick with what works best for your individual needs.