Wedding Alterations: When Is The Right Time To Get Your Dress Tailored?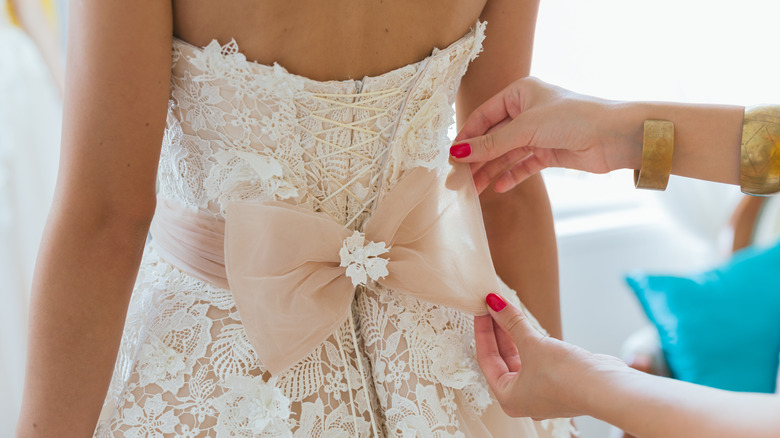 Dejan Dundjerski/Shutterstock
Your wedding day is supposed to be one of the happiest days of your life. Unfortunately, it's all those days leading up to the wedding that might give you pre-wedding anxiety, and feel a little less than happy. There are a million details to attend to — from where to get married and who to invite, to what to serve your guests, and what music to play.
Of course, for most brides, the biggest question of all is what to wear. There's no shortage of considerations when wedding dress shopping — and that's if you opt for a dress at all, as these days, a number of brides are instead opting for the wedding suit instead of a more traditional gown. But whatever it is that you choose to wear on your wedding day, the most important thing is that it feels like you.
And in order to find that perfect item that feels like you, you're going to want to give yourself plenty of time to do so. Your best bet is to start looking for a wedding dress as soon as possible – maybe not the literal second after you get engaged, but shortly thereafter. While some people might wait till a few months before the wedding, this might be cutting it too close, as you'll probably need a few months of research and shopping, particularly given what wedding dresses really cost. And you'll want plenty of lead time to get the dress altered as well.
Here's how far out from your wedding to get your dress altered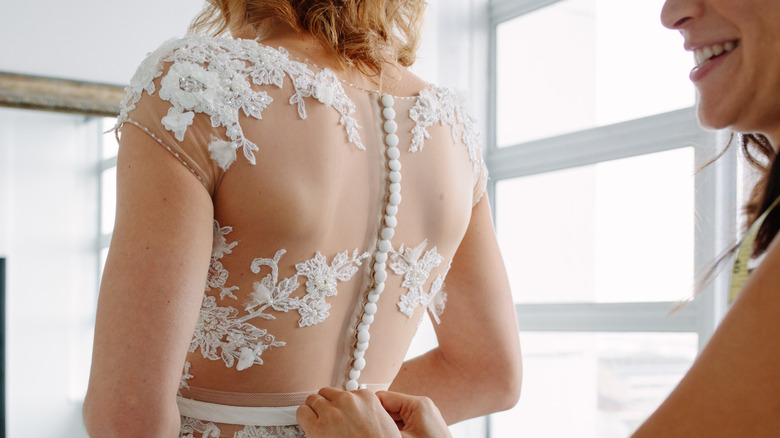 Jacoblund/Getty Images
As nice as it would be to walk into a bridal atelier and find that the dress you fell in love with fits you perfectly, this isn't the reality for most. The good news is, that's where a tailor comes in. Emily Erdly, owner of Lovely Bride Atlanta and Love Bride Charleston, told The Knot, "Common alterations include hemming (to adjust the skirt length of your dress), adding a bustle (to pin up your train for a night of dancing!), adjusting the length of straps [or] sleeves, and taking the dress in but also letting it out a bit (we've all been there!)."
You should get started on those alterations on your wedding dress three months out from the wedding — particularly if you know your tailor is booked and busy. Of course, the rush of post-pandemics doesn't help, either. "While prior to the pandemic we would generally suggest leaving a two-month window for alterations, we now recommend contacting your seamstress as soon as you have your gown to create the best game plan together," Erdly explained. "They will work backwards from your wedding date and provide a schedule for your alteration appointments. Depending on your timeline, some seamstresses can also accommodate rushes."
You'll want to set up three separate fittings with your tailor, to ensure that the dress fits perfectly and that all of the changes you'd like are made to your satisfaction.
Some alteration tips to consider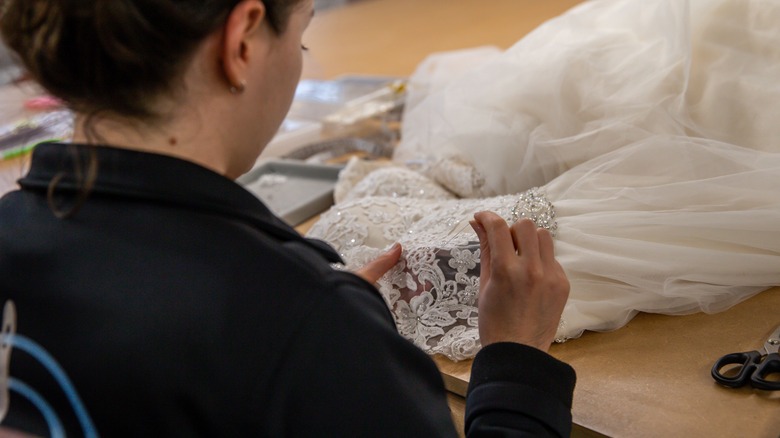 Huw Fairclough/Getty Images
When you go to your first (and second and third) wedding dress fittings, you're not going to want to show up empty-handed. To that end, you should have whatever undergarments you're going to wear on the big day picked out, as they can affect how a dress fits you. You'll also want to bring your shoes as well, so that together you and your tailor can choose the perfect length for your dress (or pantsuit, or skirtsuit, and so on).
"During the alteration process is when a bride can see and feel what she will look like on her wedding day," Tina Zimmerman, director of alterations at Kleinfeld told Brides.com. "Alterations ensure that a bride's wedding dress fits her perfectly, meets all of her specifications, and most importantly, makes her feel like her most beautiful self."
And bring along a friend or family member for moral support, while you're at it, to help you gauge any questions you may have about how the dress is fitting. But the most important thing ultimately is not to underestimate how much a good alteration can impact the final product. "You can splurge on a pricey dress," Terry Hall, former fashion director of Kleinfeld Bridal in New York City said, "but if it's not altered properly it won't look any better than a gown that's a tenth of the cost."