How Meghan Markle's Wardrobe Changed After Leaving The Royal Family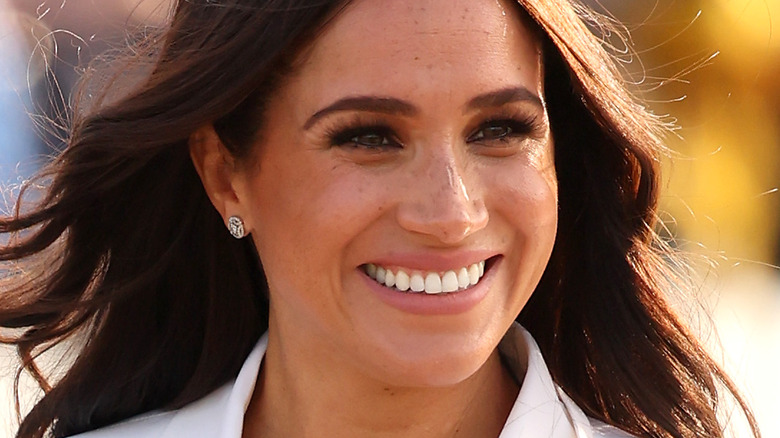 Chris Jackson/Getty Images
To say that Prince Harry and Meghan Markle's announcement that they were stepping back from their senior royal roles came as a shock is a huge understatement. Many of us knew that the couple was unhappy within the firm, and a number of contentions — including them separating from Prince William and Princess Catherine's press office — indicated that things were icy within the family, but withdrawing completely felt like a nuclear option. It wasn't until the couple sat down with Oprah Winfrey, and later recounted their experience in the Netflix docuseries, "Harry & Meghan," that the public really got a sense of how bad things had become. A complete lack of privacy, abusive members of the paparazzi at every turn, and the physical safety of their children all became issues that they had to face — not to mention the stale attitudes of some members of the royal family. From questions about their son Archie's skin tone to the stepping down of William's godmother due to racist comments she made — these examples alone display how dire things became for the now-California based royals.
Of course, Meghan specifically hit the headlines and was seen as the shiny new diamond in the royal crown. Though her sparkle dimmed during her time as an active member of the royal family, Meghan bounced back and emerged with a newfound sense of confidence and professionalism. Such a metamorphosis has been captured in her wardrobe and fashion moments, and since leaving the United Kingdom and the royal family as a whole, Meghan's closet has been better than ever. Let's take a look at Meghan's fashion evolution since leaving the royal family.
Meghan often wore neutrals while a member of the royal family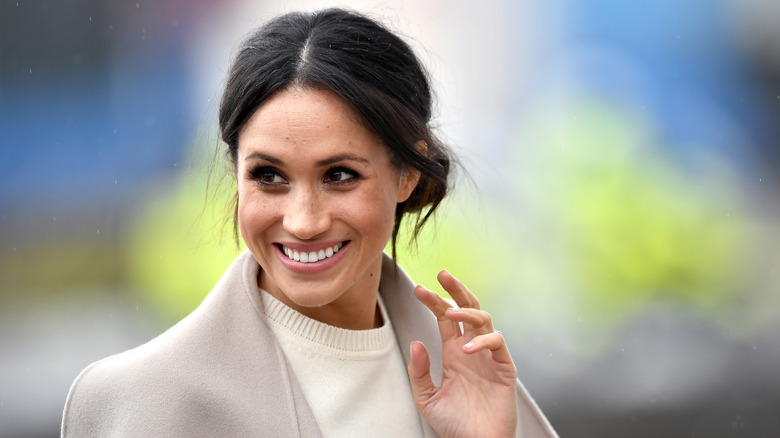 Charles Mcquillan/Getty Images
Just a cursory scroll through Meghan Markle's early months and years as a royal will show that she tried her best to not outshine any other family members. Of course, she is naturally stunning, so blending into the background isn't exactly the easiest thing for her to do. But, as she explained in the couple's Netflix docuseries, she did everything she could to play by the fashion rules and not draw too much attention to herself.
"Most of the time that I was in the U.K. I rarely wore color," Meghan explained. Her wardrobe at the time largely consisted of designs by Emilia Wickstead, neutral coats, toned-down silhouettes, and modest jewelry — it was all by design. "To my understanding, you can't ever wear the same color as Her Majesty if there's a group event, but then you also shouldn't be wearing the same color as one of the other, more senior members of the family," Meghan said in the docuseries. "So I wore a lot of muted tones," she continued, "but it also was so I could just blend in. Like, I'm not trying to stand out here. So there's no version of me joining this family and trying to not do everything I could to fit in. I don't want to embarrass the family."
It was clear when Meghan was kept out of the loop when it came to royal event dress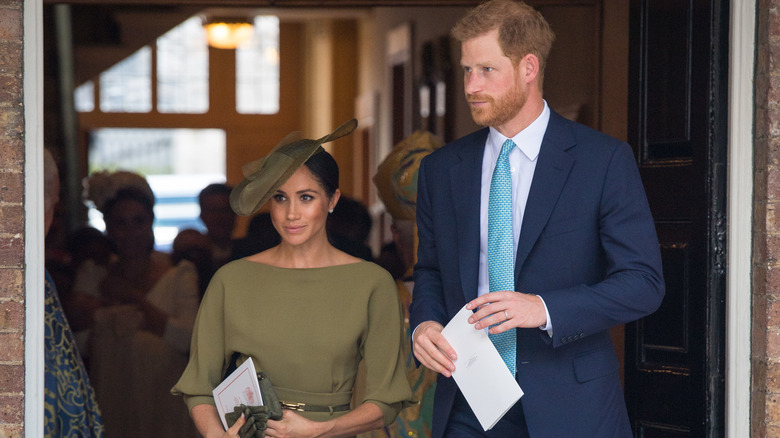 Wpa Pool/Getty Images
Though she hit the ground running as a member of the royal family with her stunning wedding gown and reception dress, it became clear that Meghan Markle wasn't always kept in the loop when it came to formal events. Any royal watcher will tell you that there is an unspoken rule when it comes to the royal wardrobe — the women of the family are often coordinated to some extent. Shortly before Meghan and Prince Harry got married, Prince William and Princess Catherine welcomed their third child, Prince Louis. By the time Meghan and Harry tied the knot and she had been named the Duchess of Sussex, it was time for Louis to be christened — if you are newer to royal traditions, the christening of a royal baby is a big deal.
Portraits are taken to encapsulate the moment, and Louis' christening pictures speak volumes to Meghan's exclusion. Catherine donned white, Camilla Parker Bowles wore cream, and Catherine's sister and mother both wore light blue. William's tie was blue, as was Harry's, and young Prince George and Princess Charlotte were also in light blue and white colors. Meghan, meanwhile, wore a gorgeous olive green Ralph Lauren dress for the occasion, but it became incredibly clear from the photos on the day in question that she was not looped in where it mattered.
When Harry and Meghan announced their exit from royal life, her wardrobe exploded in color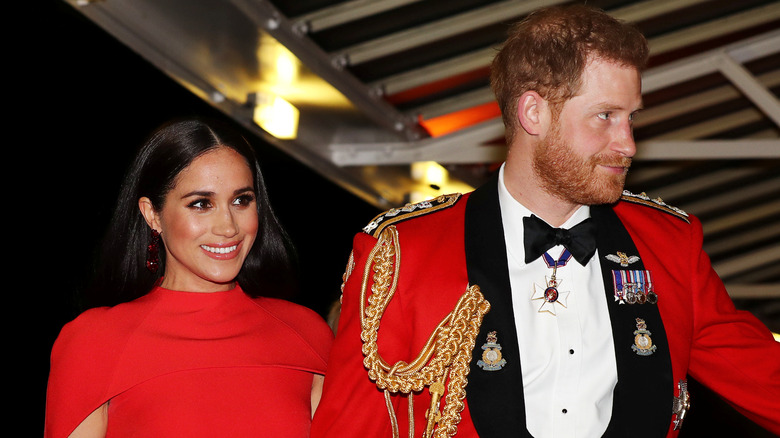 Wpa Pool/Getty Images
Meghan Markle's wardrobe while a working member of the royal family was strategic, but once it was announced that Meghan and Harry were stepping away from their positions within the royal family, Meghan's wardrobe exploded with color — she finally got to show the power and magnitude of her style without bowing to the firm's expectations. "I wore a lot of color that week," she said in the docuseries. "It just felt like, 'Well, let's just look like a rainbow.'" Harry added, "It was our opportunity to go out with a bang."
And go out with a bang they did. Meghan started the week with a gorgeous blue Victoria Beckham dress while attending the Endeavour Fund Awards, where she and Harry were pictured cuddled under an umbrella and donning incredible smiles. From there, she dazzled in a Safiyaa red cape dress at the Mountbatten Music Festival, and later in emerald green Emilia Wickstead for the Commonwealth Day service.
Meghan's COVID-19 wardrobe looked really similar to ours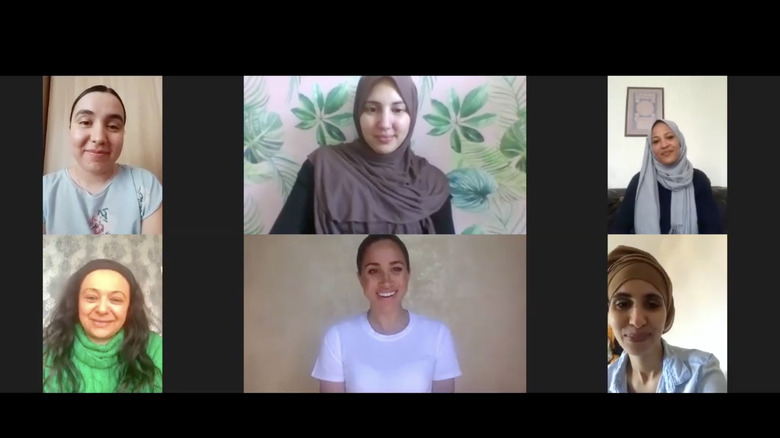 Hubb Community Kitchen
After leaving the U.K., Prince Harry and Meghan Markle were able to settle in Montecito, California, and soon thereafter, Meghan was back at work. As it was the height of the COVID-19 pandemic, Meghan and Harry's activism was confined to Zoom and video calls, but that didn't stop them from connecting with the causes that they worked with both in the U.K. and elsewhere. In her first video appearance since leaving Europe, Meghan joined the Hubb Community Kitchen for a virtual event in 2020, speaking to the work that they did together while she was still in London. A few years prior, moved by the women who gathered together in the aftermath of the Grenfell Tower fire in 2017, she teamed up with them to write, publish, and sell a cookbook.
"You showed up and you all had it in you and what was so great was back at that first day, and then however many visits later, and going, 'Yeah, we're just going to make a cookbook,'" Meghan said while chatting on-screen. What was equally as refreshing was her wardrobe choice for the appearance. The former senior royal didn't go all out, but rather joined the charity conversation in a white t-shirt, minimal makeup, with her hair slicked back into a bun.
The duchess opted for shorts at a charity event for the first time after leaving royal life
As Meghan Markle and Prince Harry carved out their space in the U.S., Meghan continued to share candid truths with the world. In November 2020, she bravely recounted a horrific experience she and Harry went through just months prior, revealing that she had suffered a miscarriage. "I felt a sharp cramp. I dropped to the floor with [Archie] in my arms, humming a lullaby to keep us both calm, the cheerful tune a stark contrast to my sense that something was not right. I knew, as I clutched my firstborn child, that I was losing my second," Meghan wrote in an opinion column for The New York Times – her spirit wounded, but not broken. Just a few short weeks later, Meghan and Harry were once again out volunteering for the community they had moved to just months earlier, and the duchess' outfit for the day showed that she was ready to roll up her sleeves and get to work.
The event was hosted by Baby2Baby, a Los Angeles-based nonprofit that helps children in need. Joining the organization for a drive-through event, Meghan and Harry handed out books, backpacks, school supplies, food, clothing, and more while masked up. Meghan rocked a casual outfit consisting of a button down shirt, green cargo shorts, and a pair of sneakers.
Meghan started to don what can only be described as her new professional 'uniform'
As the COVID-19 pandemic raged on, Meghan Markle still dedicated herself to different causes and organizations. Joining nonprofits through video chats and activists through one-on-one events, Meghan started to develop what can only be described as her new professional uniform. While chatting with women's rights activist Gloria Steinem for what was dubbed a "backyard chat," Meghan looked stunning in a white t-shirt and a pair of white and black striped pants. She kept her hair loose and looked effortlessly put together. She mimicked such a cool and collected look while joining Smart Works for a virtual event, wearing a white blazer and draping her hair to the side in a low ponytail. Telling the clients on the call that confidence is "the best accessory," Meghan clearly knew that her own confidence was shining through.
Making yet another appearance, this time with Fortune senior editor Ellen McGirt for Fortune's Most Powerful Women virtual summit, Meghan sported a blue and white striped button down, simple jewelry, and natural makeup. Speaking to the hurdles that the age of the internet presents, the duchess looked professional, poised, and ready to get to work. Though she made plenty of other appearances, Meghan stuck to a chic and powerful look — collared shirts, blocked colors, white hues, and natural makeup. She showed up for the work, and let her clothes speak for themselves.
Meghan started incorporating meaningful details into her wardrobe
As Meghan Markle and Prince Harry started to establish themselves in the U.S., they turned their attention to meaningful nonprofits and organizations to expand upon the work they had done in the U.K. As she was no longer under the constraints of the royal family and could start speaking out politically again, Meghan was quick to focus on feminism and women's rights as an issue, especially in the aftermath of the overturning of Roe v. Wade. During an interview with Gloria Steinem and Jessica Yellin for Vogue, Meghan further spoke about the ways in which feminism shaped her life, as well as the shocking Supreme Court overturning, saying, "We have to band together and not wallow." She went on to say, "What happens with our bodies is so deeply personal, which can also lead to silence and stigma, even though so many of us deal with personal health crises." 
As such, her decision to wear a "Woman Power" necklace, with all the proceeds going to Planned Parenthood, was not surprising. Meghan continued to wear pieces that carried meaning. In an on-camera appearance from her home, Meghan donned a t-shirt that read, "Raising The Future," designed by U.K. brand Mère Soeur. Her politics were certainly not hidden anymore.
Professional Meghan was on full display during the couple's New York trip in 2021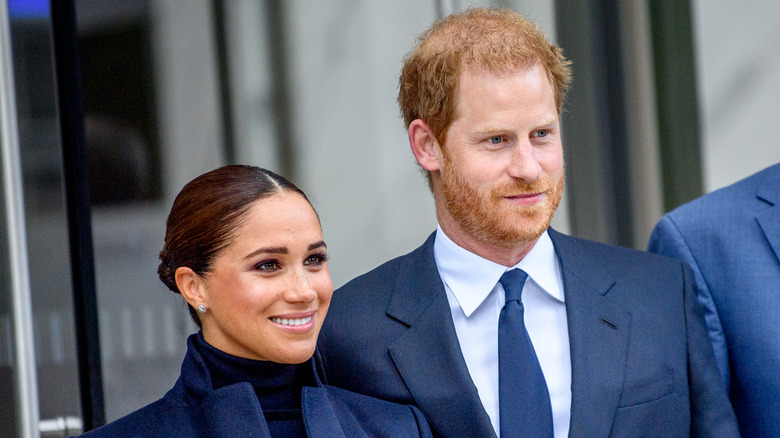 Roy Rochlin/Getty Images
In one of Meghan Markle and Prince Harry's first trips since relocating to California, the couple hopped on over to the Big Apple for the Global Citizen Live event. Naturally, the duchess pulled out all the fashion stops and presented watchers with a chic, professional wardrobe that was no fuss and all business. Meghan first stepped out in a camel coat from Max Mara (with the collar popped, we should add), a pair of oversized sunglasses by Valentino, and a Valextra handbag. Bringing her professionalism to the next level for her visit to the One World Observatory, Meghan wore a turtleneck from The Row, paired with a navy suit and coat from Georgio Armani, as well as Aquazzura heels.
When visiting Harlem during the trip, Meghan donned a bit more color with a Loro Piana oversized jacket with coordinated pants and Manolos. Incorporating hidden meaning into her look, Meghan sported Princess Diana's Cartier watch, and her own Cartier bracelet. For the actual Global Citizen Live event where she and Harry spoke about the importance of vaccine equity, Meghan wore a very '70s-inspired mini dress from Valentino, which featured a delicate beading at the hemline. She paired the look with a low ponytail and natural makeup, looking both chic and sophisticated. All in all, she gave a fashion masterclass that week.
Meghan's dress choice for a 2021 gala spoke volumes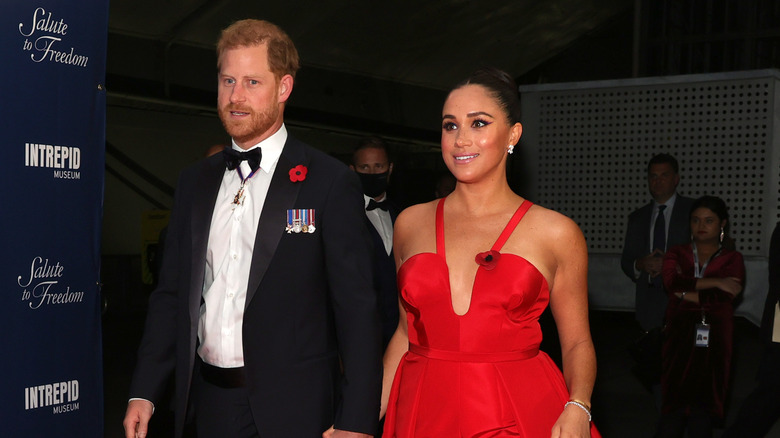 Dia Dipasupil/Getty Images
As Meghan Markle became more and more ingrained in life outside of the royal family, it became clear that she was ready to once again experiment with color and silhouettes. Though her and Prince Harry's public appearances were less frequent than when they were in the U.K., the interest in Meghan almost seemed to get more powerful with time. Attending the Salute To Freedom Gala, Meghan stunned in a custom Carolina Herrera gown, designed for her by Wes Gordon. Tossing royal protocol aside, the dress featured a plunging neckline and tight bodice, with the lower half of the gown cascading out into a full skirt and train. The crimson red color looked exceptional with the duchess's golden skin and dark brown hair, which she had slicked back for the occasion. Sticking to her traditional look, Meghan kept her makeup minimal and only added a pair of diamond stud earrings to her usual jewelry — her wedding ring and go-to bracelets.
If the red dress wasn't enough, Meghan added a pair of satin heels by Guiseppe Zanotti and strutted that carpet like it was a runway. Harry looked dapper in a navy tux by Giorgio Armani, and the pair held hands as they made their way into the event. Though she had rocked color before, Meghan's dress — its hue, the silhouette, the newfound sense of boldness — sent shockwaves through the fashion community.
The duchess looked amazing in this bold pantsuit in 2022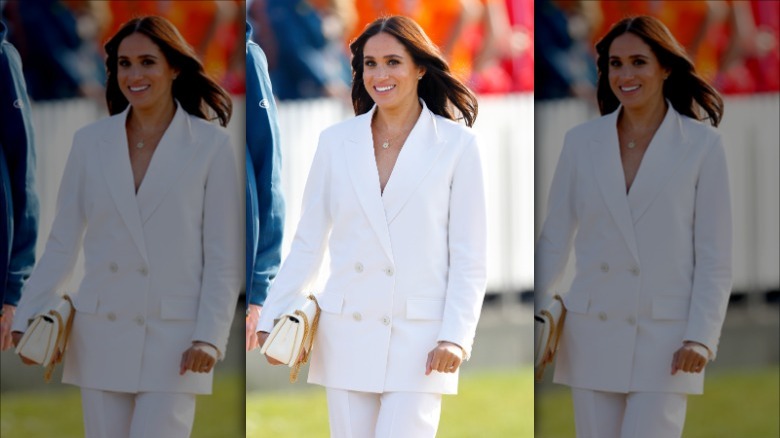 Max Mumby/indigo
Meghan Markle and white clothing is a love story that certainly seems to have no ending — it's a shade that is not only crisp and clean, but a bold statement that Meghan certainly seems to gravitate toward. Though we've seen her in white before, the duchess stepped out at the 2022 Invictus Games in the Netherlands in a striking look that we're still talking about today. She looked effortlessly chic and ready to take on just about anything. The outfit in question consisted of a Valentino suit jacket and pants that were tailored to the duchess with absolute precision. The jacket itself hit the oversized trend to a T, and its double-breasted cut was both trendy and classic. Meghan paired the look with a chain-strap bag — also from Valentino — and a pair of heels from Aquazzura. 
There was quite a lot of meaning in the jewelry she chose for the day, too. She wore her Cartier watch, as always, and a necklace from Sophie Lis. The necklace featured "+ qu'hier" and "- que demain" which translates to "more than yesterday" and "less than tomorrow," respectively. Perhaps her best accessory of the day was Meghan's shining smile — there is just something about this look that stands out, and the duchess looked like she was absolutely thriving.
Meghan looked powerful in red at the One Young World Summit in 2022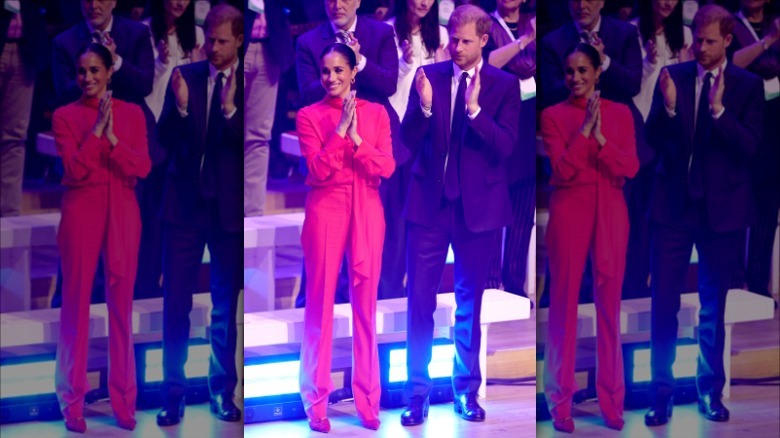 Chris Jackson/Getty Images
It seems as though Meghan Markle wears red during events of heightened importance, and her One Young World Summit appearance in 2022 was no exception. In her first speech in the U.K. since leaving, Meghan was back in the country where everything changed for her, and addressed the audience about the importance of stepping up to the plate. "We often hear people say 'The time is now,' but I'm going to double down on that, by saying your time is now," she said during the event. "The important work can't wait for tomorrow." In the wake of her speech, model and activist Halima Aden told People how much she connected with the duchess. "I loved her speech. It was the best kick off and it motivated everybody on stage," Aden expressed. "As a young Black woman myself I look up to her so much."
It wasn't just Meghan's speech that had people talking, either. For the event, the duchess chose a stunning red ensemble that featured a blouse with a tie at the neck and a coordinated pair of trousers. Making the look that much better, however, was the designer. The pieces were both from Another Tomorrow, a sustainable brand that uses recycled materials, offsets its carbon footprint, and invests its profits across philanthropic endeavors.
Meghan let her dress and jewelry do the talking at the Ripple of Hope Awards Gala in 2022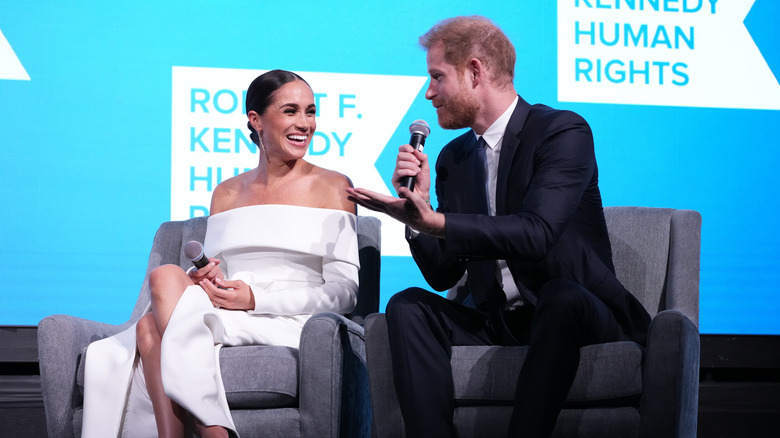 Kevin Mazur/Getty Images
Perhaps Meghan Markle's power through fashion truly exists in what designers she wears, what jewelry she chooses, and what colors she incorporates for high profile events. If anything, her wardrobe does more talking than she does, and her attendance at the Ripple of Hope Awards Gala in 2022 was no exception. Looking absolutely striking in a white Louis Vuitton dress with a powerful off the shoulder neckline, Meghan wowed with her slicked back hair and natural makeup, joining Prince Harry on the carpet for the event. Her jewelry for the night, as you may have guessed, spoke volumes about her life since leaving the royal family.
When then-Prince Charles and Diana Spencer got engaged, Diana chose an incredible diamond and sapphire engagement ring that now sits on Princess Catherine's hand. However, when Diana and Charles got divorced, Diana wasn't seen in the engagement ring anymore and instead replaced it with an aquamarine ring, dubbed her "freedom ring." As such, Meghan's decision to channel Princess Diana by wearing her ring at the 2022 event certainly did not go unnoticed, and it seemed to indicate that a new chapter was starting for her (if it hadn't already). Meghan paired the look with black heels and a pair of earrings from Carolina Herrera.