Kellie Pickler & Kyle Jacobs: Their Complete Relationship Timeline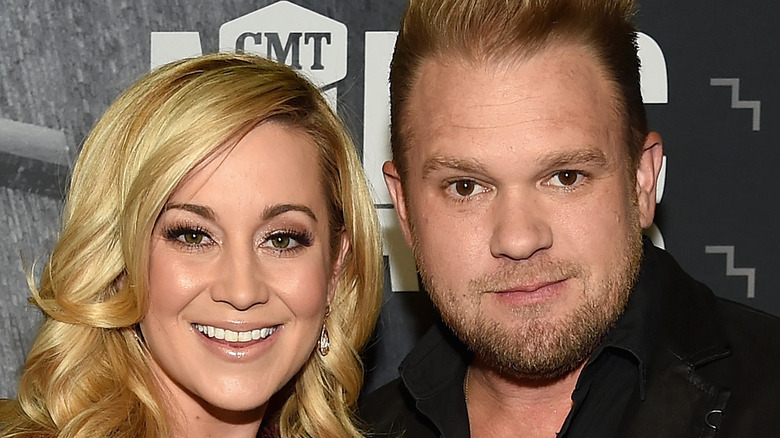 Rick Diamond/Getty Images
The following article contains references to suicide.
Country music fans were saddened by the death of songwriter Kyle Jacobs in February 2023; however, it's likely that no one felt the loss more acutely than Jacobs' wife, former "American Idol" contestant and country singer-songwriter Kellie Pickler. Pickler did not issue a public statement about her husband's death in the days that immediately followed, but the pair were happy to share their love from time to time over the years.
After the couple's fateful first meeting in the late 2000s, a relationship — both personal and professional — blossomed. Together, they wrote songs, participated in multiple USO tours, and even starred in a reality show, which ran for three seasons. However, their relationship — not their careers or television show — was the priority. "Whatever work is, if it ever gets in the way of our marriage then it gets in the way," Jacobs said back in 2015. "Our marriage comes first."
Take a look back at the timeline of Kellie Pickler and Kyle Jacobs' relationship.
The couple met at a bar in 2008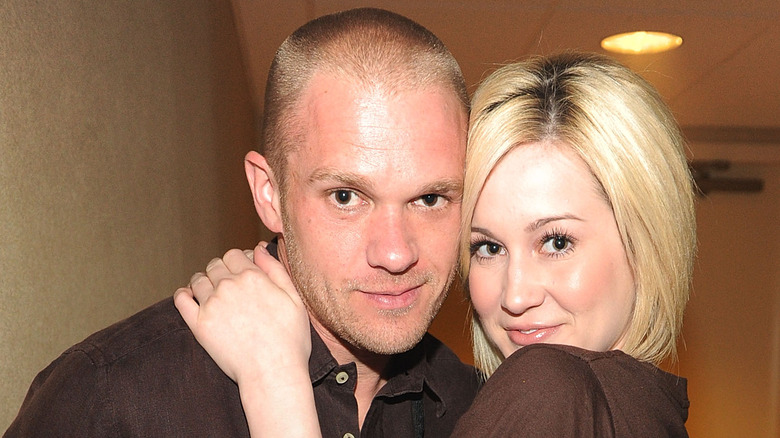 Rick Diamond/Getty Images
In 2008, Kellie Pickler was two years off of her incredible season of "American Idol," in which she made it to the top six. She decided to go out to a bar with friends — and it just so happened that her future husband was there.
In a 2015 appearance on The Real, Pickler recounted the story of how the two met. "I was out with a friend of ours — we had mutual friends ... — and I look across the room and I see this guy, Kyle," she explained. "I didn't know who he was or what he did. We just locked eyes and I went, 'I gotta know everything about this person.'" Luckily for Pickler, one of those mutual friends was able to make their introduction smooth. By the end of the night, the two only had eyes and ears for each other. Before long, they were dating. 
In addition to embarking on a romantic relationship, Pickler and Jacobs also began working together professionally. With his own successful career as a songwriter in Nashville, it only made sense that the two would begin to work on music together. Pickler's single "Feeling Tonight" was the first official release they shared.
Kellie Pickler and Kyle Jacobs got engaged in 2010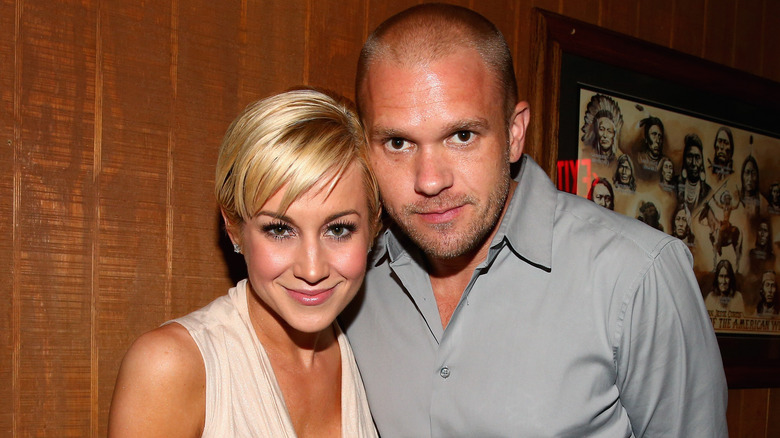 Christopher Polk/Getty Images
In the early years of their relationship, Kellie Pickler and Kyle Jacobs weren't the kind of celebrity couple that made sure their every move was tracked and photographed by paparrazi. In fact, the two didn't share much at all about their relationship with the public, clearly choosing to keep their personal lives exactly that. Nevertheless, they did make a major splash in 2010 when Pickler announced that she and Jacobs had gotten engaged — and she even opened up about what made the proposal so special. 
As Pickler explained to People at the time, Jacobs proposed on June 15, which was her late grandmother's birthday. The day had previously been a difficult one for Pickler and her family, but the proposal turned that around. As she put it, "It turned out to be the most amazing day of my life. My whole world changed. We both feel like we got my grandmother's blessing."
The singer also shared that Jacobs went above and beyond to make every part of the proposal count by setting up a blanket, bringing champagne, and lighting candles on the beach. As Jacob told the outlet, "Afterward, we just held each other and had the most beautiful prayer. We had a little champagne and talked and laughed and cried." Pickler told the publication that Jacobs performed a powerful act for her. As she said, "Kyle took away all my fear of marriage and has shown me the way love is supposed to be."
Kyle Jacobs' proposal involved more than a ring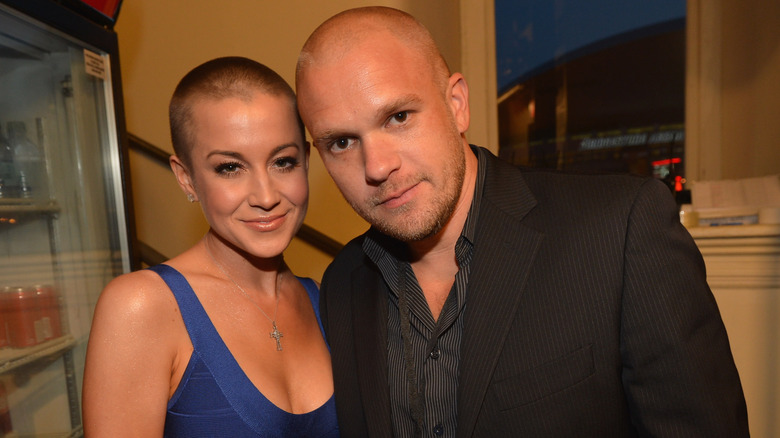 Rick Diamond/Getty Images
When Kellie Pickler and Kyle Jacobs got engaged back in 2010, they shared some details of what happened when Jacobs asked Pickler to say yes, but in 2017, Pickler opened up in a new way about the night in question. Pickler revealed that Jacobs had put even more effort into the proposal than she'd previously revealed. 
As Pickler told her audience on Instagram, "On that date in 2010, Kyle and I were in Rosemary Beach, FL on what he told me was just a 'vacation' ... That evening, after a romantic dinner, we took a sunset stroll on the beach ... Little did I know, he had secretly planted a small wooden box in the sand ... It looked like it had washed up from sea, but upon opening it, I found a true treasure." 
The inside of the box contained more than an engagement ring. Pickler went on to add that Jacobs had put together a journal that he'd written for her, a shell that had her grandmother's name on it, and, of course, the ring. She went on to add that even though the two have a wedding anniversary, they also chose to celebrate June 15 — her grandmother's birthday and the day they got engaged — together, too.
The pair married on New Year's Day in 2011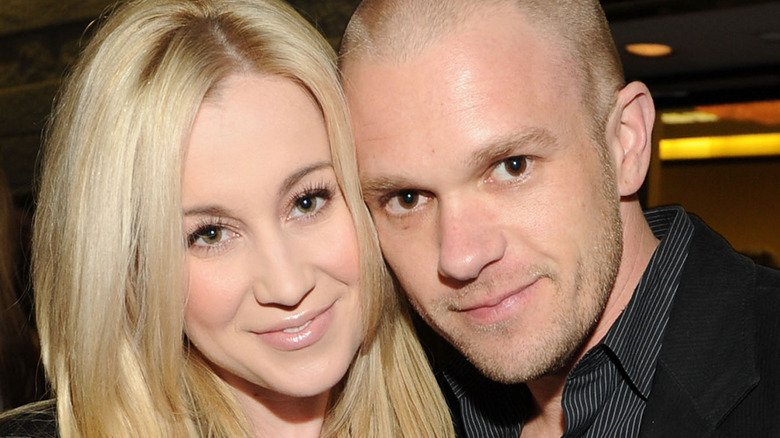 Rick Diamond/Getty Images
After getting engaged, Kellie Pickler and Kyle Jacobs began planning an elaborate wedding in Nashville, Tennessee. As the couple told People, they thought that the big wedding was what they wanted... but then they ended up eloping on the beach instead. As Pickler explained to the outlet, "When two people get married, it's not about the glamour. It's about the bride and groom and God."
Instead of marrying in Nasvhille, Pickler and Jacobs packed up and headed to the blue waters of Antigua to get hitched, with only their minister present. Following the news of Jacobs' death in 2023, the pair's wedding planner, Angela Proffitt, shared some of what it was like to put together their New Year's Day wedding. As she explained in a TikTok video, "There's not many weddings I've been part of where, spiritually, you felt like you were part of it. I've never planned a wedding in the middle of the ocean. The creativity and the thoughts — he was such a brilliant, creative, talented songwriter and singer." She continued, saying the wedding "really was magical."
The couple honeymooned in Baghdad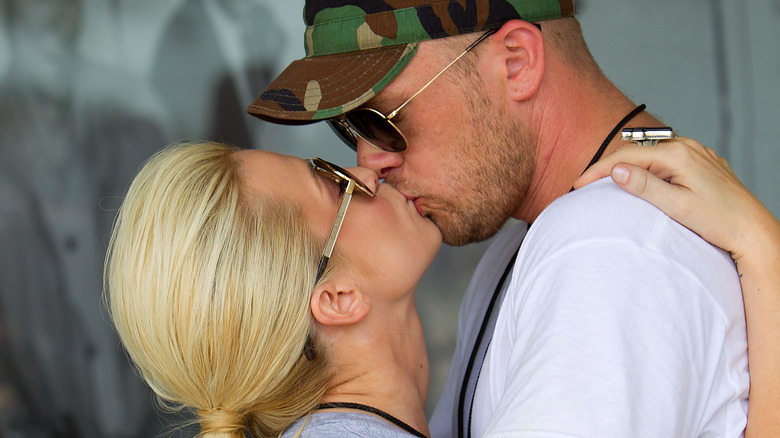 Michael Hickey/Getty Images
While plenty of couples might have used the opportunity to enjoy an extended honeymoon right at the beach after their oceanside-elopement in Antigua, Kellie Pickler and Kyle Jacobs jetted off to a pretty unlikely honeymoon destination: Baghdad, Iraq, where Pickler was performing for troops as part of a USO tour. She later told Parade that the trip was always part of their plan.
Pickler said, "It was so romantic! No, it was just that I had already committed to going over there and I wasn't going to cancel because that wouldn't have been right." She added that Jacobs really enjoyed the experience too, and shared, "It was such a great experience for him to be a part of. It's not every day that you get to be a part of something so big and so special."
Pickler also spoke about the decision to head to Iraq after getting married during an appearance on "The Kelly Clarkson Show" in 2019. She revealed that the soldiers enjoyed the couple's visit, and even participated in making the stay special. "All of the soldiers at each spot where we would stay at had a 'honeymoon' suite for us," she said. "It was the funniest thing."
Pickler and Jacobs' reality series debuted in 2015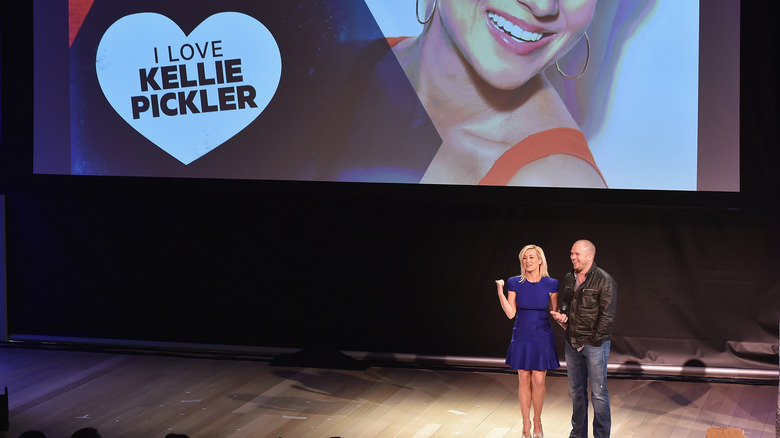 Larry Busacca/Getty Images
Kellie Pickler and Kyle Jacobs collaborated on more than music together. In 2015, the pair launched their reality series "I Love Kellie Pickler." Unlike some couples, friends, and families that seem to be torn apart by participation in a reality show or series, Pickler and Jacobs appeared to be happy with the three seasons that their show enjoyed.
Jacobs told Us Weekly that the dynamic portrayed in the show was very much the one that he and his wife had in real life. As he explained to the outlet, "It's kind of the crazy things that Kellie gets herself into, and I kind of have to get her out of it. It honestly is nothing but love and laughter ... we love our marriage, and our marriage is always No. 1. But one of our favorite things that we can do is laugh."
That definitely checks out based on how Pickler herself described the show to The Country Note ahead of the first season. As she shared, the couple was focused on keeping this light. She said, "It's all positive and all about our family and friends and our crazy adventures. We just want to be a bright light and make people laugh and feel good."
Pickler and Jacobs returned to Iraq in 2016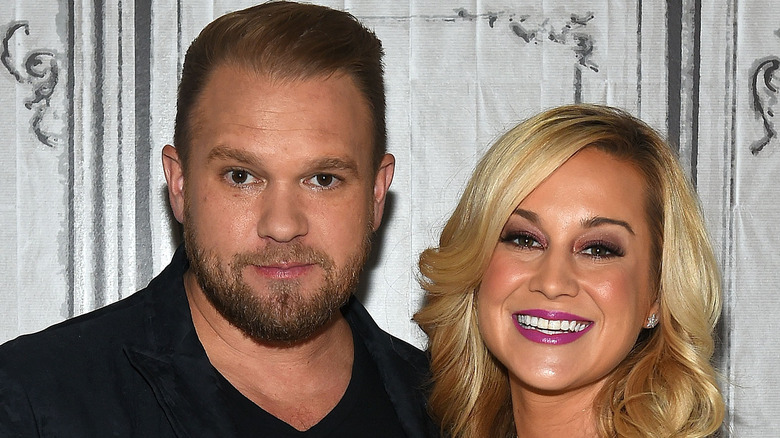 Ben Gabbe/Getty Images
A few years after launching their reality series, Kellie Pickler and Kyle Jacobs returned to the Middle East and again visited troops stationed in Baghdad, Iraq. The pair were part of a group led by Marine Corps General Joe Dunford and arrived on December 24, 2016. Pickler and Jacobs weren't the only celebrities who visited as part of the USO tour that Christmas Eve. They were joined by celebrity chef Robert Irvine and his wife, wrestler Gail Kim, and comedian Jeff Ross. 
This trip actually marked the 11th time that Pickler and Jacobs visited troops together, and Dunford expressed his appreciation for their visit, as well as the visits that everyone involved made. As he explained, the tours and associated performances really do a lot for the troops who are stationed overseas, particularly around especially emotional times of the year. "All of the USO shows have great people, and we appreciate them going out, but for the folks that came out this time, they gave up their family time over the holidays," Dunford said. "For them to do this is really special."
The CEO of the USO, J.D. Crouch II, told the U.S. Department of Defense that Pickler and Jacobs were immediately part of the team. He said, "They were on board from the start. Jeff, Robert and Gail also cleared their schedules in record time to be a part of this."
Pickler and Jacobs were dedicated dog parents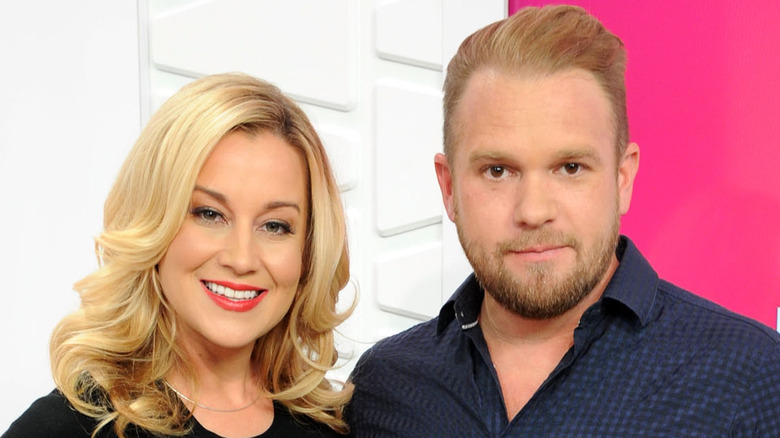 Craig Barritt/Getty Images
The pandemic had most people spending a lot more time than usual at home, especially during the early months of 2020, as the virus spread and so little was understood. As a result, plenty of people began thinking about a pretty important part of life — whether or not they wanted to have kids. As a public person who had already been married for some time, it's not too much of a surprise that Kellie Pickler was asked if she and Kyle Jacobs wanted to have children together, but her answer might have surprised a few fans.
When asked by Us Weekly if she had heard about the "quarantine baby boom," Pickler laughed and asked if the idea was "really a thing" before clarifying her position on having kids at the time. She said, "I love being Aunt Kellie and that is perfect for me." Pickler went on to add that she and Jacobs were happy as they could be as "dog parents" to their puppies. The couple were previously cat parents to a feline named Pickles, but Jacobs was unfortunately allergic. After finding out about Jacobs' cat allergy, Pickler found a new home for Pickles. She detailed to Us Weekly, "I still get a little teary-eyed when I think about Pickles, [but I'm] a people pleaser. I want everybody to be happy. I want everybody to like me and I want to like everybody."
Kyle Jacobs died in February 2023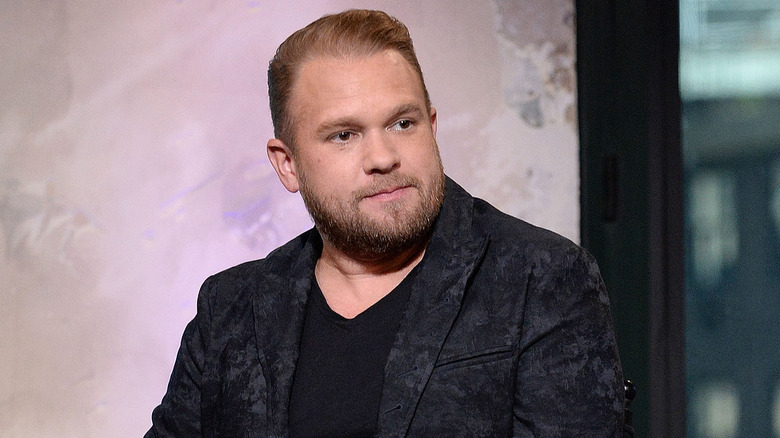 Ben Gabbe/Getty Images
Fans of Kellie Pickler and Kyle Jacobs were shocked when news of Jacobs' death broke in February 2023. As reported by Entertainment Weekly, Jacobs was 49 at the time of his death. Authorities in Nashville, including the police and fire department, were called to the home that Pickler and Jacobs shared in the middle of the afternoon. The Nashville Police Department later confirmed in a statement they found Jacobs "deceased from an apparent self-inflicted gunshot wound."
Pickler reportedly told authorities that she wasn't able to find her husband when she woke up. She enlisted the help of her assistant, and the two attempted to open a locked door to an upstairs office in her home. The assistant called 911 shortly after the pair realized they couldn't get in, and authorities were the ones who found Jacob deceased.
Jacobs had appeared to be in good spirits the day before his death. While celebrating the fact that "Hey World," a song Jacobs wrote that is performed by Lee Brice, had gone platinum, Jacobs shared on Instagram, "An amazing crew of incredibly talented peeps put this one together ... Deeply honored to be a creative part of it ... Thank you, Jesus!!!" Following the news of his death, fans and fellow musicians commented, expressing their love for the songwriter. "No words what so ever but I am so glad we got to chat the other day," singer and former "American Idol" contestant Dillon James wrote. "I'll be praying for you and your family bud. Thanks for all the laughs Kyle."
If you or anyone you know is having suicidal thoughts, please call the National Suicide Prevention Lifeline​ by dialing 988 or by calling 1-800-273-TALK (8255)​.