Prince Andrew Reportedly Refusing To Move Out Of Lavish Royal Estate Ahead Of Expected Budget Cuts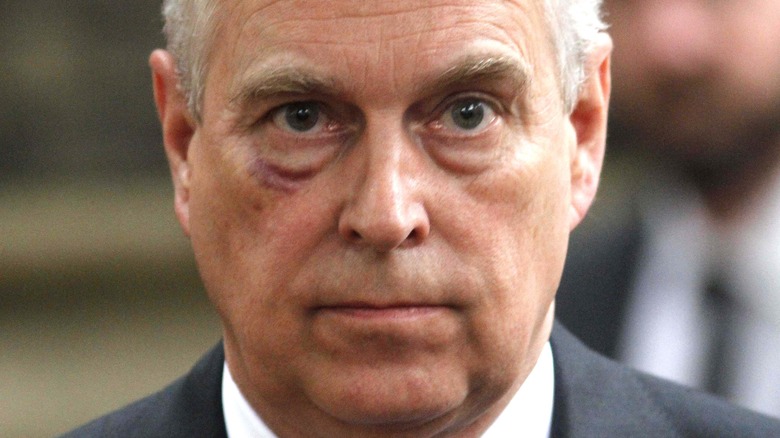 Wpa Pool/Getty Images
Queen Elizabeth II's son and the younger brother of Britain's current reigning monarch, King Charles III, has had a disastrous fall from grace. Prince Andrew lost all of his royal titles and military patronages while his mother was on the throne after a number of scandals broke surrounding his connections to disgraced businessman Jeffrey Epstein and his own assault allegations, which were settled out of court. 
Some royal experts believed there was a chance Andrew could get his titles back under his brother's rule, but several months into Charles' tenure as king, the Duke of York has yet to be awarded that luxury. Naturally, even diehard fans of the royal family do not want Andrew to have his titles given back to him. In fact, one royal expert predicted that Andrew will face yet another wave of scandals in 2023. 
While he has yet to find himself wrapped up in any new controversy this year thus far, the prince's current housing arrangement is rumored to be coming out from under him. Andrew is digging his heels in as budget cuts put his lavish estate at risk. 
Charles may kick Andrew out of his luxe mansion for this reason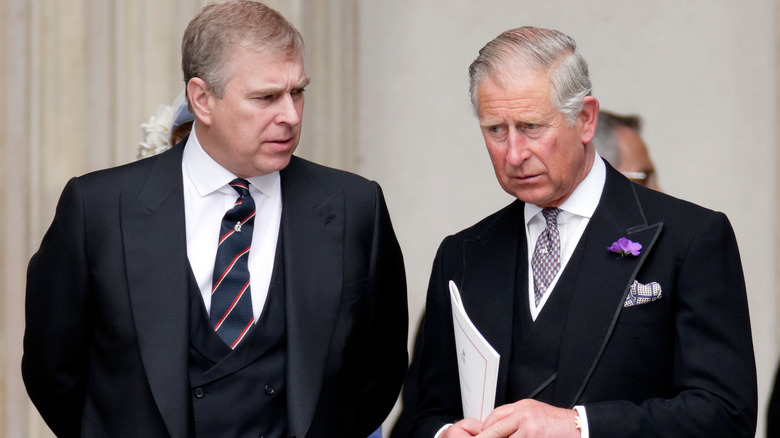 Max Mumby/indigo/Getty Images
Rumors are swirling that Prince Andrew's brother, King Charles III, is planning to kick the disgraced royal out of his lavish estate. Andrew has reportedly told close friends that he has no plans to leave the Royal Lodge, even if the king is planning to evict him, according to The Mirror. The mansion has a swimming pool and sits on an impressive 98 acres. Andrew signed a 75-year lease, but according to royal experts, Charles wants him out.
Richard Eden gave the lowdown on the situation on "Palace Confidential," explaining that it's not coming from a bad place. Rather, "King Charles wants to make savings ... He wants to make cuts. Basically, he doesn't want to make his brother homeless, there's no question of that. But Prince Andrew lives in, let's be frank, what is a palace, Royal Lodge is. It's huge."
Eden continued, "It would be unfair to kick him out, but apparently, it does need some improvements and I think what's clear is King Charles is saying 'I won't be giving you the money for that.'" It's worth noting the Duke of York has already put his own money into the property. It seems Charles wants Andrew out of the estate to make the much-needed repairs which, as Eden pointed out, isn't that unheard of even among us mere mortals.
The Duchess of York is committed to helping Prince Andrew
Max Mumby/indigo/Getty Images
Since signing the lease in 2003, Prince Andrew has agreed to pay a weekly £250 (close to $300) for Royal Lodge. On top of that, according to The Guardian, his annual security costs are in the millions, something which will be difficult to maintain once his allowance is cut. As the prince's financial situation grows increasingly dire, Andrew's ex-wife Sarah Ferguson, Duchess of York, will do what she can to support her ex-husband.
"Sarah is going to try and raise the money he needs," a friend told The Independent, adding, "She and the girls want to do all they can to keep Andrew where he is as it is seen as a significant loss of status for him to lose his home." The Duchess, who's lived in Royal Lodge with her ex-husband since 2004, will reportedly put her book earnings towards preserving the property. In the words of the Duchess's friend, "she is going to be the financial saviour of Prince Andrew." Only time will tell whether the pair will be allowed to stay in their 30-bedroom home — regardless, they won't leave happily.