Why It's Wise To Buy A Wedding Dress Bigger Than Your Size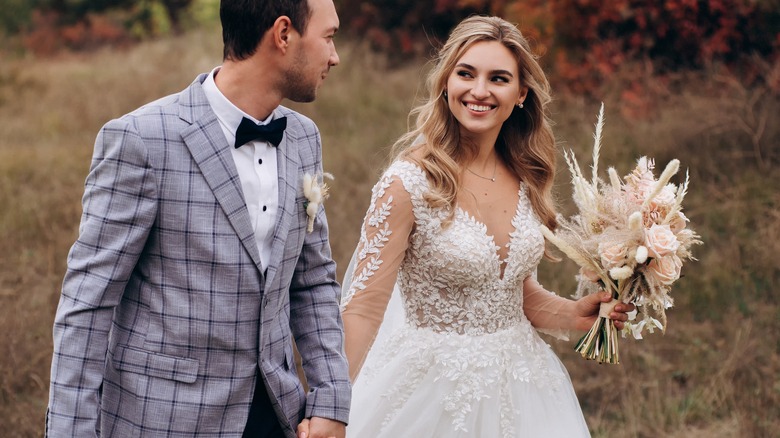 vladee/Shutterstock
One of the most exciting aspects of wedding planning is the dress-shopping process. Finding the perfect wedding dress is a big deal to many brides and can feel essential to the entire experience. Walking into a bridal salon for the first time and seeing the variety of beautiful options can be equally exhilarating and overwhelming.
Not only do you have to decide on the style of silhouette, but then there's the option of lace, jewels, silk, crepe, and all the accessories in between. Since dresses will fit each body differently based on the style and material that's used, once you narrow down the dress you want, picking the right size can be trickier than you may think.
Many people say you'll know your dress is "the one" once you try it. However, finally saying "yes" can be stressful for the indecisive brides out there. Most dresses in a bridal salon either fit a little too snugly or need to be clipped in the back because they're a larger size. It can be hard to truly imagine what each dress would look like if it was designed with your specific body in mind. Some brides may even consider buying a wedding dress online. However, since fittings will be necessary regardless, buying a larger wedding dress is the best option.
Alterations are your best friend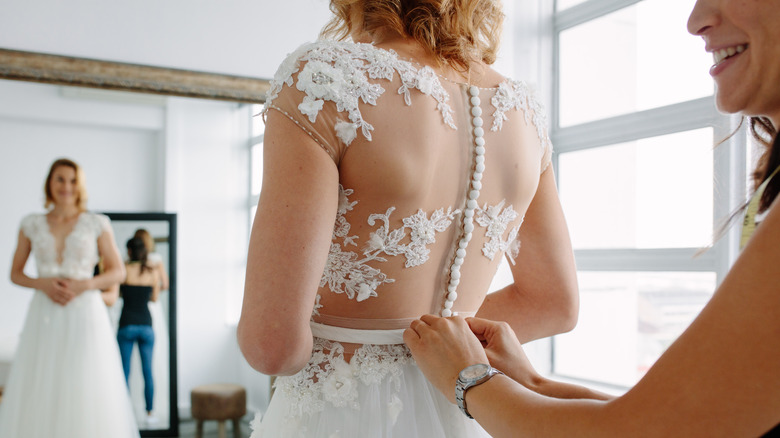 Jacoblund/Getty Images
Buying a dress that's a size too large can actually make the fittings easier and leave you with some extra material to work with. Regardless of how well your dress seems to fit when you first try it on, most brides require multiple dress fittings with alterations from a seamstress or fitter. Fashion experts emphasize the importance of this because splurging on a dress that isn't customized correctly will cheapen its appearance. Since alterations can get expensive, budgeting a few hundred to a thousand dollars for alterations will ensure you find the right price range for your dress. The truth is, the average cost of a wedding dress is higher than you might think.
While it can be triggering to talk about your wedding weight, it is an important part of the process, since wedding dresses typically need to be ordered over six months in advance. Some brides are adamant that they want to lose weight and believe ordering a smaller size will be the best motivation. However, this is never a good idea and may cause you to approach weight loss in the wrong way. Tailoring a larger dress to a smaller body is always easier than trying to make a smaller dress bigger. Gaining weight in the midst of all the wedding planning stress is always a possibility too. Therefore, ordering a size larger than what you measure during your initial bridal appointment is the safest option.
Look for certain styles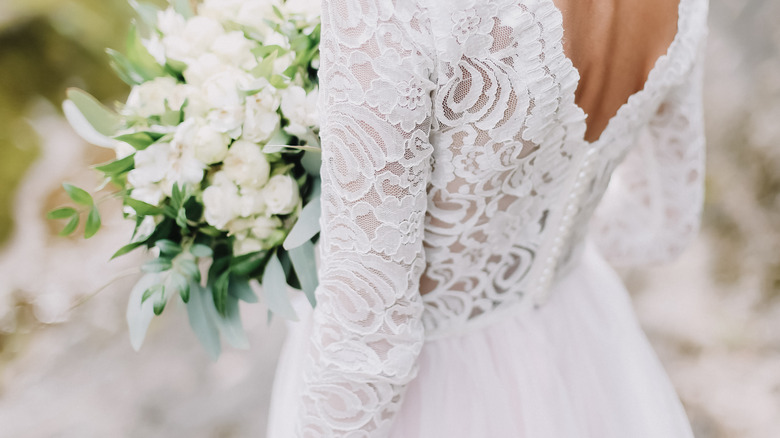 paralisart/Shutterstock
Matching a generic dress size to individual bodies with unique proportions is nearly impossible. A certain size may fit your waist but not your hips. A form-fitting dress may hug your butt perfectly but not have the right cup sizes. While this also points to the need for customizations, another option is to search for dresses that allow for fluctuation. Opting for an A-line or princess-style gown that naturally flows out or gets poofy will remove the need for specific measurements on the bottom half of the dress.
At the end of the day, the most important thing is that the bride feels beautiful and confident on her wedding day. While it may be easier to take in a larger dress, there is still the option of releasing some extra fabric or ordering more from the designer to make the dress a little bigger. However, this can be a stressful process, and increasing anxiety is the last thing a bride needs.
Luckily, having the luxury of time can make the entire process more relaxed. Therefore, starting the wedding dress shopping as early as possible is ideal.