The Closet Staple That's The Unsung Hero Of Any Cold-Weather Wardrobe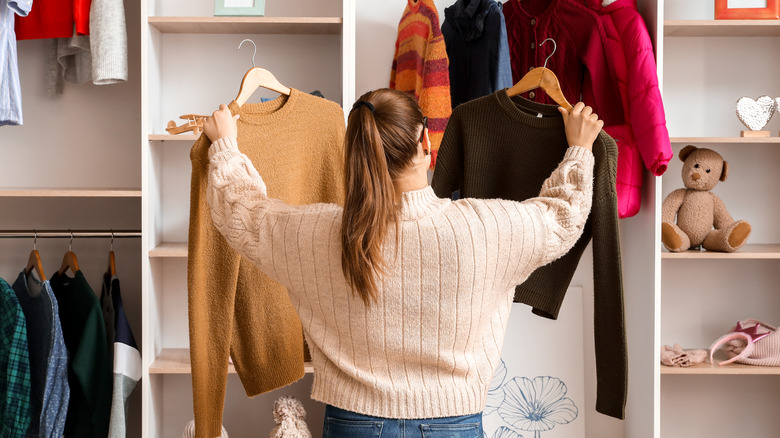 Pixel-Shot/Shutterstock
Unless you live close to the equator, wintertime means saying goodbye to the shorts, crop tops, and bathing suits that make summer special. That being said, cold weather fashion has its moments. "The chillier months naturally give us more options to play with when it comes to choosing what to wear for the day," argues Aerie's chief design officer, Andrea Jagaric, in a conversation with InStyle. If you're someone who counts down the degrees until it's officially sweater season, winter is your time to shine (despite the fewer hours of daylight, of course).
Though most cold-weather closet staples are thick and thermal — we're looking at you, puffer jackets — you can get a similar amount of warmth by cleverly layering. In fact, layering has become a trend in itself, just as much fashion as it is function. Influencers like Sara Camposarcone (@saracampz) and Benulus (@benulus) have championed the aesthetic on TikTok, using the cold weather season to explore maximalist fabric and color combinations. When assembling your cold-weather wardrobe, remember you can never go wrong with a turtleneck base. 
Turtlenecks make the best base for layering
Considering we lose a substantial amount of body heat through our necks, turtlenecks are a cold-weather must. Not only do they keep us insulated from unexpected windchill, but they're also the perfect base for layering — sometimes, crafting a cold-weather outfit means working with what you already have. For starters, wear a neutral-toned turtleneck underneath a button-down shirt, pairing the look with straight-leg jeans for a more casual vibe or a mini skirt and thermal leggings for a formal occasion. Don't be afraid to add another layer on top, preferably a chic oversized blazer. For inspiration, look to model and designer Alexa Chung. In a cold weather Instagram post, she boldly layers fabrics, starting with a turtleneck base before adding a denim jacket and a leather trench. 
Meanwhile, creator Ada Oguntodu isn't afraid to mix and match colors, wearing a white turtleneck underneath a checkered blazer and bright orange rain jacket. Turtlenecks can be informal when necessary and office-appropriate at a moment's notice — they'll even help you keep that favorite band tee in your winter rotation. Simply layer a turtleneck underneath for added warmth. 
Pair your summer dresses with a turtleneck
There's no need to box up your favorite summer dresses in storage over the winter season. Instead, stay warm by wearing them over a turtleneck shirt. For starters, contrast a black turtleneck with a brightly-colored warm weather slip. Or, like @bixbop on TikTok, accentuate dramatic puffy sleeves with a form-fitting base. Add extra coverage to a trending sheer dress with a neutral-toned turtleneck layer — for starters; you can't go wrong with a Skims figure-hugging mock neck bodysuit. 
Next, you'll need to invest in thermal leggings to protect your legs from the cold. Alternatively, if you're feeling adventurous, channel Y2k fashion and wear pants underneath your dress. If recent runways are any indication, the 2020s will see a resurgence of this infamous early 2000s Disney star aesthetic. The bottom line? "Wear as many layers as you like and don't care what anyone else says," Wanyi Jiang, the global creative director of Amyris, tells The Zoe Report, adding, "Start with a thin layer and go bigger."