General Hospital's Katelyn MacMullen Opens Up About Willow's Cancer Journey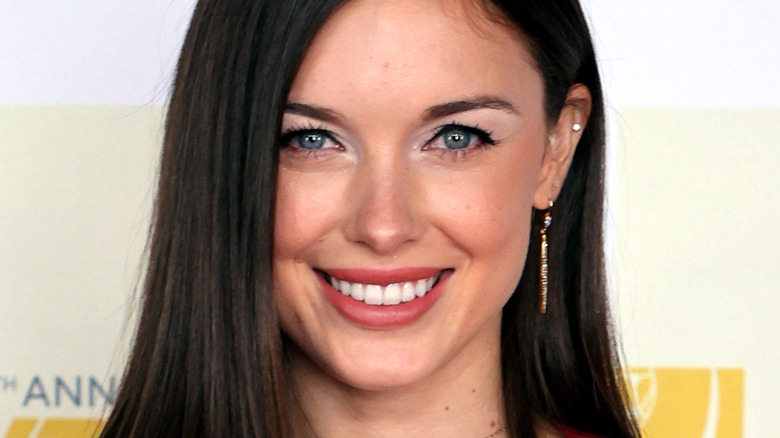 Kevin Winter/Getty Images
The choice Willow Tait (Katelyn MacMullen) made to conceal her leukemia diagnosis on "General Hospital" made fans furious. The pregnant woman also prolonged her cancer treatment until the third trimester, thus ensuring the baby's safety. Willow eventually did give birth and the show's choice to use a much older baby to portray the newborn amused the fans. However, Willow had no idea that her rival, Nina Reeves (Cynthia Watros) was her mother, but when the secret came out, Nina was sadly not a viable bone marrow donor. Baby Amelia's stem cells — via its leftover umbilical cord and placental material — were also not enough to save Willow's life. 
It's been a long journey for Willow and her cancer diagnosis, and Nina's paramour, Sonny Corinthos (Maurice Benard), has been lobbying for someone to help Willow connect with her birth mother in what appears to be Willow's final days on Earth. She's repeatedly refused to engage Nina in any way. Sonny's son, Michael Corinthos (Chad Duell), is also Willow's husband, but he's been estranged from his father because Sonny fell for Nina when he had amnesia and chose to stay with her. Sonny is furious that Michael also refuses to ask Willow to connect with her mother. The race to find a possible donor is seemingly over, and Willow's days are numbered.
Amid the storyline, MacMullen recently shared her thoughts on Willow's progression.
Katelyn MacMullen is shocked to be part of such a long-running show
ABC7 interviewed Katelyn MacMullen about her "General Hospital" character Willow Tait's cancer journey. "It is such an honor. It's something that is incredibly important to me," she stated, further explaining that she's met people whose lives have been saved by bone marrow donors. She added, "It's an incredible honor to be a part of this story." When asked about what could happen between Willow and her biological mother Nina Reeves, MacMullen stated that given the characters' turbulent relationship, "Anything is possible."
MacMullen addressed the fact that Willow and Michael Corinthos are planning to get married, explaining, "Honestly, we don't even know if the wedding will happen. We have to see what happens with Willow's state of health, and I'm truly excited because I have no idea what's going to happen so I'm always excited to see how it's all going to unfold." 
Considering "GH" is nearing its 60th anniversary, MacMullen said, "I feel so grateful to have joined such an amazing cast and an amazing show. 60 years is such an incredible, incredible victory, I mean we are the longest running show currently on air, so, I mean to be a part of that is...I never could have imagined it. I love this show." MacMullen expressed her shock that she's able to be part of "GH," and we're glad she is!