The Bold And The Beautiful's Katherine Kelly Lang Talks Brooke's New Romance With A Younger Man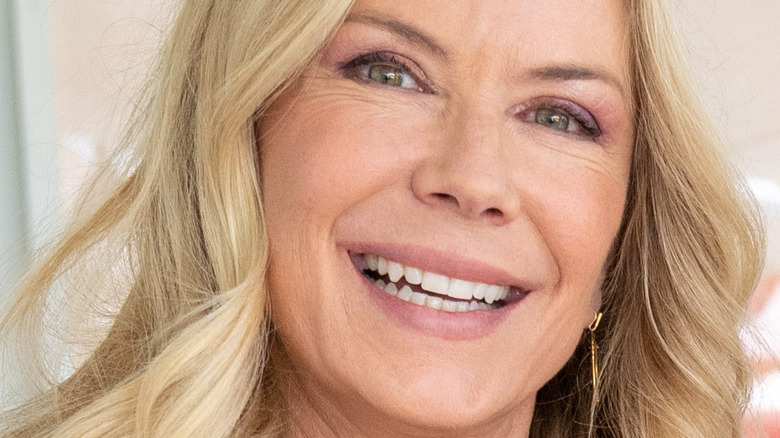 Daniele Venturelli/Getty Images
In an unexpected turn of events, Brooke Logan (Katherine Kelly Lang) and Taylor Hayes (Krista Allen) suddenly formed an unexpected friendship, leaving "The Bold and the Beautiful" fans stunned. The two had been rivals for years, constantly vying for the love of Ridge Forrester (Ronn Moss and later, Thorsten Kaye), and both recently made a big move by rejecting him. Once Brooke and Taylor freed themselves from the silly struggle over Ridge, they became fast friends. Taylor even became a matchmaker for Brooke, in light of their newfound freedom from Ridge.
The new besties had lunch at Deacon Sharpe's (Sean Kanan) restaurant Il Giardino, with Dean telling waiter Paul Hollister (Hollis W. Chambers) to ensure the two women had a wonderful meal. Paul explained that his friends called him "Hollis," and it was very clear that he had eyes for Brooke. He even slyly got her phone number on the pretense that his cash register couldn't print out the receipt and he would need to text it to her. An unwitting Brooke gladly gave Hollis her number, while Taylor couldn't help but notice the young man's attraction to her friend. The next day, Taylor later ordered lunch from the restaurant, asking that Hollis be the one to deliver it so that he and Brooke would meet again. The brazen server brought the food and asked Brooke to have dinner with him.
Lang recently discussed Brooke's potential new relationship.
Lang is enjoying Brooke's possible new love interest
When Brooke gave her number to waiter Hollis on "The Bold and the Beautiful," he responded not only with the receipt but also included an emoji that befuddled her. Taylor looked its meaning up and the two had a laugh. There was clearly a lot of flirting going on! The actress who plays Brooke, Katherine Kelly Lang, posted her excitement at her character's potential new love interest on Twitter, writing, "So much fun for Brooke to have a friend!" Her post was a response to a fan's tweet, which said "Brooke & Taylor googling what certain emojis mean had me hysterically laughing!"
Another viewer posted, "Brooke should text Hollis the waiter back. Nothing wrong with having a good time," to which Lang responded with a laugh and thumbs-up emoji. One follower wrote, "It's fun to see Brooke smile and laugh. Kelly, All that crying isn't good for Brooke, or you!" However, a viewer did not like the age gap between Brooke and Hollis, posting, "Please stop making the Brooke character so classless. That boy is only a few years older than Douglas." Douglas, of course, is the young child on "B&B" portrayed by Henry Joseph Samiri. Another viewer responded to the Douglas remark, posting, "Lol! Well, he (Hollis) is actually 34. He is a man."
Michael Fairman TV also tweeted, "THE BOLD AND THE BEAUTIFUL: Brooke's Date with Hollis Gets Underway...How Do You Think It Will Turn Out?" One fan responded with, "The Date will be Super Cute," and we agree!