The Trendy Yet Warm Way To Style A Silk Scarf In Cold Weather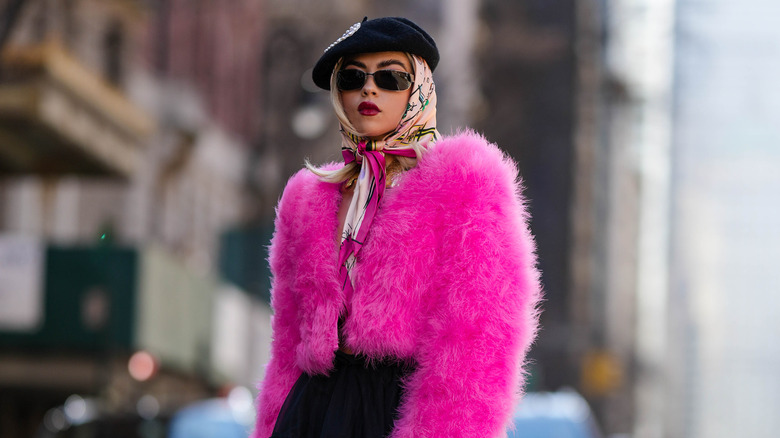 Edward Berthelot/Getty Images
Versatile accessories are a fashionista's best friend. We're talking about long chains you can wear as belts or necklaces and even clips you can style as brooches or hairpins. Our favorite multifaceted accessory is the silk scarf. And while the look might have you thinking of old-school flight attendants, it's actually a super trendy must-have. There are chic and simple hairstyles that only require a silk scarf, but it can be worn as a top too.
The lightweight fabric is effortlessly elegant and turns any outfit into a high-fashion ensemble. Fashion icon Audrey Hepburn was even a silk scarf lover. As Vogue shares, the Hollywood legend once said, "When I wear a silk scarf, I never feel so definitely like a woman, a beautiful woman." Silk might not be the warmest material, but you don't have to put away this satin accessory during the colder months. Channel your inner Hepburn and discover the trendy way to sport a silk scarf in the winter.
Wear your silk scarf around your neck to break the wind
The key to wearing your silk scarf in the winter is warmth and style. Dressing it as a collar kills two birds with one stone. Wrap your silk scarf like you were styling it as a headband, but instead of tying it around your hair, secure it around your neck. This manner functions as a windbreaker. It will limit cold air from traveling down your shirt. Plus, it won't be bulky like typical knitted scarves or turtlenecks. You can maintain a sleek look while still layering for warmth.
Learning how to tie various knots for securing the silk scarf will lend different aesthetics to your outfit. The classic knot offers a regal look, while a simple loop tie is soft and casual. Or, you could opt to tie your knot at the back. This design will turn your silk scarf into a sleek choker, and you'll still get the benefit of wind protection. However, there are plenty of other ways to style your slick silk.
Turn your scarf into a belt or bag accessory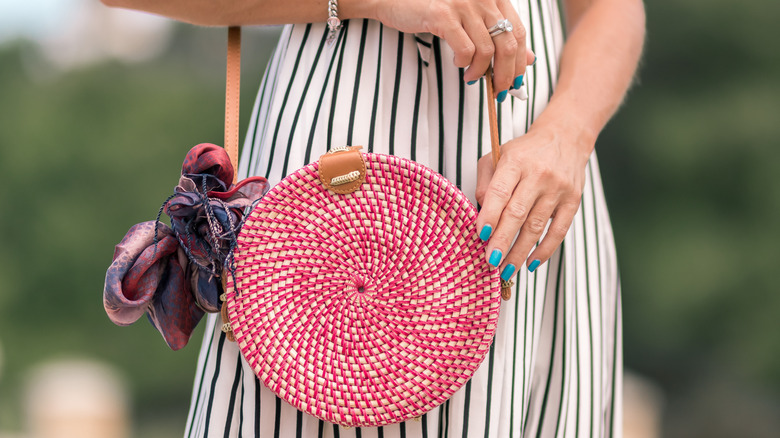 Artem Beliaikin/Shutterstock
The silk scarf is brilliant because of its versatility. Popular ways to wear it include as a head tie and a neck scarf, but it can be transformed into something entirely different. How about as a belt? Your silk bandana can be worn around your waist or hip to bring a touch of softness and style. Patterned scarves create more dimension within an outfit, but the small accessory won't be overpowering. The satin material is another perk. It has a rich and feminine quality that elevates any ensemble. Use it to add flair to your little black dress or give your mom jeans a youthful twist.
Your satin scarf isn't just an accessory for you — it can dress up your bag too. A simple purse will look like luxury fashion when you tie on a silk scarf. Social media is flooded with DIY silk scarf hacks to step up your bag game. You can wrap your scarf around the handles, create a bow on the strap, or braid the scarf for even more detailing. Whether it's protecting you from the wind or spicing up your outfits, you can't go wrong with this look.