The DIY Silk Scarf Hacks Taking Over TikTok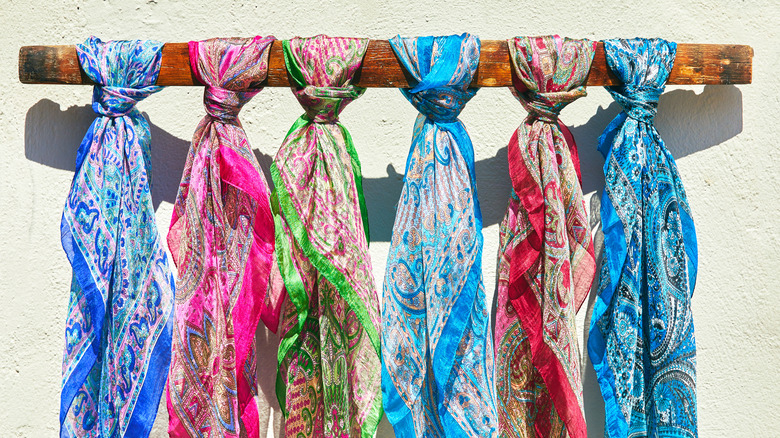 Shutterstock
You learn something new from the University of TikTok every day, and without the crippling student debt. The social app is a treasure trove of Vine-quality videos and choreographed dances, but it's also stocked with a steady stream of educational videos that range from explainers on "how taxes actually work" to helping you find the perfect foundation shade. On #FashionTok, designers and hobbyists alike tackle the genre of baggy dresses transitioning into fitted crop tops. And if you want a wardrobe refresher or just some inspiration, these are the ones to look out for.
A DIY styling hack that is making rounds on TikTok right now is the magical transformer silk scarf. The scarf is no longer an accessory that sits quiet around your neck; users are creating stunning outfits with silk scarves repurposed as bandana tops or statement crop tops. With temperatures soaring outside, this hack made it onto our timelines at the right time.
Tie your scarf into a cute top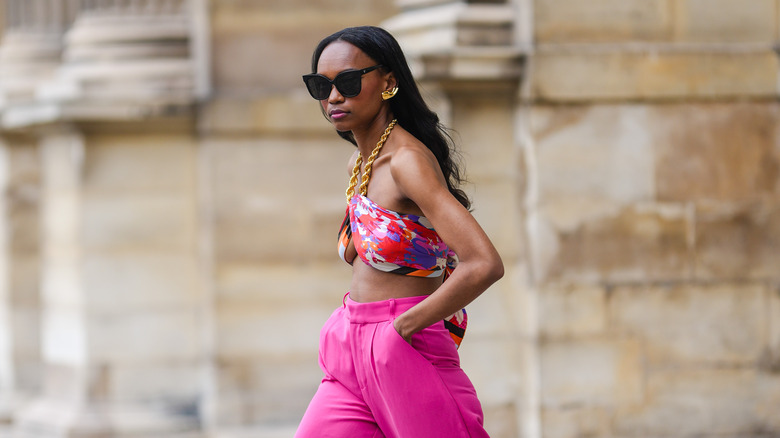 Edward Berthelot/Getty Images
Making its way into the mainstream, #Scarftop has 50 million views on TikTok right now. One of the easiest ways to participate is to check out tutorials like this one, where Carolinafreixa folds her silk scarf in half and creates two effortless looks with strategically tied knots. To up the glam ante, you can incorporate a chunky chain-link necklace into the outfit, creating a halter top that easily transitions from day to night. TikTok user Jessica De Oliveira gives us a thorough walkthrough of the look in this video.
Reminiscent of the Y2K (Year 2000) aesthetic, this Destiny Child's Beyoncé-flavored top is only a few of the trends making a nostalgic comeback in 2021 (via Cosmopolitan). Pair the look with low-rise jeans, tinted sunglasses and bubblegum pink lipstick for an Elle Woods summoning, or a chunky headband as a tribute to Blair Waldorf. You can also pair it with another fashion essential of the early aughts — the tank top, but upcycle it as a skirt (via TikTok). The scarves buried in your closet will thank you.