General Hospital Star Rebecca Herbst Explains Why Willow And Esme's Newborns Have To Be So Big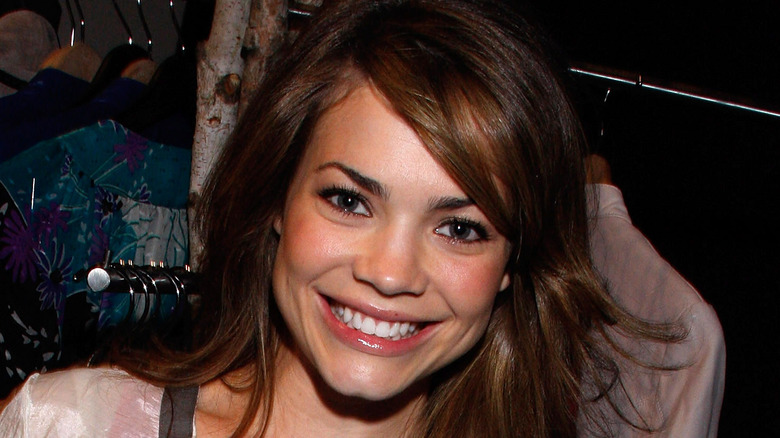 Angela Weiss/Getty Images
Two pregnancy storylines have both recently come to a head on "General Hospital." Willow Tait (Katelyn MacMullen) ran into some troubles when she became pregnant with Michael Corinthos' (Chad Duell) child and learned she had leukemia. She delayed treatment and successfully gave birth to a healthy baby girl named Amelia, via C-Section. Fans had a field day ribbing the show because they were amused that the tiny actor was much larger than a baby they're used to seeing cast as a newborn.
Meanwhile, the villainous Esme Prince (Avery Pohl) seduced Nikolas Cassadine (then Marcus Coloma) into sleeping with her, getting pregnant as well. Nikolas had captured and imprisoned her with plans to take the child once it was born. Nurse Elizabeth Webber Baldwin (Rebecca Herbst) reluctantly helped care for Esme until she managed to escape from Spoon Island. Esme showed up on shore in Port Charles with no memory of anything in her life. After being remanded to the Spring Ridge sanitarium while the authorities tried to figure out how to prosecute the amnesiac girl for her many evil deeds, her parents, Heather Webber (Alley Mills) and Ryan Chamberlain (Jon Lindstrom), grabbed Esme, making a daring escape and killing a guard along the way. Eventually, the villains were subdued and Esme gave birth to a baby boy she named Ace. Fans noticed that the little Ace was also much larger than a real newborn, and were once again all over social media about it.
Rebecca Herbst answers the fans' questions about baby actors on General Hospital
A "General Hospital" fan posted a screenshot of Esme Prince's dream where Heather tries to take her cute newborn, gushing, "Omg Esme's baby is ADORABLE. #GH Such a chubby cutie. The rolls. He's smiling (at) Grandma Heather." Fans quickly pointed out the newborn's size, with one responding, "He's ready for little league! They have to be kidding with the size of these babies." Another viewer noted, "Now unless you want Frank (Valentini, executive producer) to hire baby dolls as stand ins, you know babies have to be a certain age to be on a set right?"
"GH" actress Rebecca Herbst (Elizabeth Webber Baldwin) responded to the post, explaining, "Just to confirm what you're saying ... the rules have changed since COVID. #GH is no longer comfortable having infants under the age of 3 months on set. I know it's hard to look past a ginormous newborn, but I applaud #GH for this decision. And we got Baby Ace out of it ... a win/win!" Herbst then posted another Tweet, writing, "Let's not forget about Baby Amelia! #GH hit the jackpot of cuteness with Ace & Amelia!" One viewer jokingly posed the question, "How soon before Ace and Amelia date?" Fans agreed with one adding, "You know it will happen!! Perfect soapiness!"
The fan love and jesting continued as one viewer remarked, "Remember considering how aging happens in soaps, Ace will be in kindergarten in 2 years. Lol!"