The Two Hollywood Stars Who Just Became King Charles And Queen Camilla's New Neighbors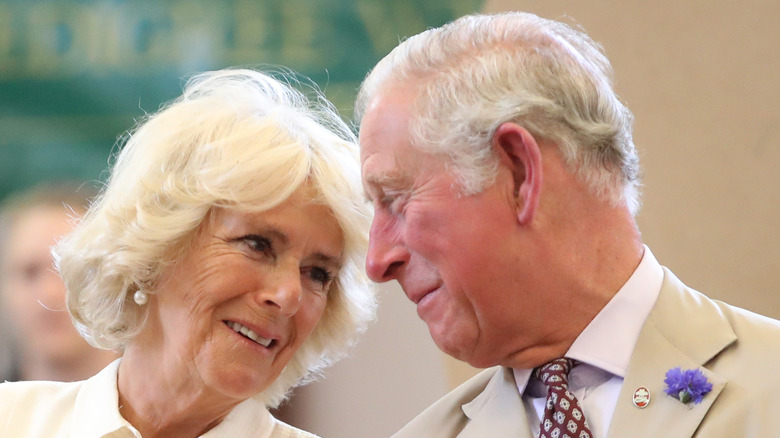 Chris Jackson/Getty Images
Buckingham Palace is one of, if not the most, iconic buildings in London, forever closely tied to the British monarchy. Queen Elizabeth II, like so many monarchs before her, lived at Buckingham Palace from the time she ascended the throne in 1953 until the outbreak of COVID-19 in 2020. So, naturally, now that King Charles III has taken over, one might expect that he and Queen Consort Camilla Parker Bowles would continue this tradition by moving into Buckingham Palace as well. However, this is not the case. In fact, Charles and Camilla are unlikely to ever take up residency there.
Instead, they intend to remain at Clarence House, where the couple has lived for around two decades. One reason why Charles and Camilla plan to stay in their gorgeous home is that the massive, ongoing renovation of Buckingham Palace won't be completed until 2027 at the earliest. Likewise, the king is "very comfortable" in Clarence House, as royal insiders told The Mirror. Plus, when it comes to the palace, Charles "feels that its upkeep, both from a cost and environmental perspective, is not sustainable." For the time being, he will use it solely as a place to conduct official business.
In fact, given that the royal family owns an incredible 30 homes total, there is no shortage of options for Charles and Camilla. For instance, they could take up residency in St. James's Palace as so many other senior royals have before them, alongside one major, A-list celebrity couple.
Catherine Zeta-Jones and Michael Douglas have moved into St. James's Palace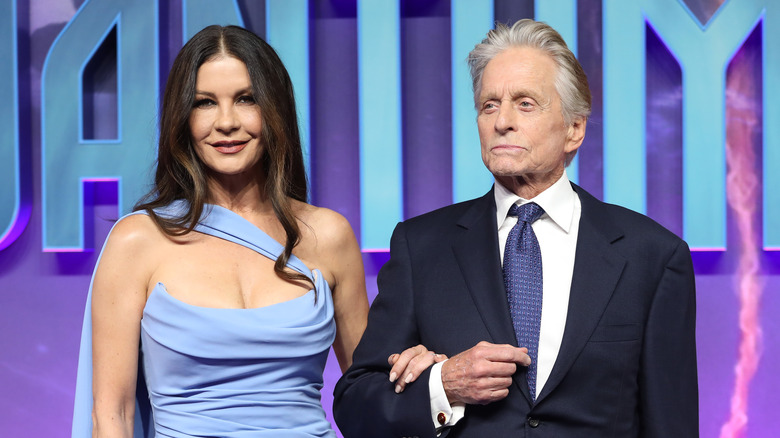 Lia Toby/Getty Images
Actors Catherine Zeta-Jones and Michael Douglas might not be literal royalty, but they're certainly living like it. The celebrity couple recently moved into a plush apartment in St. James's Palace, which they plan to use as a home base whenever they're in London, according to the Daily Mail. St. James's Palace, which was built by Henry VIII in the 1530s and reportedly boasts this surprising secret feature, became open to renters in 2015. As an insider confirmed at the time, "In theory, anyone can apply but all prospective tenants will be subject to security and background checks." 
For Zeta-Jones, getting to live there is likely a dream come true, with the actor previously gushing, "I'm a massive royalist." She revealed, "In our family, we'll dress up on royal occasions. My son will wear a top hat and tails and have scones." Zeta-Jones also shared, "I had a wonderful lunch with Camilla and Lady Astor in New York years ago, before they were even married, and I loved her. What you see is what you get with Camilla." 
There will be plenty more opportunities for Zeta-Jones and the queen consort to gather for tea, as Clarence House is just a short walk away from St. James's Palace. Whether or not there will be any double dates in the future remains to be seen, but hopefully, the actors will receive an invitation to King Charles's "slimmed down" coronation.