The Bold And The Beautiful Fans Wonder If Brooke And Taylor Will Become More Than Friends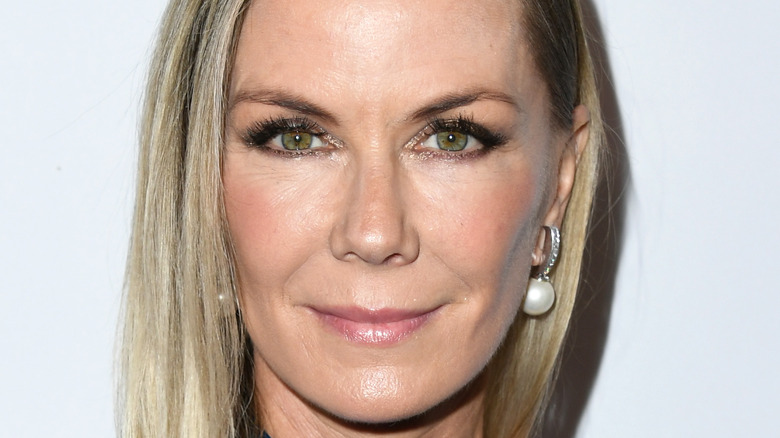 Jon Kopaloff/Getty Images
Brooke Logan (Katherine Kelly Lang) and Taylor Hayes (Krista Allen) have finally buried the hatchet after a decades-long feud over Ridge Forrester (originally Ronn Moss, now Thorsten Kaye) on "The Bold and the Beautiful." Brooke and Taylor's big move utterly stunned fans of the show and they're eager to see what's next. A waiter at Il Giardino's restaurant named Paul "Hollis" Hollister (Hollis W. Chambers) had openly flirted with Brooke, so Taylor later ordered lunch from there, requesting that Hollis deliver it, to surprise Brooke. 
When Hollis arrived with their meals, Brooke was shocked that he had the courage to ask her to dinner. A little hesitant, Brooke eventually agreed and the two made plans. Taylor then set up a fancy meal at Brooke's house, exiting when Hollis arrived. The young man told Brooke that he simply wanted them to get to know each other better. Hollis poured on the charm as Brooke told him about her life, telling her that she should model again. 
The two ultimately shared a kiss, but Brooke abruptly put an end to things, stating she wasn't ready to jump back into dating yet. Brooke later explained what happened to Taylor, and the two mused about where their lives are headed. The fans had previously debated the Taylor, Brooke, and Ridge love triangle, and in light of this new direction, they have some interesting thoughts about where Taylor and Brooke might go next in their love lives.
Fans are enjoying Brooke and Taylor getting closer
Considering Brooke and Taylor appear to be getting even closer on "The Bold and the Beautiful," and Brooke had reservations when she went on a date with Hollis, fans are curious if the two will inevitably become more than friends. One viewer posted on Twitter: "More touchy-feely #Braylor [Brooke and Taylor] moments. So are they just friends or the 1980's code word 'friends,'" along with some laughing emojis. Another fan shared a screenshot of Taylor holding Brooke's face, writing alongside it simply: "Now kiss."
Katherine Kelly Lang herself retweeted a viewer's post which contained a video clip of Brooke and Taylor's deep and heartfelt conversation and noted, "Just part of the convo between #Braylor I thought this was very moving & for 1st time felt like an actual friendship. It was open & heartfelt & comforting for both. I thought KA & Kelly were amazing." Lang responded to the compliments, writing, "Thank you! I love working with Krista. I thought it was a sweet honest scene where the two really connect as friends." 
Across the Twitterverse, fans were overwhelmingly excited about the idea of Brooke and Taylor getting together with one arguing, "They're both so gorgeous. They both really need to finally tell Ridge [Forrester, Thorsten Kaye] to go to Hell and get with each other," while one especially impatient fan hilariously posted: "Seriously the hand touching & massaging. GET A ROOM!!" Only time will tell, but we can hope!