What To Ask For At The Salon If You Want To Try Out A Trendy Modern Gamine Cut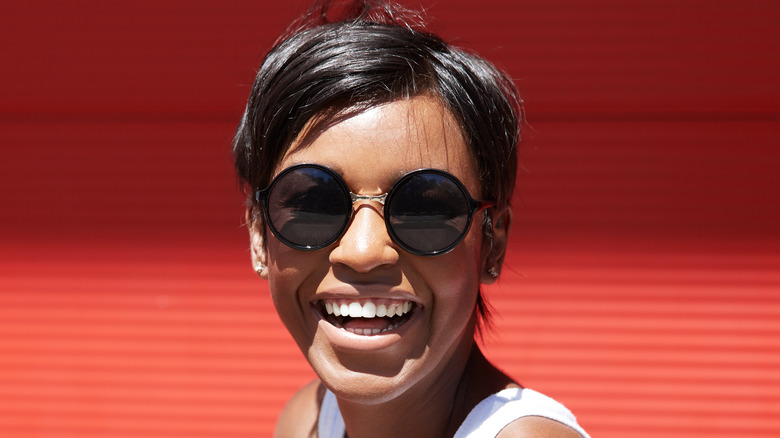 Cast Of Thousands/Shutterstock
If you're looking to make a big change to your hair at the salon and you think short hair will work well for you, you might decide to ask for a trendy haircut like the modern gamine. The look, which is reminiscent of a pixie cut but longer, is a low-maintenance style that's perfect for people who want to experiment with a shorter cut.
Popularized by Audrey Hepburn in the 1950s, the gamine haircut is seeing a modern revival.Some of the most famous celebrities to rock the modernized version of the style in recent years include Emma Watson, Tyra Banks, Jamie Lee Curtis, and Katy Perry. Short haircuts require little day-to-day styling and can be flattering on just about everyone, which makes the modern gamine a sought-after style. 
The modern gamine can be worn messy, tousled, or slicked back, giving it a versatility that's attractive to people looking to change up their look more often.
How to ask for a modern gamine haircut
You may be ready to go into the salon to get the modern gamine haircut you're looking for, but it's important to know what to ask for if you're trying to achieve an exact look. Bring in multiple photos of the haircut and look you are trying to achieve, which can include photos of celebrities who have had the hairstyle. Since lengths and styles can vary between different modern gamine styles, tell your stylist exactly what you like about each photo you bring in so they can help you leave the salon feeling satisfied with your new cut.
"The modern gamine is basically the same length everywhere, except the edges around the face, ears and neck are shorter," celebrity hairstylist and salon founder Stephen Knoll describes the cut to PureWow. "It's a very strong, sophisticated and bold look."
An upside to the look is that it doesn't take anything other than wax or gel for styling on a daily basis, as the way the hair is cut makes it basically style itself.
The modern gamine is ideal for people with oval faces
The modern gamine haircut looks great on people with round or oval faces who don't want to have a ton of upkeep in their hair routine. If you're not set on the modern gamine but still want a shorter cut, think about choosing the best short hairstyle for your face. People with oval faces can easily pull off a side-swept gamine or pixie, as it elongates and slims the look of your face.
According to Byrdie, the most important thing about pulling off a pixie cut or gamine is confidence and embracing your facial features. Go into the process knowing that you'll have to trade off the small amount of daily time getting ready for more time in the salon getting trims in order to achieve the look. While people with longer cuts can generally go more time in between those touchups, people with the modern gamine do have to be prepared to have their hair trimmed once a month or every six weeks.