14 Royal Rules Kate Middleton Has Been Caught Breaking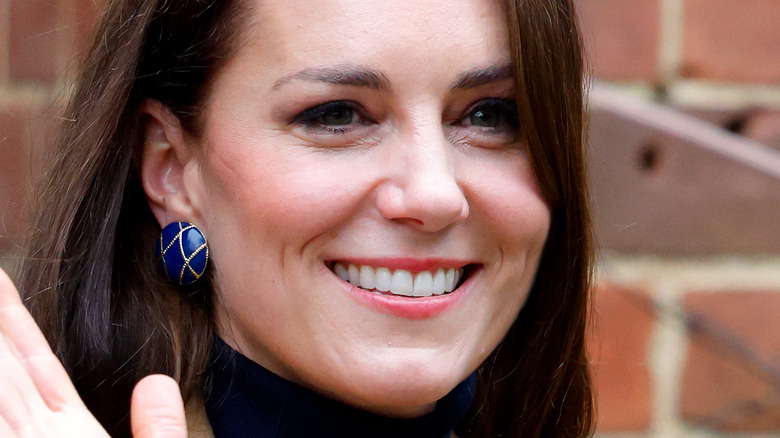 Max Mumby/indigo/Getty Images
Being a member of the royal family means conforming to a number of royal traditions and rules. Unlike ordinary members of the public, royals can't exactly do whatever they want. They need to dress a certain way, act a certain way, speak a certain way, and even interact with other family members in a certain way. If it sounds an awful lot like "The Princess Diaries," you're not far off.
Even though Kate Middleton, Prince William's wife of over a decade, has slotted into the royal family pretty seamlessly, from time to time, she has been known to break a few rules. Whether it's wearing a skirt that's a little too short, getting a little too close to a member of the public, or even — gasp — taking a selfie, Kate's rule-breaking tends to be fairly tame. In fact, usually, when Kate veers from the guidelines, it's because she wants to help to bring the monarchy into the 21st century. Here are 14 times Kate has been spotted breaking a royal rule and why.
1. When Kate Middleton travels with her family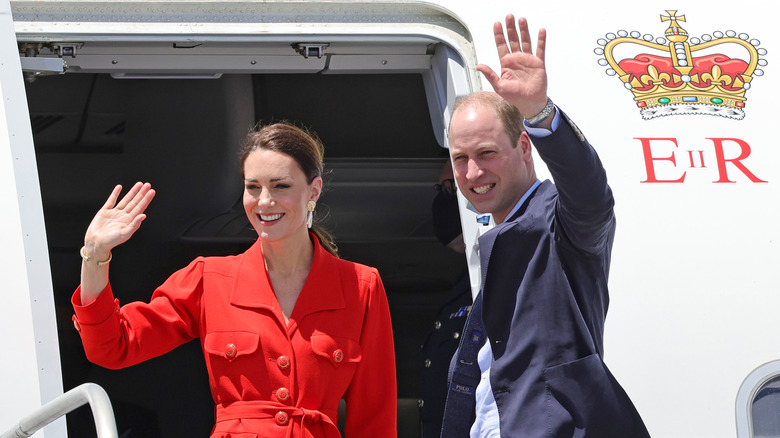 Chris Jackson/Getty Images
While it may seem bizarre to us commoners, it's actually a protocol for royals to travel separately from their families. Ever since the royals began traveling by air, they made it a habit to travel in separate planes. It's a little morbid, but the rule was invented so that in the event of an accident, the likelihood that all of the heirs to the throne would be killed would be reduced. 
Even though the royals typically travel apart as a precaution, Kate Middleton and her family frequently break the rules. The family first broke protocol in 2014 when Kate and Prince William received special permission to travel together with their newborn son, George. "They had to ask the queen for permission, but she said yes," a royal spokesperson said to the BBC. "While there is no official rule on this, and royal heirs have traveled together in the past, it is something that the queen has the final say on." 
Since then, the couple has flown together on a number of occasions. In fact, Kate has even been spotted on public, commercial flights with her family.
2. When Kate Middleton changed her wedding vows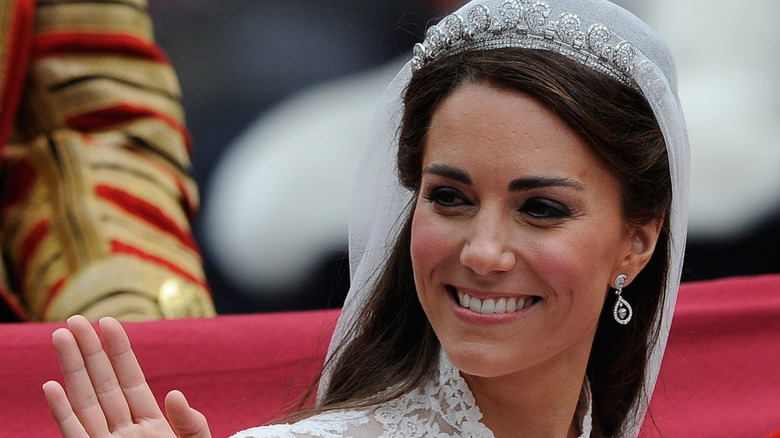 Wpa Pool/Getty Images
Royal weddings are steeped in tradition. Famously, they occur in Westminster Abbey before a large crowd after the bride rides through the streets of London in a carriage. Following the ceremony, the bride and groom appear on the balcony of Buckingham Palace to wave to the crowd. While Kate Middleton and Prince William were careful to follow most of the royal wedding traditions, there was one small but important rule that they chose to break. In Kate's wedding vows, she decided not to promise to "obey" William, a phrase that was traditionally included in the service.
Instead, Kate promised to "love him, comfort him, honor and keep him in sickness and in health and, forsaking all others, keep only unto him so long as ye both shall live." Traditionally, royal brides also promised to obey, but Kate and William clearly agreed that this particular vow was outdated. In fact, William's mother, Princess Diana, also chose to omit the word "obey" from her vows. 
3. When Kate Middleton hugs members of the public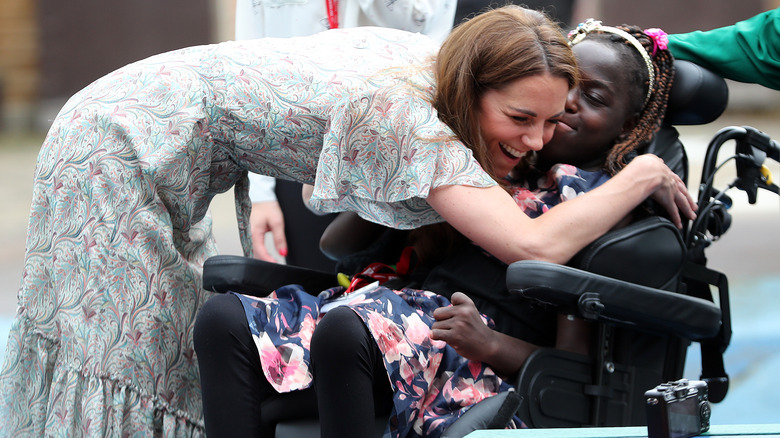 Chris Jackson/Getty Images
One steadfast royal rule is that the royals never hug anyone in public — especially members of the public. This rule is particularly important for older members of the family. According to the Daily Mail, Grant Harrold, a former royal butler told OK! Magazine, the basic rule was that you could "look but you couldn't touch" as a member of the public. The rule was about both safety and, as Harrold said, "mystique." 
However, since the '90s this rule has been slowly changing, largely thanks to Princess Diana's influence. She took a more hands-on approach and often broke the no-hugging rule with members of the public. And Kate Middleton is no different.
In 2016, Kate was seen hugging a young mother after she told the princess about her son's autism. "The duchess just leant over and said to me, 'I've got to give you a hug as a mum.' I couldn't believe it, it was such a kind gesture," the mother told the Daily Mail later. Kate also gave a former teacher a hug when she spotted him in a crowd during a trip to Cornwall.
4. When Kate Middleton took a selfie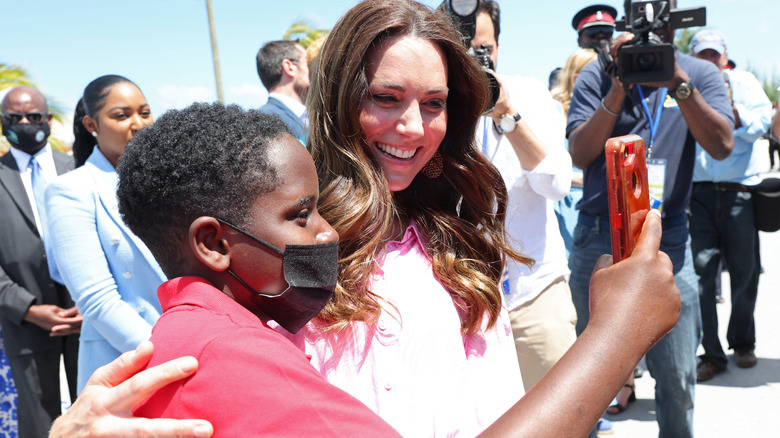 Chris Jackson/Getty Images
There's a reason why you've never seen a royal holding up a selfie stick — it turns out, members of the royal family aren't technically supposed to be in selfies. As Meghan Markle reportedly told the public in 2017, "We're not allowed to do selfies." That same year, a royal fan who was at the annual garden party at Buckingham Palace told Insider, "The one thing they talked about a lot was no selfies, and the reason was that they didn't want people turning their backs to the royal family and the queen. And that was very important to them."
Even though the royals aren't really supposed to pose for selfies, Kate Middleton has been known to break the rule. In early 2023, the princess was spotted posing for two different selfies during a visit to a London nursery. As one attendee who got a selfie with Kate told People, "They were so welcoming. They were so warm and friendly." 
It seems pretty clear that Kate and other young royals are trying to phase out the no-selfie rule as they try to become more down-to-Earth. So, who knows, maybe we'll see more selfies with Kate in the future.
5. When Kate Middleton shows affection for William in public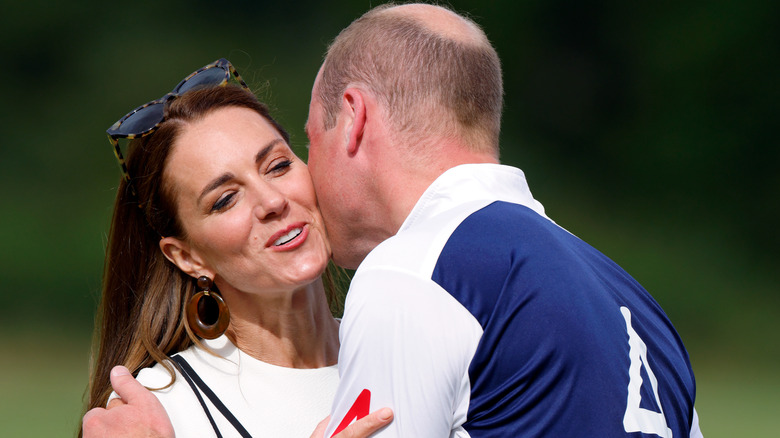 Max Mumby/indigo/Getty Images
PDA, or public displays of affection, is famously considered to be a big no-no for royals. Kissing, hand-holding and even touching your significant other is usually out of the question. "Senior members of the royal family would likely not be told how to interact or when they can or can not show PDA and would be trusted to use their better judgment as to when it's appropriate," royal etiquette expert Myka Meier told People, explaining why PDA is so rare at formal royal occasions. "The royals often adjust PDA to mirror the formality of the event they are attending. At a somber or more formal event, we are less likely to see PDA than at a casual event where it would be deemed more fitting." 
She went on to explain that at most events, the royals are expected to act professionally — in other words, no PDA. Nevertheless, Kate Middleton has been known to show some affection for Prince William — even when she's technically on duty. At the 2023 BAFTAs, for instance, she was allegedly spotted giving his bottom an affectionate tap. She has also been seen holding William's arm, giving him a hug, and even kissing him on the cheek.
6. When Kate Middleton wears mini skirts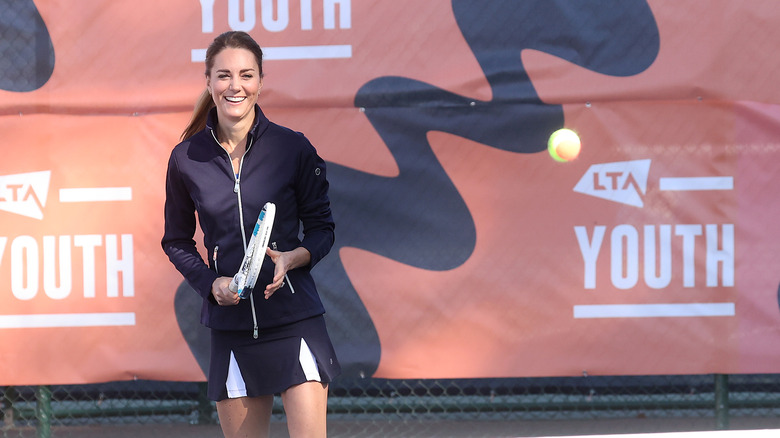 Chris Jackson/Getty Images
Within the royal family, hemlines have traditionally been a contentious issue. The standard rule is that royal women should never be much higher than the top of the knee. In other words, mini skirts are a big no-no. Of course, several royals have dared to break the somewhat outdated rule, such as Princess Anne, Meghan Markle and — you guessed it — Kate Middleton.
Apparently, when Kate was still new to the royal family, the queen changed Kate's personal dresser so that her wardrobe would be more appropriate. One of the major changes was allegedly "lower hemlines." Kate was also taught to wear weights in her skirt to prevent the wind from blowing it up.
Even though Kate rarely shows her legs off with a mini skirt these days, she has broken the royal fashion rule a few times. In 2021, for instance, she wore a tennis skirt while meeting tennis player Emma Raducanu. In 2011, Kate wore a short dress from Reiss, and in 2013, she wore a higher hemline while visiting a hospital.
7. When Kate Middleton wears black – even when she isn't in mourning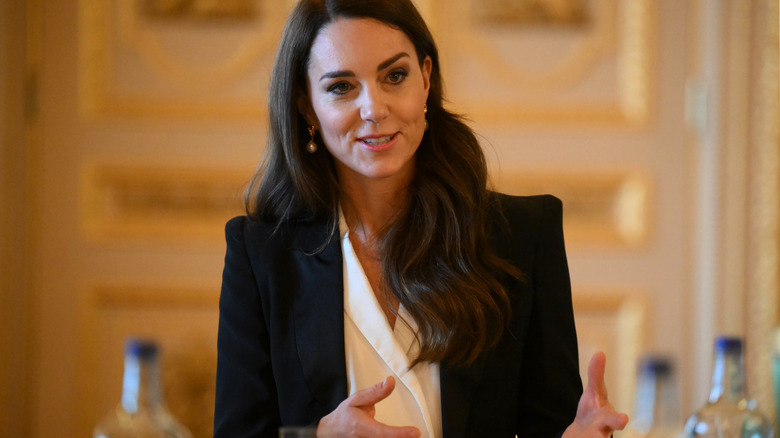 Wpa Pool/Getty Images
You may have noticed that the royals absolutely loved a colored coat. That's because one of the royal family's fashion rules is that the color black is usually reserved for periods of mourning. "Generally it is thought that black is not usually worn unless in mourning, although Diana Princess of Wales did occasionally wear it for evening functions, and The Duchess of Cambridge has been known to do so," said The English Manner Chief Executive Alexandra Messervy to InStyle.
Kate Middleton certainly has broken the rule a few times. in 2023, for instance, Kate chose to wear an all-black suit by Alexander McQueen while attending a meeting for the Royal Foundation Center for Early Childhood. Kate also opted for black in late 2022 when she wore a black suit over a black blazer during a trip to Boston, Massachusetts. 
8. When Kate Middleton takes off her coat during royal visits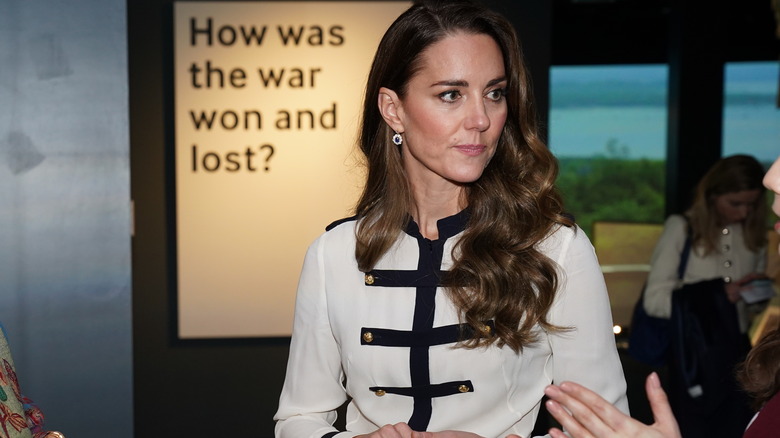 Wpa Pool/Getty Images
Another strange royal fashion rule is that royals are expected to keep their outerwear on during indoor royal visits. While it may seem strange that royals never take off their coats, there's a reason for it. According to Reader's Digest, taking off a coat in public is considered "unladylike." "Royal women are expected to keep their coats on at social events," said Daena Borrowman, a royal style expert, to Express adding, "Disrobing in public is perceived as distasteful according to royal protocol."
In recent years, Kate Middleton has tried to soften her approach to this outdated (and somewhat sexist) rule. Kate has removed her coat at several events, including her visit to Slough in 2023. Royal experts have applauded Kate for re-examining this old royal tradition. It "made me happy," said Elizabeth Homes, a royal style expert, to Express, adding that the rule "always felt like such an old-fashioned and uncomfortable thing." Added Samantha Harman, a fashion expert, "Kate taking her coat off is a subtle way of saying 'I'm human just like everyone else' and also, 'I'm ready to be in charge now.'"
9. When Kate Middleton skipped Christmas at Sandringham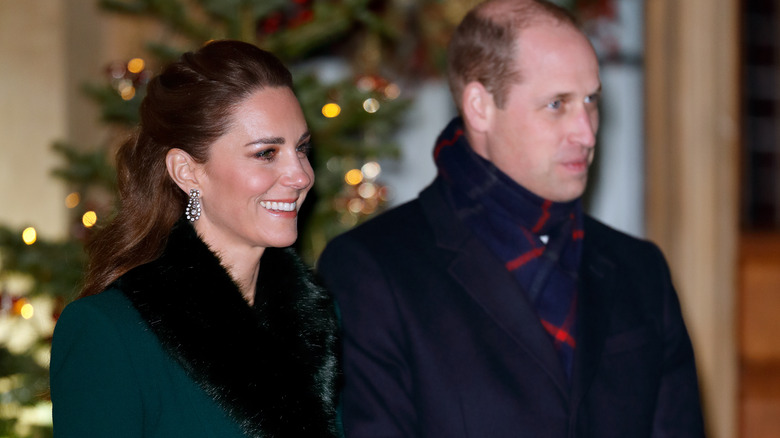 Max Mumby/indigo/Getty Images
It is an age-old royal tradition that everyone in the immediate family spends Christmas together at Sandringham, the private rural retreat of the royals. However, in 2016, Kate Middleton, along with the rest of her family, broke this long-standing tradition. Instead of spending Christmas with Prince William's side of the family, Kate chose to spend the holiday with her family instead. As a source told Hello! at the time, "The Duke and Duchess of Cambridge and their children will have a private Christmas day with the Middleton family." 
As Vogue reported, the couple also spent Christmas with the Middletons in 2012. And, in 2022, Kate and her family missed a Christmas lunch at Windsor Castle because the family preferred to spend the holidays at their home in Norfolk. It seems that for Kate and William, nothing can stand in the way of a peaceful Christmas — even age-old royal rules!
10. When Kate Middleton broke protocol to attend a public vigil
Typically, members of the royal family don't turn up to public events — especially events of a political nature. However, in 2021, Kate broke the rule when she attended the public vigil for Sarah Everard, a young woman who was kidnapped and killed by a police officer. As Nationwide News reported, the princess attended the vigil in a simple olive coat with two low-key security guards following behind her. "She looked quite emotional," one observer noted. "She was just on her own. About 10 meters behind her there were two people following her. It wasn't obvious she had security with her."
According to some, Kate's attendance at the vigil was an underhanded political statement about the importance of women's safety and the systemic problems within Britain's police force. Kate allegedly also sent a letter to Everard's family. "Kate's letter was deeply personal and heartfelt, she expressed her absolute sadness at what Sarah's family and loved ones are going through," a source told the Mirror. "She said she knows that no words can change what happened but that she wanted to let them know that they and Sarah are in her thoughts."
11. When Kate Middleton wore her hair down for her wedding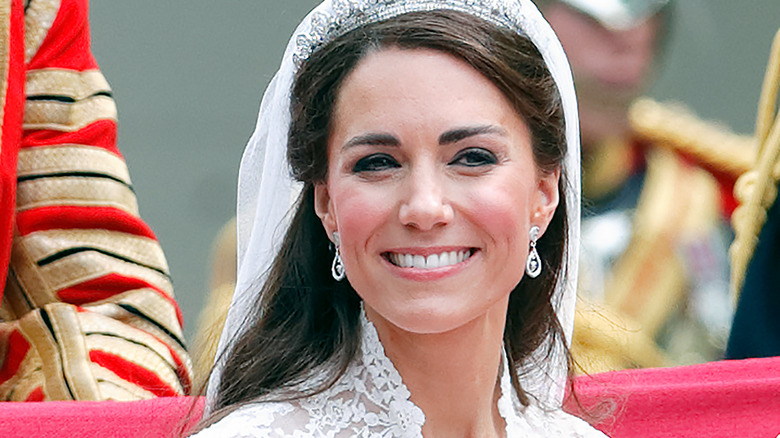 Max Mumby/indigo/Getty Images
Look back through historical royal wedding photos and you may notice a common theme — royal brides always wear their hair in a sophisticated updo. But not Kate Middleton. When Kate tied the knot with Prince William in 2011, she went against royal tradition and chose to wear her hair down around her shoulders. And according to some sources, the decision wasn't exactly a popular one.
"Royal sources tell me that the royals indicated very strongly to Kate that they would prefer her to wear her hair up for this very special occasion," royal reporter Ashley Pearson said in the documentary "William & Kate: The Journey." "However, Kate had her heart set on wearing her hair down with long flowing curls, which is her favorite way to wear it, and actually William's favorite as well. They ended up compromising on her look." 
In the end, Kate swept back the front pieces of her hair for a half-up, half-down look. Considering how gorgeous she looked, we're willing to bet this was one rule break she doesn't regret.
12. When Kate Middleton broke royal protocol with her children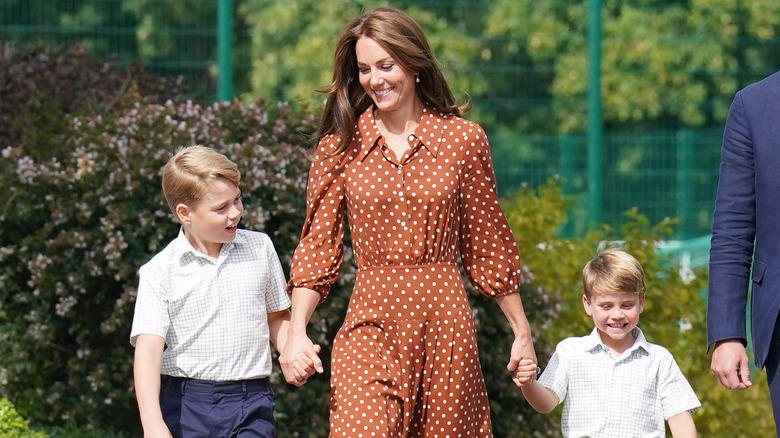 Pool/Getty Images
The royals can be pretty particular about how they want children to be raised. But Kate Middleton has always ignored royal rules that mean her children won't have a relatively normal life. For instance, Kate and her husband Prince William chose to send their children to a co-ed day school rather than hiring a governess or sending them to a boarding school. As parenting expert, Jumaimah Hussain told Express of the decision, "William and Kate have a modern style of parenting, and they are often praised for their relaxed and regular parenting style. It's long been thought that Kate and William would want to give their children as normal a life as possible, so sending them to boarding school doesn't seem like an option they would consider currently."
Kate also tries to be as hands-on as possible, spending time playing with her children when she's not on duty. "Kate... values quality family time and has broken some traditions," Zoe Bonser of "The Baby Show" told Express, adding, "She promotes that children deserve time, attention and love from their parents, advocates that children should speak about their feelings, be taught kindness, respect, and honesty and greatly values the importance of hugs." 
Kate and William's relationships with their kids might not be typical royal ones, but it sounds like they're meaningful ones.
13. When Kate Middleton's nail polish has occasionally broken protocol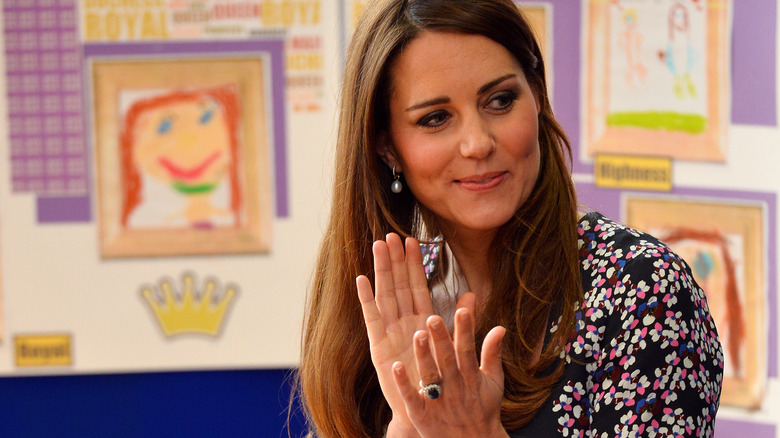 Wpa Pool/Getty Images
You may have noticed that the royal family is almost never spotted with colored nails. Apparently, this is because the late queen was not a fan of bright nails and preferred a chic, natural look. "There's no actual protocol about dark nail polish," royal correspondent Omid Scobie once told Harper's Bazaar. "It's simply about being appropriate." Essie's Ballet Slippers shade is allegedly the royal shade. However, on occasion, Kate Middleton has veered away from the royal nail tradition.
In 2022, Kate was spotted with a beige manicure that seemed to be a subtle break from tradition. Kate also chose a different shade for her wedding, when she allegedly wore the pale pink Allure by Essie. Kate has managed to break protocol subtly by opting for dark shades on her toes rather than her fingers. In 2018, for instance, the princess was spotted wearing open-toed sandals that showed off a dark red pedicure.
14. When Kate Middleton's sporty royal appearances are a break from tradition
Chris Jackson/Getty Images
Even though the late queen was a big fan of spending time outdoors with her dogs and Princess Anne was an Olympic show jumper, female royals almost never join in with sporty games while on duty. That is, apart from Kate Middleton. 
In 2023, for instance, Kate was photographed trying a tough training method that involved dragging a large tire from her waist. "Footage of Kate pulling the tires along clearly demonstrates her willingness and confidence, as well as her ability, to blend in with those around her," suggested body language expert Darren Stanton, who spoke on behalf of Betfair Casino as reported by the Mirror. "It's difficult to imagine any member of the royal family allowing themselves to be filmed and photographed in those surroundings and just goes to show how Kate is keen to look past protocols and rewrite the rulebook when it comes to how she and William portray themselves to the public."
Kate has also shown off her sporty side on numerous other occasions, playing games like hockey and tennis. In fact, according to body language expert Judi James who spoke to the Express, "...she is at her most relaxed, confident and authentically joyous when she is called to get stuck in at a sporting task or event."