William And Kate Caught Showing PDA Following The Queen's Death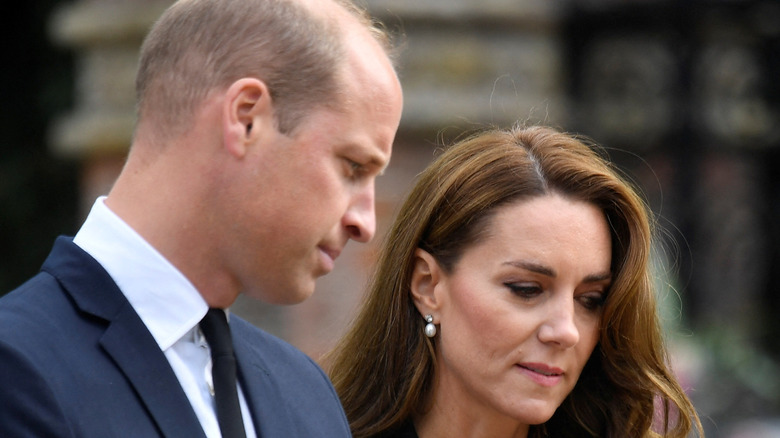 Wpa Pool/Getty Images
Much was made of the difference in body language between the Prince and Princess of Wales and the Duke and Duchess of Sussex when they greeted mourners at Windsor Castle last weekend. Meghan Markle and Prince Harry have always been known to show more affection toward one another and this somber occasion was no exception, with the couple holding hands and staying close throughout the visit. Meanwhile, Prince William and Kate Middleton walked further away from one another and only showed a hint of PDA when he placed his hand upon her back at one point.
The Duke and Duchess of Cornwall and Cambridge have long been resistant to getting lovey dovey with one another, although their infrequent kisses or embraces do make headlines at times.
One body language expert has explained that the heir to the throne and future queen consort maintain physical distance for several deliberate reasons. As Judi James told The US Sun, keeping their hands by their sides signals inclusion rather than exclusion and may make shaking hands with fans easier. Their body language is also more in keeping with what is expected of senior royals according to James, and after all, they are the future king and queen consort.
All of that said, William and Kate consort recently broke character and displayed some affection toward one another in the course of mourning the Queen.
William and Kate are comforting one another in their grief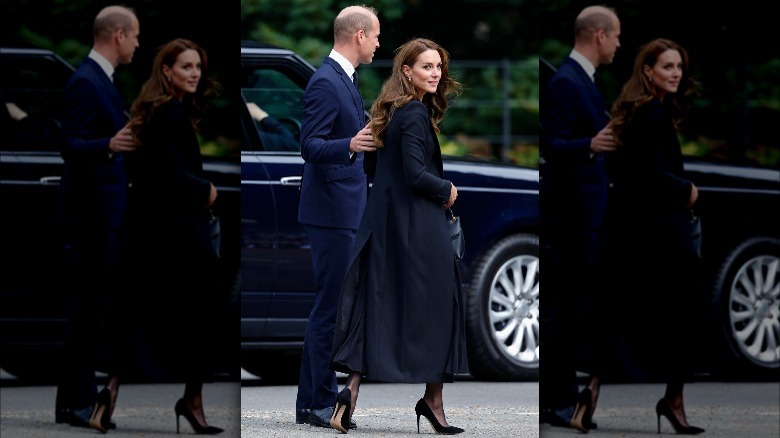 Max Mumby/indigo
As the public grieves the death of the Queen in unprecedented numbers — the queue to see her coffin was 14-hours long at last count — the Prince and Princess of Wales are most certainly grieving in private.
Not only is the loss of his grandmother very personal considering their reportedly close relationship, Prince William is also dealing with the added sadness of the events leading up to the Queen's funeral reminding him of his mother's tragic death 25 years ago (via TMZ). And if Kate Middleton's facial expression during the procession following the coffin from Buckingham Palace to Westminster Abbey is any indication, she is also experiencing some very heavy emotions at this time.
Luckily they have each other, and found solace in that fact while visiting Sandringham on Thursday. The visit had been marked by a very sweet moment that touched many Twitter users. The Princess of Wales had chosen a young school child to add her floral bouquet and a stuffed corgi to the growing pile of tributes for the Queen, which left the young girl in tears.
At one point during the day, royal fans also caught sight of William and Kate showing some rare PDA.
William and Kate mostly maintained their distance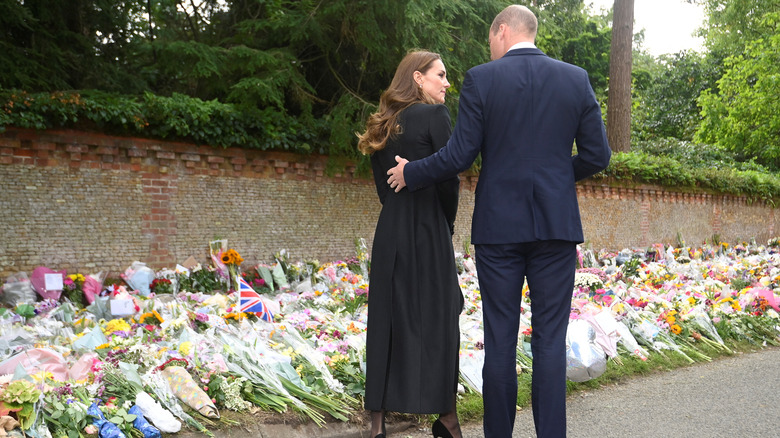 Wpa Pool/Getty Images
Dressed in all black as they have been all week, the Prince and Princess of Wales made yet another stop to view tributes to the beloved former head of the royal family. Thursday, the couple visited Sandringham, which is where observers saw Prince William sweetly place his hand on Kate Middleton's back (via Elle).
The display of love was of the blink-and-you'll-miss-it variety, with most images taken from the day revealing that the royals resorted to their typically reserved nature while greeting mourners and walking among the growing tributes for Queen Elizabeth. 
Still, it seems that many royal fans respect that the eventual king and queen consort are not big on PDA. "I believe William & Kate married for Love, they just do not show PDA," one person tweeted, as someone else said, "NEVER did you see #QueenElizabeth & her husband holding hands or other PDA in public. Does anyone doubt their devotion?"
It will be interesting to see how William and Kate act toward one another at the upcoming funeral for Queen Elizabeth on Monday.