Kate Middleton's Wedding Bouquet Meant More Than You Think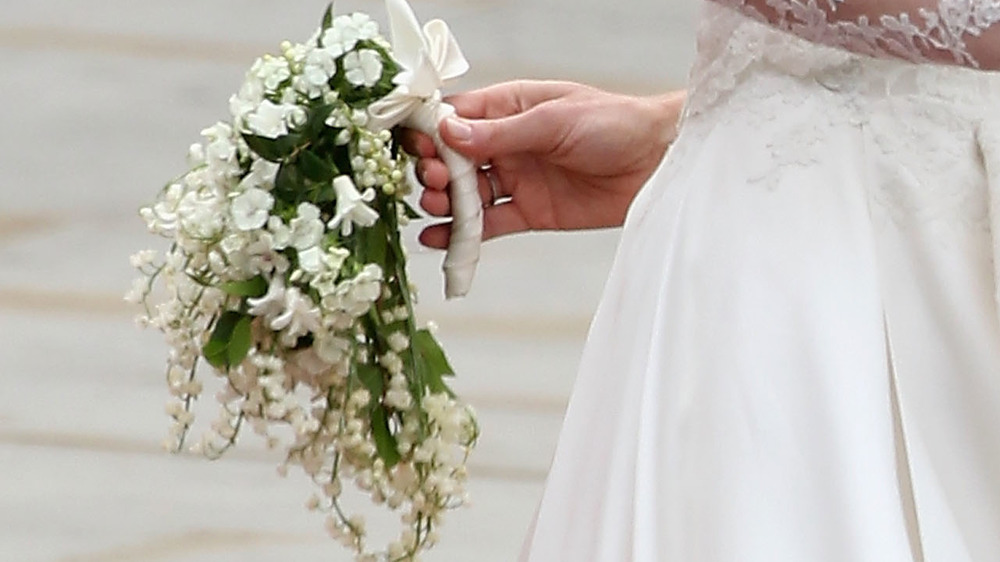 Dan Kitwood/Getty Images
When she married Prince William in an elegant royal wedding on April 29, 2011, Kate Middelton carried an understated and meaningful wedding bouquet. The nuptials, now nearly a decade in the past, continue to inspire brides-to-be, according to One Fab Day. After saying her vows, the new duchess followed the tradition started by Lady Elizabeth Bowes-Lyon by laying her simple clutch of flowers on The Grave of the Unknown Warrior at Westminster Abbey (via Brides).  
The deceivingly simple arrangement complemented Middleton's gorgeous wedding gown, a Victorian-inspired frock designed by Sarah Burton at Alexander McQueen (via The Royal Family). The white satin ribbon wrapped around the bottom and tied in a bow at the top to create a place for the duchess to hold the small bouquet matched the dress and the flowers perfectly. 
Most people don't realize that Middleton's unpretentious blossoms held a profound meaning beyond the visual they created with her wedding-day attire. It revealed the truth about the duke and duchess' relationship.
The unexpected significance of Kate Middleton's wedding bouquet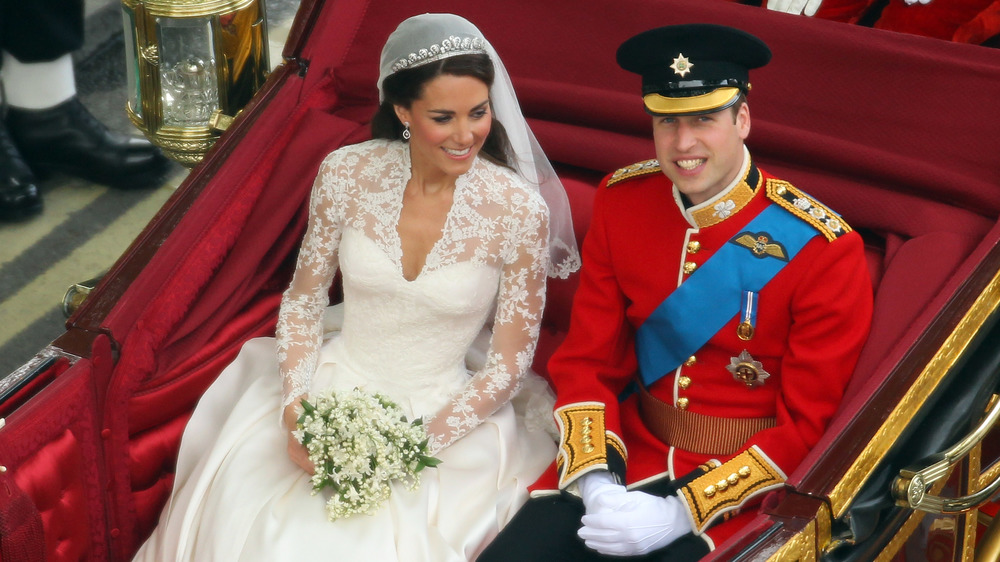 Clive Rose/gp/Getty Images
Designed by Shane Connolly, Kate Middleton's wedding bouquet, though small, carried a lot of meaning. The green and white motif consisted of four home-grown British floral varieties — lily of the valley, sweet William, hyacinth, and myrtle. Designers snipped the sprig of myrtle from the same plant that provided stems for Queen Elizabeth's bouquet in 1947 (via The Royal Family). While it looked effortlessly simple, the floral arrangement was anything but a hastily picked bunch of flowers. Reports revealed that each stem of lily of the valley, an expensive seasonal bloom, had to be hard-wired to create the finished look.
The palace noted the arrangement drew "on the traditions of flowers of significance for the Royal Family, the Middleton family and on the Language of Flowers." Each choice Middleton made referenced the language of flowers, which Queen Victoria made famous. Each option had a meaning, sending a special message for viewers to decide.
Lily of the valley signaled "return of happiness." For "gallantry," the future queen chose sweet William, which she likely intended to be a nod to her princely groom, William. "The emblem of marriage; love," received representation through myrtle, and hyacinth embodied the "constancy of love." The ivy in the bouquet represented "fidelity; marriage; wedded love; friendship; affection" (via The Royal Family).
While Middleton's wedding bouquet looked smaller than many other royal wedding bride's flowers, it carried immense significance for the bride and groom and their big day.