Kate Middleton And Prince William Face Off In Spin Bike Contest (Yes, Kate Crushed It)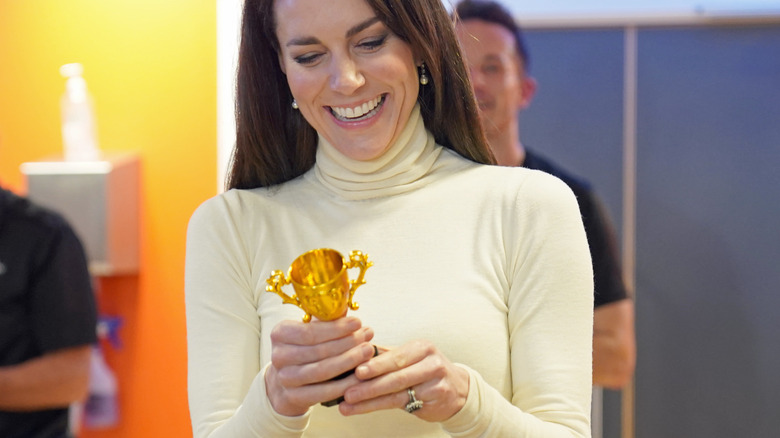 Wpa Pool/Getty Images
And the winner is ... Kate Middleton! Just a month after beginning press for her new project that plans to make "generational change," Catherine, Princess of Wales, is out to prove that she's not just dedicated to "Shaping Us" — she's also in amazing shape herself. March 1 marks St. David's Day, which is Wales' national day. Consequently, it's only fitting that Kate and her husband, Prince William, paid a visit to South Wales on February 28 in celebration of this major national holiday. 
During their visit, the royal couple stopped by the Aberavon Leisure & Fitness Centre where they reportedly watched a yoga class, met with local fans, and enjoyed a bit of friendly competition. This isn't the first time the Prince and Princess of Wales have been a bit competitive with each other while out and about with the public, and it's clear that these two have plenty of fun together when sports are involved. 
In fact, last weekend, while attending the Wales versus England Six Nations rugby match in Cardiff, Kate discussed their athletic family. She revealed that Prince George has a love of rugby in common with his uncle, Prince Harry, and that Charlotte and Louis also enjoy the sport, as well as playing tennis and sailing. So, who's the MVP of this royal family? That title goes to Kate now she's snagged the coveted "Tour de Aberavon" trophy. 
The Princess of Wales easily out-cycled her husband
While visiting the Aberavon Leisure & Fitness Centre, the Prince and Princess of Wales were challenged to a 45-second race on the stationary bikes that was dubbed the "Tour de Aberavon." Prince William was dressed in a full suit and tie for the occasion, while Kate Middleton donned a midi-length skirt and heeled knee-high boots. In spite of their lack of cycling attire, the pair was more than happy to take on the challenge, with Kate even asking the instructor "can I make it harder?" while attempting to turn up the resistance. 
Among the 200 people who'd flocked to the fitness center to catch a glimpse of the royals was local Melissa Jones, who informed People: "[Kate] told us she'd won, but that they'd felt sorry for her because she was in heels." When watching the video of the race, it's clear why folks would sympathize with the princess' unfair footwear; William's flat shoes surely gave him a leg up — no pun intended — on the competition. But, in the end, Kate was still crowned the winner and given a tiny gold trophy for her victory over her husband. 
After her historic win, the couple left the fitness center and met with fans outside for selfies and casual conversation. William and Kate certainly make a great team when it comes time for royal engagements, but when competition is involved, these two aren't afraid to go head-to-head.