The One Skill Prince George Has In Common With His Uncle Prince Harry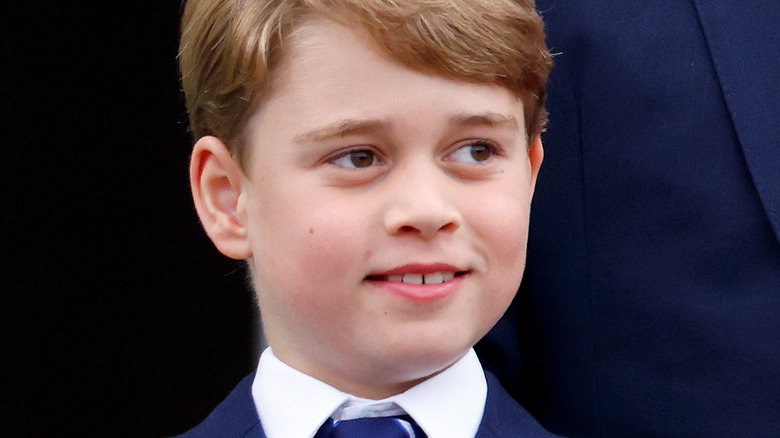 Max Mumby/indigo/Getty Images
In the wake of plenty of fallout from a royal family feud, Prince William is reportedly resigned to the fact that he has lost his brother. Yet, there's reason to believe that William's oldest son, Prince George, has something in common with Prince Harry that just may be giving William flashbacks to their youth. 
History is being made for the royal family as of late. Between Netflix's "Harry & Meghan" docu-series and many startling revelations from Harry's memoir, "Spare," to Kate Middleton's new project, "Shaping Us," and of course, a new King just a few months away from his coronation, there's much ado about the House of Windsor these days. Many believe that a reconciliation between Prince Harry and the rest of the senior royals is essential to the monarchy, while others think that too much damage has been done. Either way, with the coronation looming, it's easy to wonder what will come of all the bad blood. 
Ultimately, fence-mending would be positive, not just for optics and the mental wellbeing of the senior royals, but also for the children. No one knows better than William and Harry how unique and isolating the challenges of growing up in the spotlight can be, and the pair's children could give each other shoulders to lean on. Plus, a reconciliation would mean that Prince Harry would be able to give his nephew, Prince George, a few pointers on the favorite game they have in common.
Two princes in a pod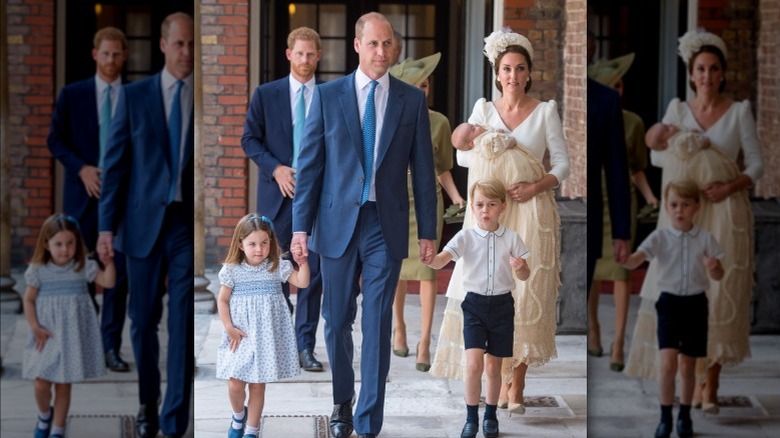 Wpa Pool/Getty Images
Prince William and Kate Middleton tend to keep quiet on topics regarding their children. On Saturday, February 25, however, the Prince and Princess of Wales attended the Wales versus England Six Nations rugby match in Cardiff, and Kate shared a bit about just how important rugby has become to their family, per Hello! Magazine. According to Kate, their nine-year-old son, Prince George is graduating from tag rugby and moving on to touch rugby. Kate shared, "They are trying to teach him the rules," like how to tackle, and added that he's got a leg up in the game "because he is tall, he has the physique." However, she also mention "there is Louis coming. [And] Charlotte also does rugby."
It's easy to draw comparison between the young rugby player and his Uncle Prince Harry, who also excelled at the sport in his time. Prince Harry was a successful rugby player while at Eton College and has maintained a love for the sport since. In his memoir, "Spare," he shared, "I played [all] sport, though rugby captured my heart. Beautiful game, plus a good excuse to run into stuff very hard." 
Rugby runs in the royal family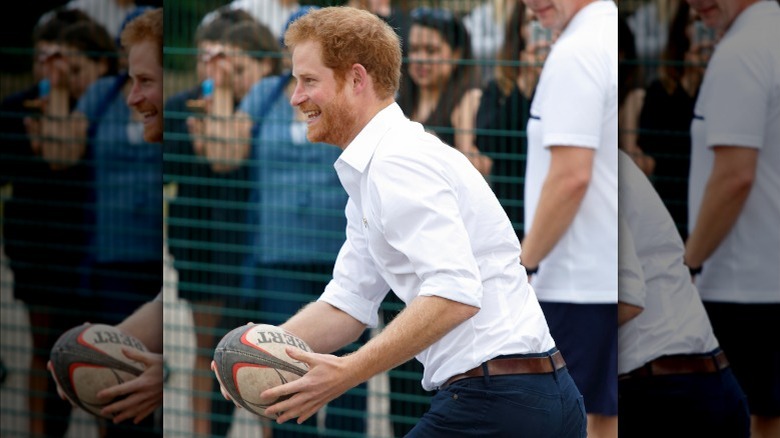 Max Mumby/indigo
While Prince George is clearly the MVP of the royal family at the moment, he's not the only one following in Prince Harry's footsteps. Kate Middleton shared that their youngest child is also a fan of the sport, saying, "[Prince] Louis is mad about rugby. They all love sport. They are at an age where they just love running around." Princes George and Louis and their sister, Princess Charlotte, also play football, gymnastics, and tennis. In fact, Prince George even had tennis lessons with star tennis player, Roger Federer.
As for the Duke and Duchess of Sussex's kids, we have it on good authority that their dad is eager to get them involved, too. In a video chat for the Rugby Football League's 125th birthday back in 2020, Prince Harry shared how excited he was to one day teach his then 15-month-old son, Archie, all about the sport. "What I need is a few mini rugby balls that I can then get Archie involved with the game." Harry explained. "I've got a little space outside, which I'm fortunate enough to have, so I need to get him playing some Rugby League." 
Hopefully, he's gotten his hand on a pint-sized rugby ball by now, and Archie and baby sister, Lilibet, are learning all about the game. No matter what happens with the royal family drama between now and King Charles III's coronation, here's hoping that there are some royal cousin rugby matches in the family's future.