The Viral Triangle Concealer Trick That Eliminates Dark Circles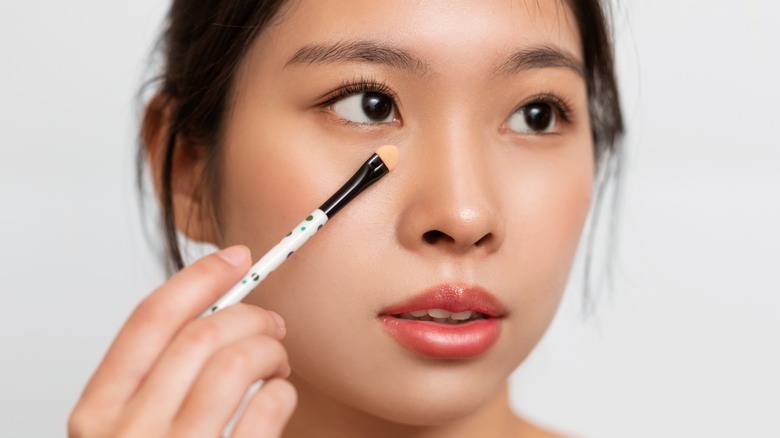 Prostock-studio/Shutterstock
When you need the latest beauty hack or even some advice, TikTok is definitely where it's at. From mastering the art of contouring your nose to using your concealer as eyelid primer and creating the perfect arched eyebrow, you can find exactly what you need in an attention-grabbing and reliably short video. And now, you can even bring a bit of geometry into the mix with the viral triangle concealer hack — let's face it, geometry has never looked this fabulous! 
This trick uses strategically placed triangles to give you flawless, glowing skin. It quickly blurs under-eye circles and creates an effortlessly sculpted look, especially along your cheekbones and chin. Unsurprisingly, the hack has resonated with millions of TikTok users because it's easy and requires minimal makeup to pull off. Check out a step-by-step breakdown of the triangle concealer method to see if it's something you might want to add to your beauty regime. 
How to achieve the triangle concealer look
You might be a little skeptical. While TikTok hacks can seriously improve your makeup game, they often leave you wondering what you just did to yourself. Thankfully, the triangle hack is the real deal. All you need is the perfect concealer for your skin, and you can get instant glamour in less than five minutes. The traditional triangle concealer method uses 3-4 triangles. 
The first is placed in the corner of your eye along the side of your nose. Don't start right in the corner of your eye though, leave a little space so you can blend and avoid creases in any fine lines. Run the concealer about halfway under your eye and connect the triangle. You can add a second, optional triangle in the outer corner of your eye to give you that sharp angle along the outside of your eye to highlight the perfect wing hack you also learned on TikTok last week. 
Finally, place the third and fourth triangles along your nose and lip lines. The key is to sweep the triangles upward to get that sculpted look influencers rave about. Use a bit of spray to set the foundation and blend until you achieve the desired result. Just remember, when it comes to this hack, less is more. You don't need a lot of concealer to make a big impact. Adding too much may even look cakey. If this method isn't getting it, don't worry. Just try a variation. 
Find the perfect triangle method for you
The triangle method works to brighten and define your eyes. But it isn't a one size fits all kind of hack. Several influencers have put their own spin on it to elevate this trick to a cosmic-level beauty timesaver. So, if you're in a hurry or just not feeling like putting on a full face today, you can try a variation to make sure those dark circles are extinct before you walk out the door. 
For example, influencer Deborah Ruiz steers clear of the nose and mouth, focusing solely on creating a lifted, glowing eye. She adds a small triangle in the middle of the eye to provide a bit more coverage before going in with a large triangle near the nose. It works perfectly to give that glowing, blurred-eye effect. Once you get the basics down, feel free to play around with the triangle hack. 
You're sure to find a variation to create the perfect filter effect for your eyes. Whether you stick with the traditional method or venture out, it's a hack you'll definitely want to add to your beauty arsenal. It can shave time off getting ready by giving you Instagram-worthy skin in minutes and let's face it, any excuse to use geometry after spending hours being bored with it in school is a good thing.