The Layering Trick That Will Do Away With Your Bulky Winter Coat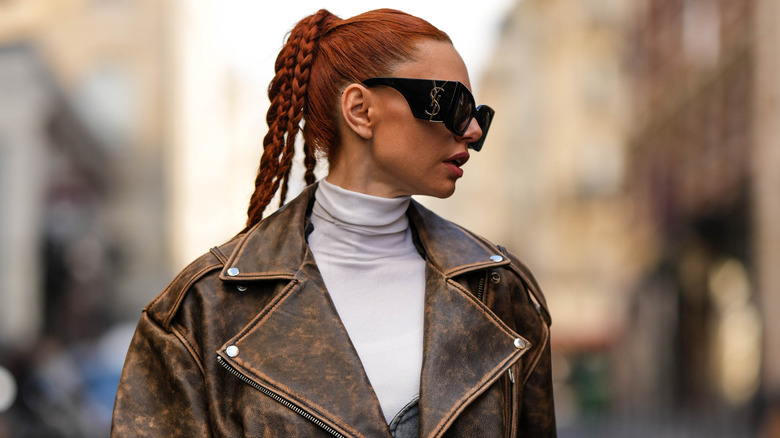 Edward Berthelot/Getty Images
It's the dawn of a new type of cold here in the U.S. with blizzards, high winds, and snowstorms stewing up quite the chilly recipe. Not knowing what to wear in these extreme colds can be excruciatingly frustrating. And it can be equally frustrating for those living on coasts, or in desserts, who rarely experience temperatures below fifty degrees. Sure you can opt for one oversized coat or jacket, but we also live in an age of multitasking. Our go-go-go mentality makes it hard to lug around singular coats all day, much less so when we're hauling bags, purses, or even laptops to and from destinations.
You might be wondering if there is a better way. Thankfully, layering has been crowned the saving grace solution for most chilly daytime excursions, and you can do so in multiple different, and fashionable ways. So, here are some tips on how to layer clothing without that super bulky winter jacket. 
Small, but bold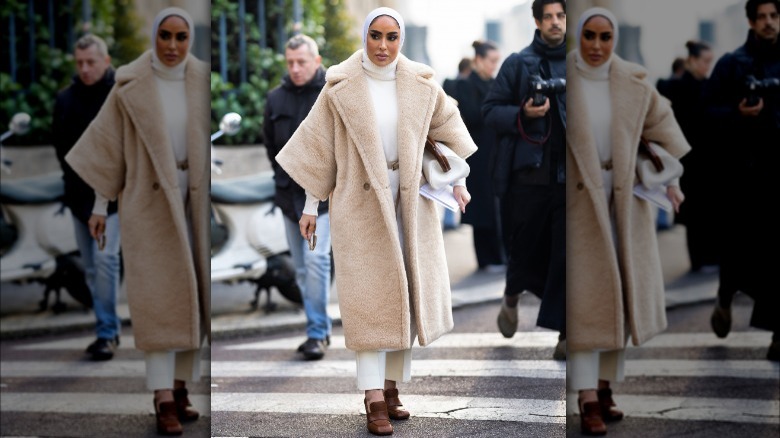 Edward Berthelot/Getty Images
Small layering pieces can make the biggest splash in your winter wardrobe, and provide maximum heat. Since the birth of the layering trend, turtlenecks have been a popular favorite to pair under bulky sweaters, dresses, and t-shirts. Solids work best for specific formal attires, like white and black, though white is a daytime favorite (especially paired with overalls and sneakers). However, striped turtlenecks add a pop of texture to graphic t-shirts, leather jackets, and even jumpsuits. This is a great option for a brunch or dinner reservation, date night, the office, or for anyone that runs hot, but would still like that extra layer of protection from the cold.
Another small but mighty option is a silk scarf. Because it's a natural insulator, silk simultaneously regulates moisture from the air while also containing your body heat. Silk also organically flushes out sweat and moisture, which rolls off the fabric, not seeped into it. It's also a popular favorite for those allergic to fibers like wool or polyester blends, therefore great for anyone needing a hypoallergenic option. Designer Nathan Kong suggests tying a silk scarf as you would a normal winter scarf, or like an ascot. He also suggests layering it on top of a turtleneck by knotting it again, close to the body. Combine these two layering tricks together, and you're in for a fashion-forward treat.
The top tricks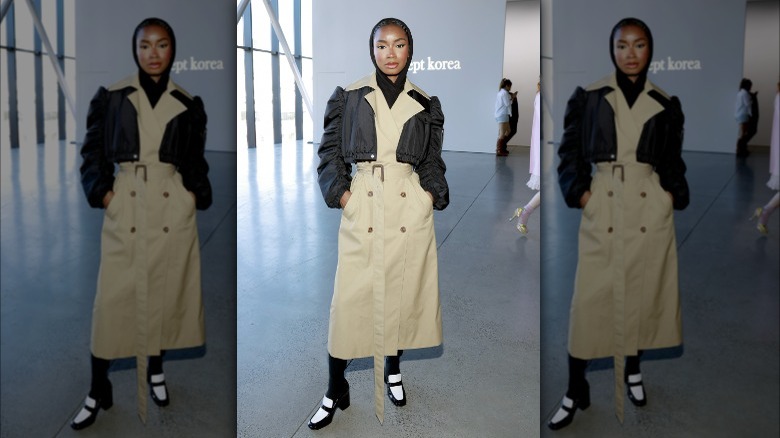 Jason Mendez/Getty Images
Vogue Scandinavia suggests striving for quality of fabric over quantity (or bulk). It's important to strive for layers comfortable enough to last us all day without itching, scratching, or constant adjusting. The more you play with the fabric — tightening, loosening, etc. — the more heat will escape from your body. However, as we work our way down from the head and neck, to the shoulders, chest, and torso, layering coats is the way to go. Use your outer coat as a contrast, in texture, fabric, and length, to your inner coat. Examples range from pairing an oversized denim jacket with a small cotton hoodie to a wool pea coat over a thinner denim jacket or vest.
When choosing jackets to layer, remember to pair different proportions to avoid bulk build-up, or allow heat to escape. After all, textures have tenacity, figuratively and literally. Fabrics like fur, fuzz, or microfibers like cashmere hold onto heat, and paired with an understated jacket like denim makes for the ultimate body-regulated thermostat: but don't forget, there are other essential winter wardrobe pieces you'll want to incorporate as well.