Everything You Need To Know About Builder Gel For Nails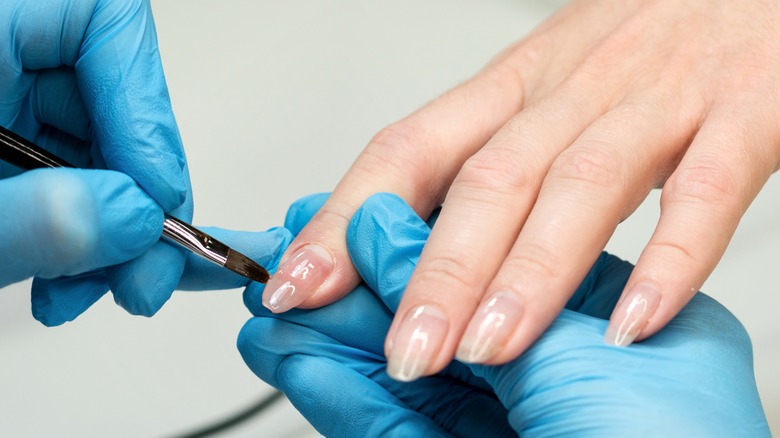 Vagengeim/ Shutterstock
Nail designs can be an incredible form of self-expression. There are limitless different ways you can personalize your set, and it seems like the list of options just keeps growing and growing. From cherry nail art to seashell nails, the nail trend cycle is constantly evolving. And on the more technical side, so are its tools and materials. The more mainstream methods most people have used include acrylic, shellac, gel, and regular polish. But a more niche form of nail paint and extension that you might not have heard of yet is "builder gel."
Again, most of us are familiar with gel and know how it differs from regular polish. Builder gel and gel polish are definitely related, but they are two very different things. According to SalonDirect, the former is much thicker and stronger than traditional gel. Because of this, it can be used to do more than just coat the nail with color. Builder gel can create length and shape, coating and adhering your nail bed to enhancements.
Acrylic vs. builder gel extensions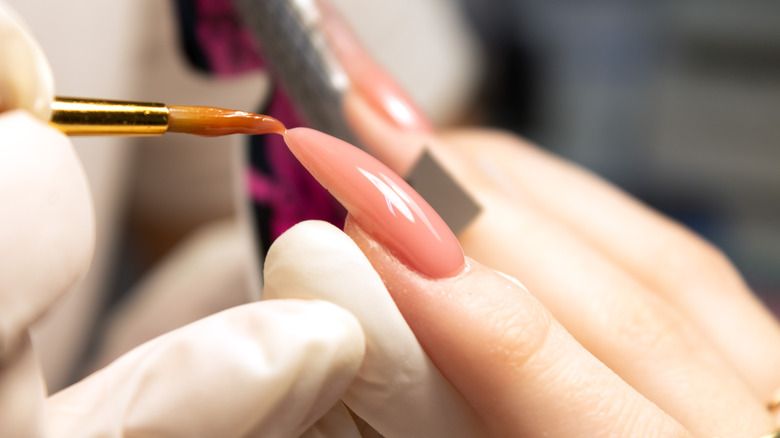 NataliyaR/ Shutterstock
For most people who are looking for long nails that can be shaped, acrylic is the go-to. Harper's Bazaar explains that acrylic nails are a "combination of a liquid monomer and a powder polymer," which form a glue-like substance that can be applied and secured to a nail. Unlike gel-based substances, acrylics do not require UV light. Once the two ingredients of acrylic are combined, it consolidates on its own.
Acrylics are much more durable than builder gel, so if you want some more intense claws, acrylic is your best option. In addition, builder gel is said to last between two and four weeks (per V news). Meanwhile, Hannah Lee, Sally Hansen nail expert, tells Harper's Bazaar that "acrylics should last six to eight weeks with a fill needed about every two to three weeks, depending on your nail growth." If you want something more natural-looking and less permanent, builder gel is likely a good match for you.
What to expect if you choose to get builder gel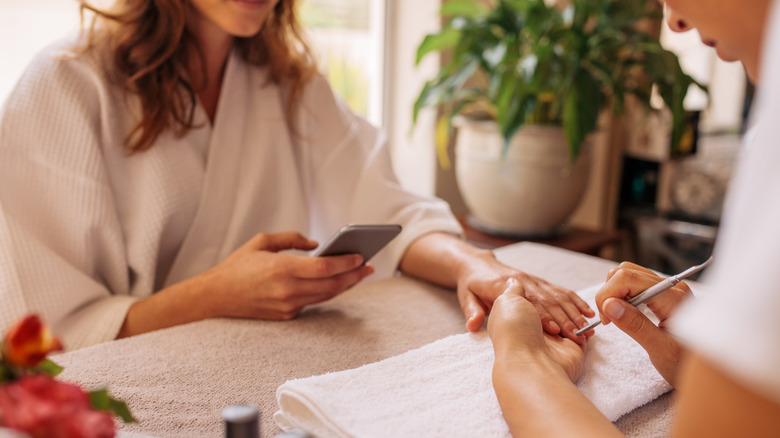 Jacoblund/ Getty Images
Builder gel is the substance used, although many salons call will call the service "gel extensions." If you have had a normal gel polish manicure before, getting gel extensions is very similar. Nail artist Brittany Boyce tells Allure that "The difference between a gel manicure and gel extensions is that a gel manicure is meant to only go over the natural nail, whereas a gel extension is made to extend the natural nail bed to a longer nail but still giving out a realistic look." Boyce continues on to explain that with builder gel, nail technicians will coat the liquid repeatedly. This coating is what builds extra millimeters of length to your nail tips. Between each layer, as with regular gel polish, they will stop to dry the gel using UV light. 
Gel has gotten a bad rep for ruining nails, and unfortunately, it seems like builder gel's track record isn't so stellar either. However, you can reduce the risks of damage by ensuring a professional nail technician does the removal. Because of their strength, celebrity manicurist Gina Edwards notes to Refinery29 that "Almost 90% of the gel needs to be drilled off, then you remove the remaining product by soaking your nails in acetone and dusting it off with a nail file." It sounds pretty intense, but if you are looking for a more natural-looking alternative to acrylic (and as long as you don't attempt to pry the builder gel off yourself), your nails will likely be just as well off as they would be with other extension devices.