Soap Actors Alison Sweeney And Cameron Mathison To Double As Hallmark Stars Once Again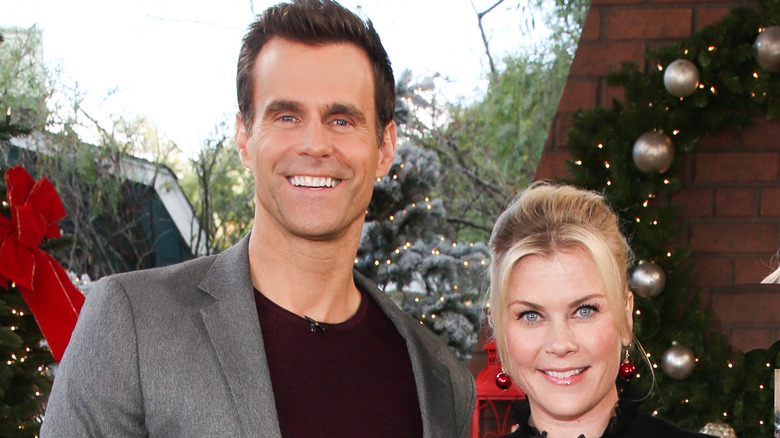 Paul Archuleta/Getty Images
The Hallmark Channel has expanded its programming content so much over the years that it's created hundreds of dramas, mysteries, and holiday movies. It isn't just one channel anymore, as Hallmark also produces Hallmark TV, Hallmark Movies Now, Hallmark Drama, and Hallmark Movies & Mysteries, among others. Its output of holiday films is extraordinary, with many daytime stars including "Days of Our Lives" alum Alison Sweeney becoming a staple of their seasonal films. She's also been in such Hallmark movies as "The Irresistible Blueberry Farm," "Love on the Air," "Second Chances," and "Open by Christmas," just to name a few.
One of Sweeney's most popular Hallmark mystery films is the "Murder, She Baked" series, which comprised several movies based on the popular "Hannah Swensen Mysteries" book series, along with soap veteran and Hallmark regular, Cameron Mathison. The actor, who currently plays Drew Cain on "General Hospital," is no stranger to the network's fun movies and has appeared in such fare as "Window Wonderland," "My Gal Sunday," and "Along Came a Nanny." Considering there are so far 29 books in the "Swensen" series, Sweeney and Mathison could be making film adaptations of them for a long time to come.
In fact, a new film with the duo has just been announced, and fans are eager to see what it is.
Sweeney and Mathison return for more mystery
On February 27, Hallmark Movies & Mysteries posted an enigmatic picture on Twitter, with the cryptic caption: "#Sleuthers We've got all the ingredients lined up for a delicious new mystery when old friends return. All you need to do is guess the clue from the image!" The phrasing teased it would be a food-related film, and a cake emoji was placed at the end. The picture depicted a flowery background with three silhouettes in front. The next day, HM&M followed it up with another Tweet that stated, "It's official, Carrot Cake: A #HannahSwenson Mystery starring @Ali_Sweeney @CameronMathison and @barbaraniven is coming soon! @etnow has the exclusive details here!"
Based on the 10th book in author Joanne Fluke's popular "Hannah Swensen Mysteries" series, "Carrot Cake: A Hannah Swensen Mystery" will reunite Alison Sweeney, "One Life to Live" alum Barbara Niven, and Cameron Mathison as they take on a new mystery involving an unearthed skeleton. Niven will be reprising her part as Delores Swensen, mother to Sweeney's titular role, Hannah Swensen. Mathison is also returning as detective Mike Kingston, Hannah's fiancé. Sweeney told Soap Opera Digest, "The fans of Hannah Swensen are incredible and we are so excited to make more mysteries to share with them," adding that she's looking forward to working with Mathison and Niven again.
We can't wait for more adventures with Hannah Swensen and company!