The Soft Wolf Cut Is The Gentler Version Of 2023's Edgiest Hair Trend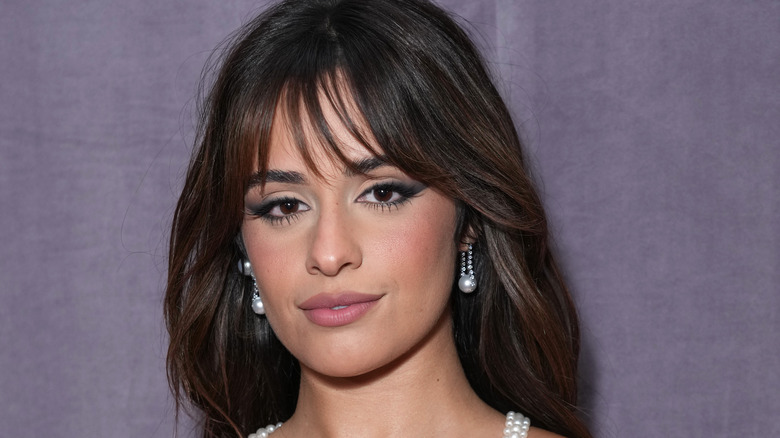 Kevin Mazur/Getty Images
Edgy hairstyles, such as the mullet and shag cut, have really been thriving recently. Inspired by looks of the '70s and '80s, these cuts have been modernized for the current trend cycle, giving life to new takes on the styles. The wolf cut is one of the elevated spins on these iconic looks, combining elements of both the mullet and shag to create a tousled, grunge-inspired appearance.
As Nicholas Alexander Willis, master stylist at Charles Worthington Salon, tells Stylist, "A wolf cut is a creative version of a mullet. It's inspired by the choppy texture of a mullet and follows a similar pattern and shape but has the softness and wearability of a shag cut ... Essentially, the wolf cut gives you more volume at the crown, less at the sides, with lots of movement and layers throughout."
While the wolf cut has been popular with stars like Billie Eilish and Lizzo, a version of the look, known as the "soft wolf cut," has similarly started appearing on celebrities. This is arguably a more wearable rendition of the look, making it the perfect pick for those who want a slightly subtler take on the edgy hairstyle.
What is the soft wolf cut?
The soft wolf cut is a subdued version of the trendy hairstyle, taking a more wearable approach to the grunge-inspired look. According to Domenico Casella, senior stylist at Neville Hair and Beauty, "It features elongated layers that blend better with the rest of the haircut. The look is lived in, sexy and voluminous, but can be styled to meet your desires," (per Grazia).
This look's longer, softer layers make it a more versatile alternative to the classic wolf cut, as you can pin back and style the hair without dealing with the shorter locks seen in the original version. Plus, the cut can be replicated on various hair lengths, making it easy to adapt to your preference and style.
For some soft wolf cut inspiration, check out Jennifer Lopez's hairstyle in her action romcom "Shotgun Wedding" or Camila Cabello's L'Oréal Paris look. Otherwise, you can pull some ideas from the classic wolf cuts seen on celebrities like Miley Cyrus and Jenna Ortega.
What to ask for at the salon
If you want to get your own soft wolf cut, you may be wondering what exactly you should ask for at the salon. For this hairstyle, you want to make sure that you emphasize your desire for softer, blend-able layers, a key component of the subtler wolf cut sister look. Compiling some inspo photos to share with your stylist is one of your best options. To do so, check out some of the celebrity looks we mentioned, browse hashtags on Instagram, or create a Pinterest board.
As Nicholas Alexander Willis suggests, you can also see if your hairdresser is open to a consultation appointment. "I always have a consultation with my clients before we embark on a new look. We will discuss the density of your hair type and look at your face shape ... From here, we can create a wolf cut that will suit both you and your lifestyle," he tells Stylist.
Other than that, all you have to do is mentally prepare yourself for your stylish, edgy new haircut.