How Is Volux Different From Other Fillers (And Is It The Right Treatment For You)?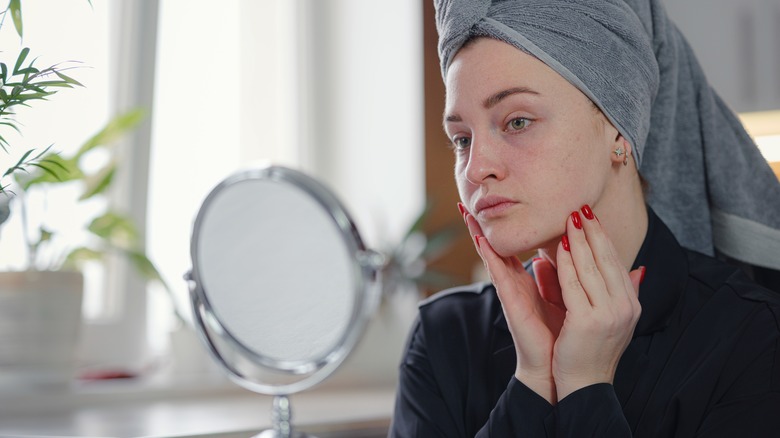 U__Photo/Shutterstock
Fine lines, wrinkles, and sagging skin are all signs that you've experienced a lot of birthdays. But you're not a tree stump. Your lines don't have to give away how old you are. Derma fillers are your cosmetic friend for rounding out creases and volumizing your skin. These injections can be a surgery alternative. There's no need for a facelift or skin tape to fake a facelift.
Lip injections and those designed to plump out wrinkles are the most popular derma fillers. One syringe can define your cupid's bow or cheekbones. But what about your jaw? You might be a little envious of the jawlines sharp enough to cut paper. However, now you can join the defined jawline club instead. Volux is a filler said to be new and improved from what's already in clinical use. So what makes this filler better, and is it right for you?
The FDA-approved filler for your jaw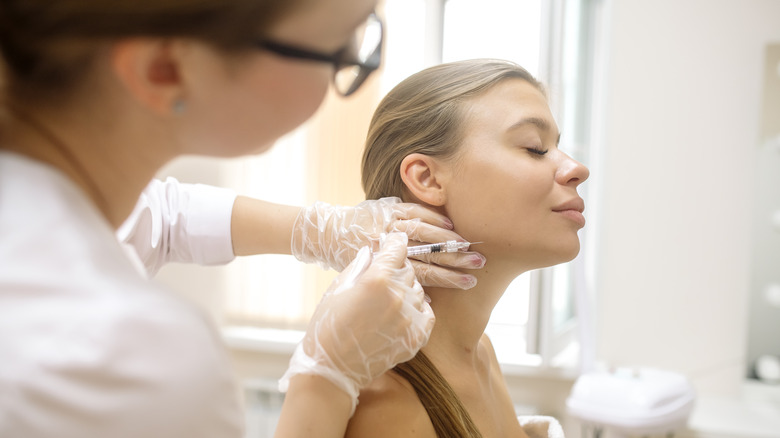 Starocean/Shutterstock
Wrinkles have Botox, and now jawlines have Volux. The FDA-approved gel implant is an injectable designed to create definition and plump out lines. Chiseled jawlines have become a reality without the need for surgery. Volux is brought to you by Juvéderm. It is the same cosmetic brand that created Volbella fillers for the lips and Voluma to take care of hollow cheeks. Volux jawline fillers stand out from its competitors due to its viscosity. It is thick and moldable like clay, whereas traditional hyaluronic acid fillers are finer gels.
Volux coming to market opens up the door for facial reconstruction. Volux can restore lost volume and contour and lift your chin and jowl. It can even tweak the look of double chins. This rebuilding can turn back the signs of aging. Say goodbye to a sagging, undefined face and hello to a sculpted jaw that rivals the Greek gods. Volux may be the answer to the sharp jawline you've been watching for.
Is Volux right for you?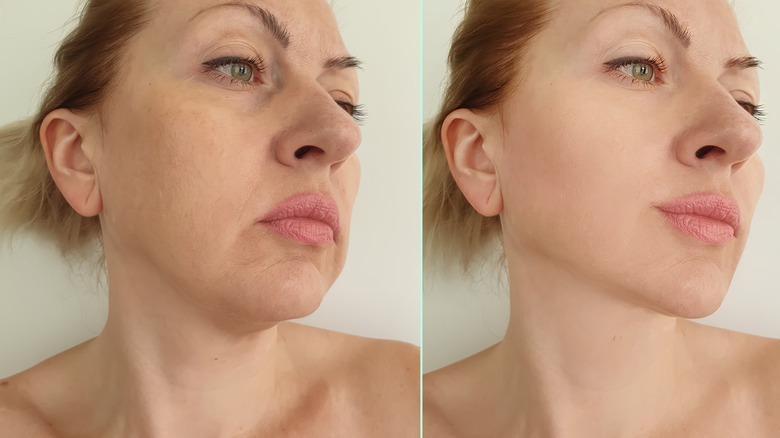 TanyaLovus/Shutterstock
With any cosmetic procedure, there are potential side effects. There are minimal complications to receiving the Volux injection. The FDA reports possible swelling, bruising, firmness, and discoloration at the injection site. Other adverse effects outlined include headaches and muscle twitching. However, these symptoms were found in less than 1% of the study's participants. Volux received its FDA approval in July 2022 after thorough testing. It is not recommended for those under the age of 21 or allergic to anaphylaxis and lidocaine. There are a few alternatives to Volux that can still get you a snatched jaw.
Other facial injections like HA, CaHA, and PMMA fillers are safe for the jawline. Each redensity filler plumps the skin and smooths out wrinkles, so a chiseled jaw is all you're left with. Depending on the type of dermal filler, results can last from six months to five years. However, these fillers don't have the thick, putty-like consistency Volux has. For more permanent results, there are neck lifts; with this surgery, the skin, fat, and muscles are tackled together to truly sculpt the jawline. Consult your doctor about which options are best for you.