The Viral Concealer Hack That Will Give You Smooth, Blurred Under-Eyes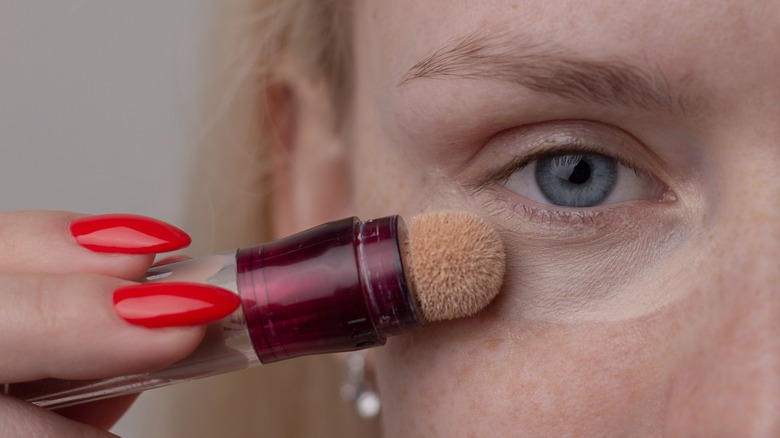 Andrei Lapkin/Shutterstock
You love beauty. The art of putting on your makeup in the morning is more akin to creating a masterpiece than a chore. But getting your under-eye area to look perfectly blurred and flawless takes a lot of effort, especially when you're dealing with fine lines and discoloration. Thankfully, we have access to thousands of beauty lovers and makeup artists with just the click of a button through TikTok. 
These connoisseurs are primed to share their years of experience and wisdom. One such hack, the viral concealer and powder trick, is a definite must for your makeup routine. It's super simple and blurs wrinkles and dark circles without any special makeup or tools. In fact, you already have everything you need right in your makeup bag.
Dive into the latest concealer hack that's taking over TikTok to perfect your flawless makeup look, and give yourself a few much-needed extra minutes to sip your morning coffee or just prepare for the day ahead. And, just in case anything goes awry, you'll also want to explore a few tips to really make your skin glow regardless.  
How to mix concealer and powder for blurred under-eyes
Creating a smooth finish under your eyes is tough. Not only are you contending with dark circles, but there are bags and fine lines too. You don't want your concealer to cake under there either. Rather than fighting with your under-eyes, Nars global makeup artist Vincent Ford offers up a simple trick to work with them. All you need to get started is a bit of concealer, a fluffy brush, and a reflective translucent powder. 
You should have already applied your makeup primer or foundation to a clean, dry face, too. Next, go in with your concealer how you normally would. The method you use for under-eye coverage is completely up to you. A few good TikTok concealer hacks out there include dotting the inner and outer corners of the eye and the viral triangle hack.
Once you have your concealer firmly in place, you're going to simply dip your fluffy brush in a bit of powder. You don't want to load up the brush. Just a light dusting will do. Then, use the brush to blend out the concealer. It works to help the concealer to stay in place and removes any shine while also ensuring it doesn't get trapped in any fine lines.
More tips to create impossibly flawless under-eyes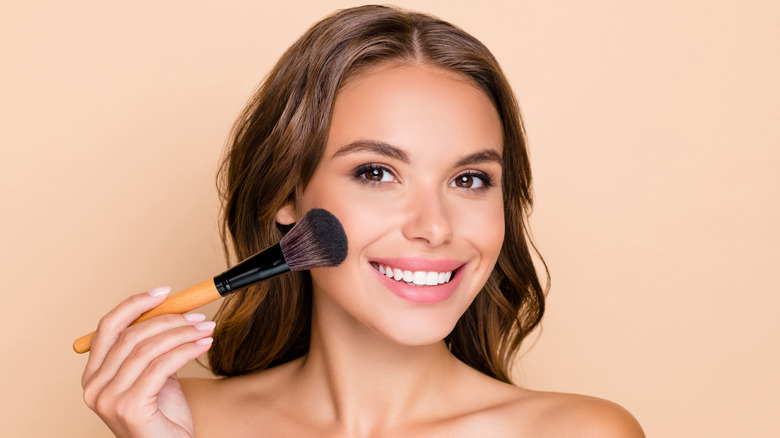 Roman Samborskyi/Shutterstock
If you've already given this hack a whirl, but your eyes don't have that smooth, glassy finish, don't panic. The key to this trick is to be as gentle as possible with your concealer and powder. The skin covering the under-eye area is thin. That's why your dark circles look blazing when they pop up. Therefore, if you add too much or too heavy of a powder you can quickly run into trouble. 
Even if you feel like you need more coverage, heavier powder has a tendency to look cakey and given how sensitive this area is, you don't want it to get even drier so a dusting of loose, translucent powder is best. The reflective nature of this product will work to manipulate the light in your favor, giving your skin that smooth, flawless glow. When it comes to makeup, there is a hack for everything.
Quite literally, you'll find thousands of different tricks to make makeup application faster and easier online. Some are a complete dud, but the powder and concealer trick is a bit of beauty magic to get you looking radiant in minutes.