Whimsigoth: How To Incorporate The Witchy Aesthetic Into Your Wardrobe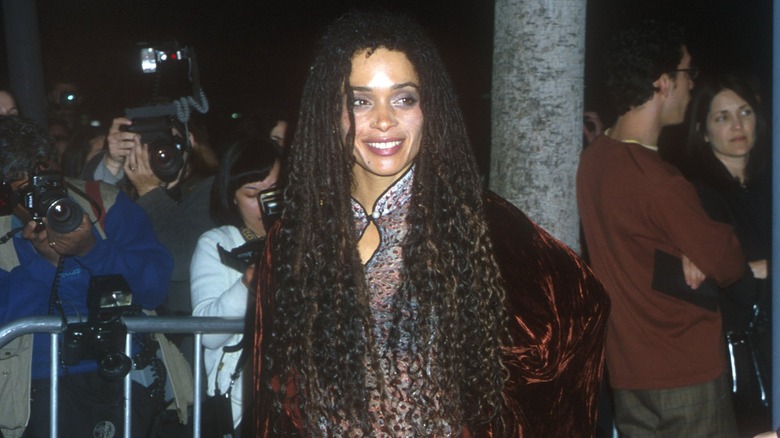 Brenda Chase/Getty Images
TikTok is responsible for enabling hundreds of subcultures. There's twee, the "adorkable" style that dominated the 2010s, the coastal grandmother aesthetic, and of course cottagecore, a romanticization of rural life that emerged during the COVID-19 pandemic. Major labels have learned to incorporate TikTok trends into their recent runway collections, with Simone Rocha and Prada stitching-in elements of dollcore and indie sleaze, respectively, according to W Magazine.
Whimsigoth is one such subcategory, with the hashtag amassing well over 84 million views on TikTok alone. As the name suggests, the aesthetic combines whimsical and gothic styles. It mixes and matches elements of '90s grunge and late '60s hippie culture, paying homage to beloved fantasy witches like Sabrina, Elaine Parks (aka "The Love Witch"), and the entire cast of 1996's "The Craft" along the way. Real-life exemplars of the style include '90s-era Lisa Bonet and Stevie Nicks circa 1970. 
In a conversation with I-D, TikTok creator Olivia Young-Thompson (known under the handle @ostara_shoppe) notes the trend's connection to female role models, also recognizing the constant role of nostalgia in our closets. "I think whimsigothic and all things gothic fairytale appeal to those who look back with rose-tinted glasses to a generation they never lived through," she explains. Best of all, this is a look easy to pull together entirely from thrift store finds. With this in mind, here's how to give your wardrobe a witchy upgrade.
Style rich shades of blue, purple, and green
Whereas the classic goth aesthetic is built around black, most whimsigoth fits feature earthy tones like celestial blue, deep purple, and forest green. TikTok creator @aliciavellante also points to a reliance on jewel tones like sapphire, ruby, and amethyst. According to Teen Vogue, each color has a particular meaning. Red, for instance, can represent passion, whereas green signifies serenity. For starters, check out this dark green duster cardigan available on Urban Outfitters. However, as you experiment with whimsigoth, understand that this "trend" as it's known today has its origins in centuries-old spiritual practices.
Take inspiration from '90s cult classics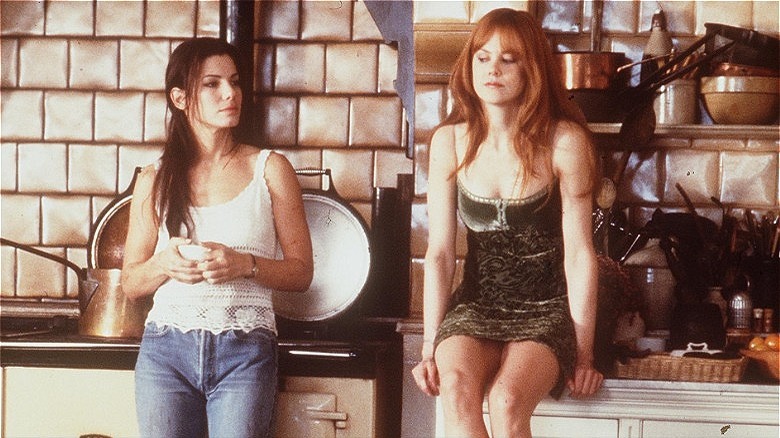 Getty Images/Getty Images
Movies like "Charmed" as well as TV shows like "Sabrina the Teenage Witch" and "Buffy the Vampire Slayer" set the tone for the modern-day whimsigoth aesthetic. Not to mention the lasting influence of "Friends" favorite Phoebe Buffay. Channel Nicole Kidman in 1998's "Practical Magic" and invest in a Gillian Owens-approved velvet green mini dress. Alternatively, tone it down like her sister Sally (aka Sandra Bullock), and wear your favorite pair of mom jeans. Top off the look with vintage shades and freshly-cut curtain bangs.
It's all in the layers
Perfecting the art of whimsigoth is all about layering. Like TikTok's @fffigs, invest in knitwear, denim vests, and long jackets to wear on top of your witchy base. Corset tops and belts, specifically, are a big part of this subculture — support a small business, and buy a handmade lace-up belt from The Prairie Misfit on Instagram. Layer it on top of a maxi dress or paisley top, completing the look with a Penny Lane jacket and scarf for those cold weather days. Most importantly, don't be afraid to clash patterns, colors, and fabrics.
Focus on velvet, lace, and leather
When thrifting for whimsigoth wardrobe pieces, keep your eyes peeled for rich velvets, vintage lace, and sheer fabrics. In the best-case scenario, find a piece that ties all these elements together — look to this velvet and lace Urban Outfitters dress for inspiration, and find a leather trench coat to complete the look. Ultimately, whimsigoth's ties to the fantasy world make it the perfect form of escapist fashion. As cultural historian Marian St Laurent explains to I-D, "gothic style shines darker to counterpoint our darker-than-gothic times." Curate a wardrobe that comforts you through uncertainty. 
Thrift to find celestial jewelry
Layer moon, star, and sun necklaces or pay homage to your astrological sign by investing in personalized jewelry — find your birthstone necklace on Etsy. Most importantly, don't forget to stack on lots and lots of rings. As Andrea Diodati, a designer and assistant professor at the Fashion Institute of Technology, explains to Glamour, "People are looking to spirituality or astrology or intuition to have comfort and explore new ways of being," adding, "It's owning the female identity, the divine feminine." Before sporting certain motifs as a fashion statement, take time to learn about the layered histories behind both astrology and spiritualism.
Flared sleeves and flared pants are the way to go
One of the quickest ways to perfect the whimsical look is with the help of bell sleeves and pant legs, both of which were a wardrobe staple throughout '70s (and later in the 2000s). For starters, check out this H&M tie front top, and balance it out with Free People velvet flare pants. Alternatively, dip your toe into the world of virtual thrifting. Shop Daisie's Junk on Depop for whimsigoth vintage finds.
Platform black shoes bring the look together
Compliment the softness of velvets and long-lined, flowing skirts with platform black or earth-toned shoes. Chunky heels were a big deal throughout the '90s, literally. Complete your look with Crown Vintage penny loafers, or hop in the time machine to scrounge up a pair of decades-old clogs. You also can't go wrong with wide-strapped sandals or combat boots. Whatever you choose, make sure to complete the look with the right pair of celestial-patterned socks. 
Find a shawl worthy of Stevie Nicks
Though whimsigoth is often associated with '90s TV witches, its origins can actually be traced back to the late '60s and '70s. The nostalgia cycle is far from a new phenomenon. Perhaps most notably, Stevie Nicks pioneered the aesthetic as we know it today, remembered for her shawls and floor-length fabrics. As the "Fleetwood Mac" icon joked with Rolling Stone, "I'm trying to give my shawls away — but there's thousands of them." Rummage through your local thrift store to start your own collection, or find an online crochet pattern and get to work.
Stick to maxi skirts
As a general rule, long skirts and dresses are a whimsigoth staple. Specifically, TikTok creator Stephanie Cook recommends mesh overlay skirts to Nylon, noting that whimsigoth "[Is] like the edgier older sister of cottagecore, but softer than more gothic aesthetics." Shop this Urban Outfitters mesh maxi, or find ethically-sourced and size-inclusive clothes at Tunnel Vision. Best of all, you can repurpose elastic-waist maxis as a dress like TikTok creator Aliya (@hyacinthoney). Pay special attention to patchwork patterns and dark florals, both whimsigoth must-haves. For added witchiness, layer a waist chain on top.
Incorporate fishnets into your look
Fishnets will add a final touch of texture to your whimsigoth wardrobe. Wear them underneath your choice of skirt or dress, or layer a fishnet shrug on top of a sleeveless fit. When it comes to fishnets, you don't need to stick to the typical crisscross pattern. Add visual intrigue — see these floral Calzedonia tights, or check out celestial-patterned leggings at Walmart. Alternatively, if you're not a fan of full-length tights, opt for fishnet knee-highs or ankle socks.