JoAnna Garcia Swisher Thinks Sweet Magnolias Is 'A Tribute To Strong Female Friendships' - Exclusive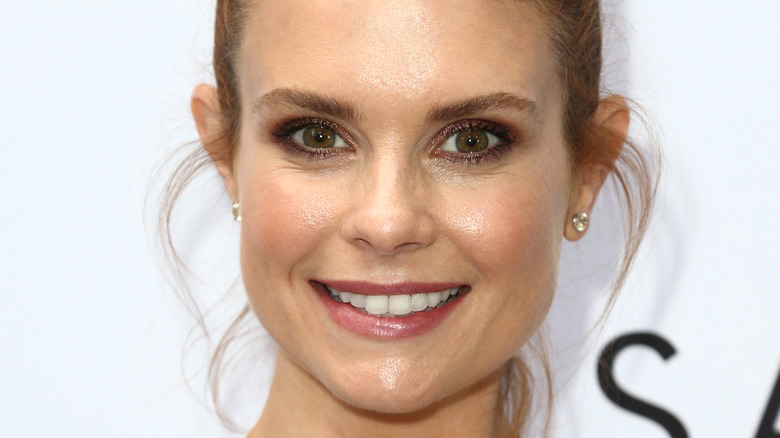 Tommaso Boddi/Getty Images
There's something to be said about female friendships. Women supporting women has been a longtime theme that has gotten a foothold in the television industry, especially as famous shows such as "Friends," "One Tree Hill," and "Sweet Magnolias" have aided the concept of strong female relationships. "Sweet Magnolias" will air its 3rd season in the coming spring, and fans await the continued storyline between characters Maddie Townsend (JoAnna Garcia Swisher), Dana Sue, and Helen.
"There's a lot of love and romance, and you're going to get to see a deeper side of our friendship," Garcia Swisher explained of the next season of "Sweet Magnolias" in an exclusive interview with The List. Without getting too far into the nitty-gritty of the plot — and to avoid epic spoilers for non-binge watchers — we can summarize that Maddie Townsend is navigating life as a recent divorcée with the aid of her two best friends. Garcia Swisher revealed she is "proud" of the "relatable" show, and she also highlighted the importance of conveying female friendships.
There are cloudy days coming
"You start to see how they struggle through life together, with each other, with other people, and it's a tribute to strong female friendships," JoAnna Garcia Swisher told The List. "It's not always rainbows and butterflies, and sometimes there's some cloudy days," the "Reba" actress added. "That's an important element and something that's really real, and I think it was about time that we honored that." 
Garcia Swisher, who just partnered up with Mrs. T's Pierogies for its All-Star Moms campaign, repeatedly said that "Sweet Magnolias" is all about self-reflection for her character, Maddie, as she becomes a "better friend."
According to Fansided, Dana Sue Sullivan (Brooke Elliott) and Helen Decatur (Heather Headley) are expected to return for the next season as Maddie Townsend deals with the aftermath of her boyfriend's arrest and Helen chooses between two love interests. "We're both pretty tough," Garcia Swisher said of the likeness between herself and her character in the series. "We have a big heart and we always mean well, but we both are survivors and we are not afraid of a challenge, and we both figure it out," the "Once Upon a Time" star continued. Sounds like fans are in for a sweet new season ahead. 
You can search through the rest of Mrs. T's Pierogies' products on its website. Keep up with JoAnna Garcia Swisher's latest television projects on her Instagram page. "Sweet Magnolias" Season 3 is set to be released on Netflix in spring 2023.