Why Your Favorite Makeup Brush May Be The Key To The Perfect Sleek Ponytail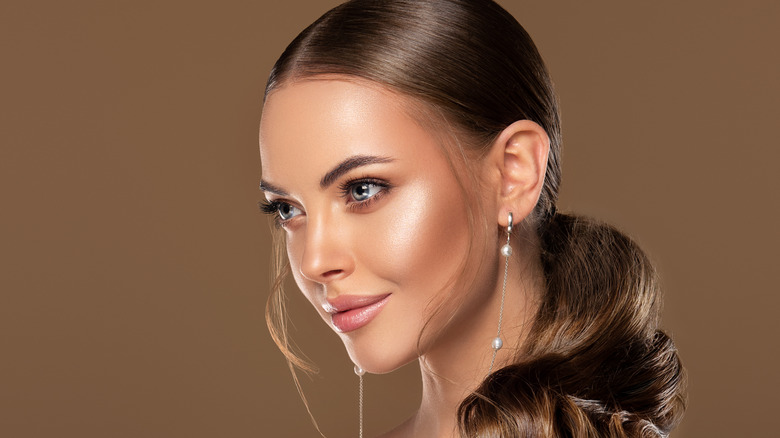 Sofia Zhuravetc/Shutterstock
Your ponytail is perfect. It's cascading beautifully and perfectly centered. However, the flyaways are distracting from the overall look. You cake them in hairspray and do your best to tame them into submission, but they keep springing back up. Rather than running a brush through your locks and flatten your look, try reaching for your favorite makeup tool to tame your tresses.
Makeup brushes are great for contouring and giving you that fabulous glowing skin, but you might not realize you can use them on more than just your. With a bit of hairspray and a few swipes of a makeup brush, those flyaways are lulled into a soothing submission, making your hair look like you just walked off the runway. 
Get that hot ponytail style by trying the makeup brush hack on yourself with a few simple steps. You'll also get a few celebrity go-to tips for keeping flyaways from ruining your best hair day ever.
How to use makeup brush for sleek ponytail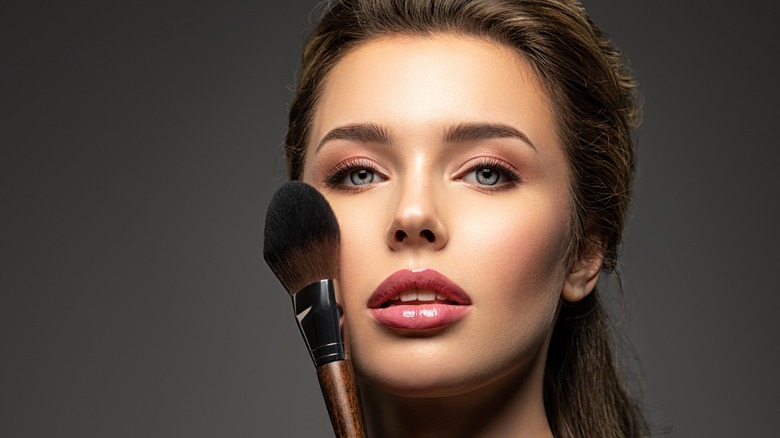 VALUA VITALY/Shutterstock
You're ready to give this hack a try on your ponytail. But you're looking over at your makeup brushes with a bit of confusion. According to hairstylist Lacy Redway's interview with Allure, it takes a specific brush to make this hack successful. She recommends using a blush brush to get those hairs to cooperate.
To get the most out of this hair trick, you need to grab your blush brush and a bit of hairspray. It doesn't take an expensive blush brush, either. Any drugstore brush you have on hand can make this trick work. Redway states, "spray a little bit of hairspray on the blush brush and then I put it over the top of the hair." It's as simple as that. With a few swipes, your style will be sleek and ready for action. 
You might also find that you have more success with a small brush, like an eyeshadow brush, for specific areas like the base of the neck or behind the ears. These work to get into those hard to reach areas to ensure your hair looks smooth and sleek. A makeup brush isn't the only way you can upgrade your ponytail game with curly or wayward hair.
Other ways to get a sleek updo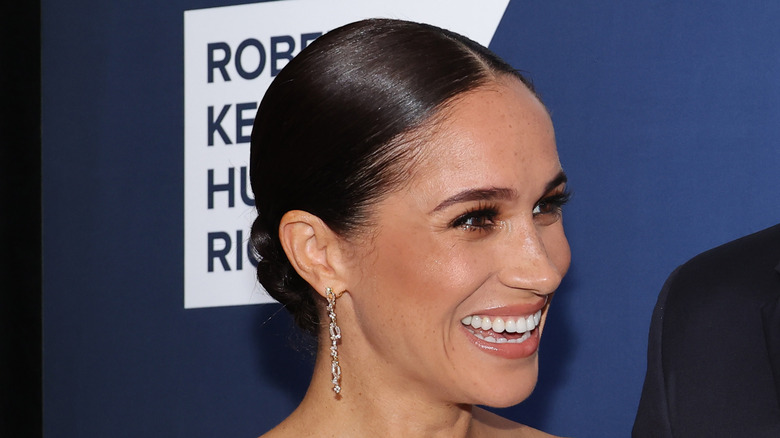 Mike Coppola/Getty Images
When it comes to random wisps of hair, your makeup brushes work great to get them back on track. However, they might not work as well for a big problem area or those flyaways that refuse to be tamed. For these rogue little hairs, you might need a few stronger elements in your makeup kit.
According to PureWow, Meghan Markle and stylist Justine Marjan find that a toothbrush works well to get stubborn hairs to cooperate for a sleek look. You spray a little bit of hairspray or a pump of gel on the toothbrush to slick them down. You keep that killer volume, but get those stubborn tresses to mesh perfectly with the rest of your hair. If you have more of a slicked-down ponytail look, you can even use dental floss for popping the hairs into place after applying a bit of hairspray.
If you've got a lot of new growth or want that killer low pony look, flyaways can be a serious issue. However, with a bit of help from your blush brush, those little hairs have nothing on you.