10 Ways To Upgrade Your Ponytail Game If You Have Curly Hair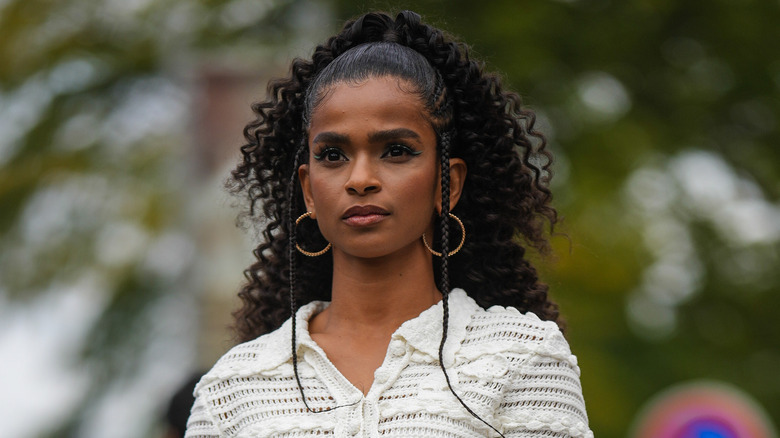 Edward Berthelot/Getty Images
Ponytails have gained a bit of a reputation for being a lazy hairstyle, mainly due to the fact they're a quick and easy to do when you're in a rush and they don't require squeaky-clean hair. However, just like most quick styles, ponytails can look great with just a little more effort. 
It may have been all about buns lately, judging by the trendy slicked-back bun and balletcore bun hairstyles that are seemingly everywhere, but ponytails can look just as good — and often require less time to assemble! Per Good Housekeeping, some types of ponytails can even be protective for natural and curly hair.
Even if you're a fan of ponytails, there are tons of styles that you may never have even considered trying. Plus, you may know the hottest new ponytail styles that will up your hair game, but having curly hair can be a different ballgame. While it is beautiful, the truth about curly hair is that it can be difficult to style, especially when it comes to finding hairstyles that don't take much time to put together.
Luckily, there's tons of inspo for ponytails whether your hair is curly, wavy, or somewhere in between.
A side ponytail can add youthful flair to your look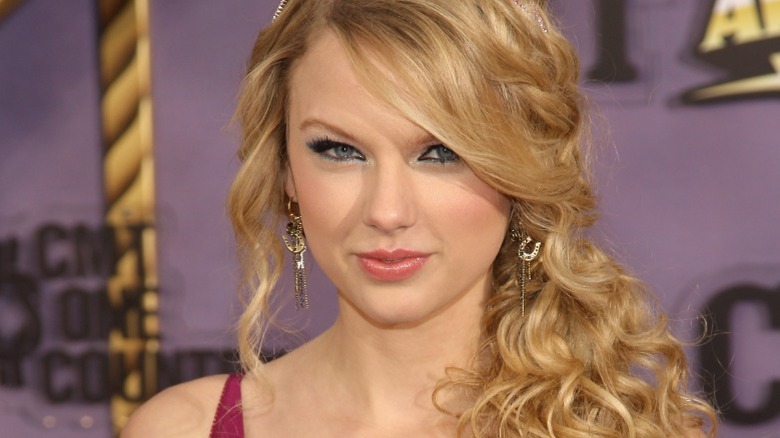 Stephen Lovekin/Getty
Not all ponytails have to be in the classic slicked-back style, and no one proves this better than Taylor Swift. Before she was singing about snakes and rocking bleached hair, the singer-songwriter was partial to putting her ringlet curls into a side pony. Simple and sweet, Swift's look only requires some curl-defining spray and a bobble to pull off (via Byrdie). If you're worried about your ponytail looking a little too Y2K, add an oversized hair clip just above where you secure your hairband for a more updated take on the trend.
This ponytail is best for short or mid-length hair
Is a side ponytail a little too sweet for you? Try a pineapple ponytail instead. Per L'Oreal Paris, a pineapple-style ponytail will protect your hair while making a bold and beautiful statement due to the volume it delivers. To achieve this look, gather all of your curls on top of your head and pull them forward before securing them with a tight hairband. Arrange the curls closest to your hairline so they fall over your forehead for heaps of volume. 
Spice up your go-to style with this look
Creator @ashleewest showed off one of her favorite ponytail styles for those days when you want to look a little cuter. First, section your hair, leaving part of the front section out (you could also just leave your bangs out if you have them). Next, take the front part of your hair, smooth it down firmly, and put it to one side, securing the hair just behind your ear with a clip. Finally, tie your remaining curly hair back into a high ponytail, and add mousse for extra volume.
Take your ponytail to new heights with this playful style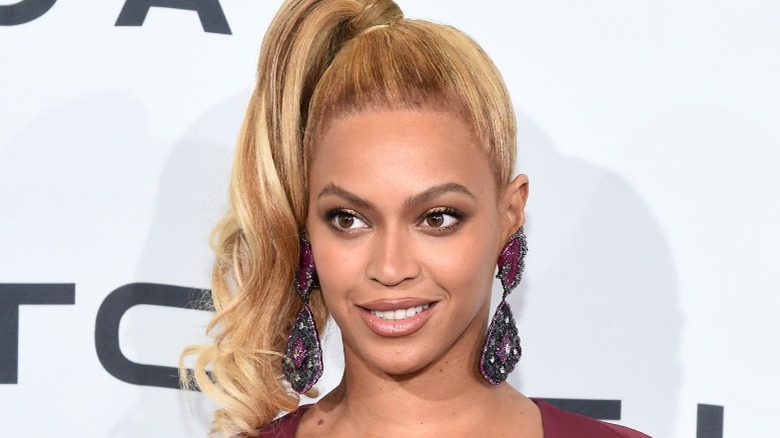 Ilya S. Savenok/Getty Images
Another iteration of a side ponytail, Beyonce's look will work well if you have wavy hair, too. Instead of sitting low and across the shoulder like Taylor Swift's, Beyonce's ponytail is high and defined, giving her features a sharper look. This style is an ideal choice if you want to keep your hair out of your face while running errands but still want to look cute. Plus, it will show off your highlights or root touch-ups to perfection.
Rihanna proved that a ponytail can create an edgy glam look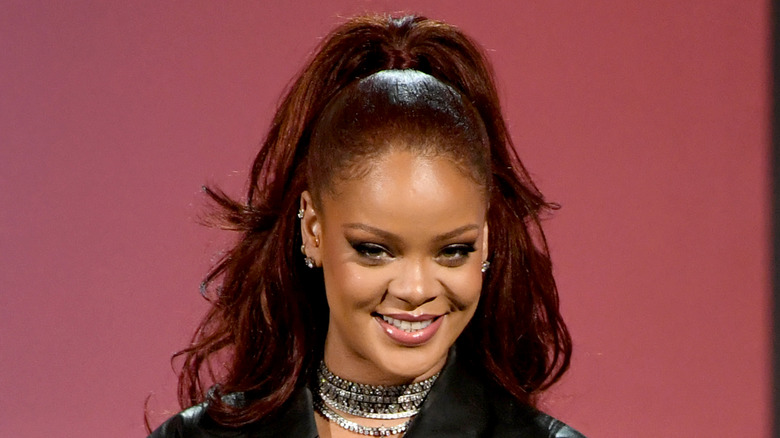 Kevin Winter/Getty Images
Ponytails can be glam, as evidenced by the voluminous snatched ponytail look Rihanna pulled off at the 2019 BET Awards. Celeb hairstylist Yusef Williams told Teen Vogue that you should start out by teasing your ponytail with a firm hold hairspray. To add even more volume, grab a curling iron for texture and dimension. If you already have extremely curly hair, you can skip this step. If your hair is curly but on the finer side or not long enough for a full pony, extensions are your best friend, though make sure to blend them in properly.
Become Ariana Grande with this take on her classic ponytail
We all know that Ariana Grande helped to popularize high ponytails, and TikToker @amydiala shared how she replicated the pop star's iconic look on her curly hair. Start by putting all of your hair up into a high pony with a slight middle part, and then use a brush and gel to smooth out the front and sides of your hair. To finish the look, Diala added some oil and hairspray into her ponytail to define the curls before flipping the ponytail forward slightly to emulate Grande's iconic hair flips.
Accessories can make your ponytail stand out more
If you're looking for a more sophisticated curly ponytail look, why not try incorporating accessories such as beads or pearls like in the photo above? This is an easy way to make a ponytail ready for a formal event. Not only can you experiment with textures and colors, but, when strategically placed, accessories can also make your ponytail appear fuller by covering thinner areas of hair. Match your hair accessories to your outfit for an unforgettable look that shows your ponytail definitely wasn't a last-minute hairstyle. 
Contrast textures with this ponytail style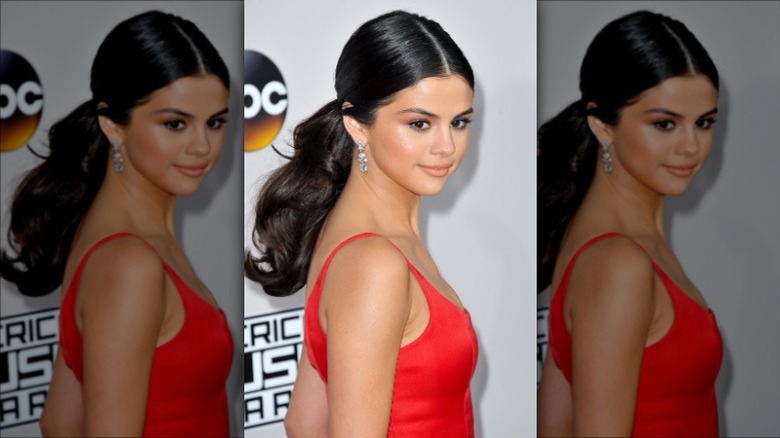 Allen Berezovsky/Getty Images
One of the simplest but most effective curly ponytail looks is a slicked-down style with a middle part in front. Not only does this provide contrast between a voluminous ponytail and a sleek front, but it's also a timesaving style that will always look put-together. To achieve the look, you'll need mousse or gel to ensure that the front of your hair lays completely flat. Make sure to clip the hair intended for the ponytail out of the way when slicking back the front part. Your ponytail can be placed where you like — Selena Gomez chose a low pony for the above look — but a high ponytail will look the most voluminous.
Mix two hairstyles together for a cool and unique look
Create a two-in-one hairstyle by combining two of the most popular styles for curly hair — braids and a ponytail. Like influencer Lesley, aka @freshlengths, demonstrated, braiding the top part of your hair and leaving the rest curly makes for a stunning finished product. It also solves the problem of trying to figure out what to do with the front part of your hair if you don't like slicking it back. Bold and beautiful, this style may be a little more time-consuming but will steal the show wherever you go.
This style is an alternative to the classic pony
Finally, this style won't necessarily showcase your curls, but it will switch things up. Content creator @thtblasiangirl recommends beginning this style when your hair is wet. Using gel to smooth and define your hair, grab two bands to tie all of your hair back firmly into a pretty high pony. After smoothing out the front a little more, braid your ponytail into four main sections, finishing the look with a cute bow for flair. You can customize this look depending on how much hair you have, but adding an accessory like a bow is a good way to showcase individuality.