The Monumental Way Hallmark Stars Chris McNally And Julie Gonzalo Announced They're A Couple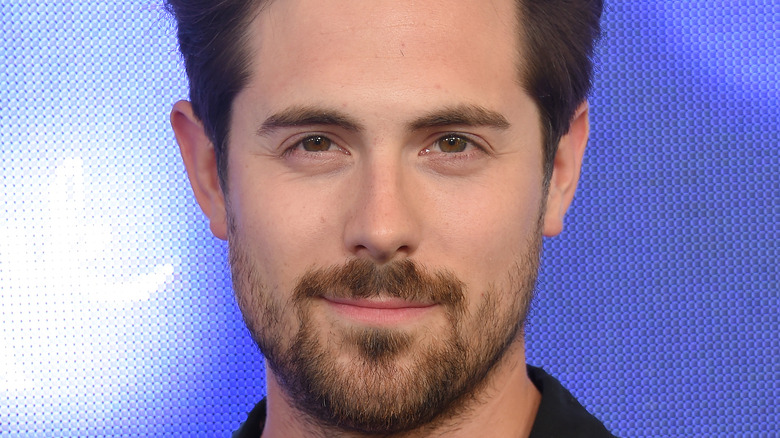 DFree/Shutterstock
Fans of Hallmark's hit television movies are passionate. While some may think the films aren't up to par for their viewership, there are plenty of Hallmark movies that are totally worth your time. "When Sparks Fly" is just one example of one you should watch, with Meghan Markle, the Duchess of Sussex, taking on the leading role.
While Markle may have made a single appearance on the network, several stars are committed to starring in Hallmark films often. One of the channel's leading ladies is Julie Gonzalo, who has starred in films like "Pumpkin Pie Wars," "The Sweetest Heart," and "Jingle Bell Bride," amongst others. While she often finds love on screen, she has had great success finding love on set, too. She and Chris McNally are real-life partners who met while filming "The Sweetest Heart."
The pair may portray love interests while acting, but they have kept their real romance quiet. That is until they decided to come forward publicly in a monumental way.
The couple went public with a special photo
Hallmark fans couldn't get enough of Julie Gonzalo and Chris McNally paired together for the film "The Sweetest Heart." What they did not know, however, was there was a true romance brewing between the pair. The couple is extremely private and was able to keep their partnership a secret. Then, they chose to drop a bomb on their fans and announce they were together.
Gonzalo took to Instagram where she shared a photo of herself and a man holding the hand of a baby. Since she kept her pregnancy private, the announcement of a birth was exciting enough for her followers. The hands of the man were tagged and it was none other than her co-star, McNally, who had been together for a while, unknowingly to their fans.
"Our hearts are full . . . Welcome baby M," the caption read. The comments were filled with excited fans and friends, with fellow actor Brenda Strong writing, "Beyond thrilled for you three! What a beautiful manifestation of your love."
The couple have kept their love private
The couple did not formally announce they were together until they shared about the birth of their daughter. However, McNally had hinted that he was seeing someone for a while, though their identity was unknown. Nearly two years after meeting Gonzalo on the set of "The Sweetest Heart," McNally told My Devotional Thoughts that he had a girlfriend who he had just adopted two puppies with, and was spending the majority of his time training them with her.
Meanwhile, Gonzalo shared with Fansided after the movie wrapped that the chemistry was off the charts. She said, "At the end of the day, chemistry is about feeling good about the person you're with and knowing their energy," adding, "So we took the time to just kind of chat and talk and get to know each other as much as we could in the little time that we had. And then throughout the film, we were able to get together after work and read some lines."
The couple is private and doesn't share glimpses of their partnership on social media, but they have been going strong since they starred together in that fan-favorite Hallmark movie.