Explaining The 'Ugly Shoe Trend' - And How To Make Them Look Cute Anyway
For a while now, shoes that are considered ugly have begun their own trend. Known as the "ugly shoe trend," the trend includes classic styles such as UGGs, Birkenstocks, and Crocs, all of which have their own cult following. As well as these styles, chunky sneakers are another style of shoe often thought of as ugly. Alternatively known as dad shoes, chunky sneakers started to pick up major traction in 2017 when Balenciaga debuted their chunkiest trainer yet. Though some people can't wait to ditch chunky sneakers, for others the trend isn't going anywhere. 
Whether you've seen them pop up in street style looks or kept an eye on the runway, it cannot be denied that not-so-pretty shoes have a place in the fashion world. Now, a whole new host of "ugly shoes" have come to the forefront, so whether you like it or not, you're probably going to be seeing a whole lot more of them. Here's how to style some of the most popular shoes so you still look cute (yes, it is possible). 
A big perk of some ugly shoes is how comfortable they are
Yes, Crocs are back, but there is one particular style that has divided people more than the rest, and that's platform Crocs. Guaranteed to have you feeling like you tower over everybody, Mega Crush Crocs have all the features of original Crocs but with a stacked platform base. Still, they definitely look pretty cute styled with a flowy dress. Platform Crocs also give you the opportunity to answer the age-old question — is it acceptable to wear Crocs with socks, or should the combo be banned forever?
Your feet will thank you for investing in a pair of these so-called ugly shoes
Another shoe that has been in the game for a long time, Birkenstocks have been bringing back '90s style. Spotted on Mary-Kate and Ashley Olsen all the way back in 2016, Birkenstocks are a firm fave among the fashion pack. The main thing with Birkenstocks is to keep your look casual — think a loose shirt dress and boho-style accessories. By definition, Birks are a casual shoe, so it makes sense to match them with a toned-down look.
These shoes were originally a 1970s staple
Clogs were a major shoe trend of the 1970s, but they have made a successful comeback. No longer restricted to the wooden clog style that was popular a few decades ago, clogs were seen on runways at Celine and Hermès. The clogs of today are bigger, bolder, and yes, can be considered ugly due to their clunky heel, which can also make them difficult to work with. If you're unsure, taking inspiration from vintage styles and pairing clogs with flare jeans or a long dress will always look good.
Once a comfy shoe staple, the UGG boot has made a triumphant return
In the 2000s, the iconic UGG boot was worn by everyone from Paris Hilton to Beyoncé. Nowadays, the mini platform UGG has contributed to the resurgence of the once-everywhere shoe. Featuring a chunky platform sole and a noticeably shorter length, this time round the UGG boot is far more versatile. Style yours with flared jeans for a chic look, or take inspiration from Bella Hadid and pair them with mini shorts, a sweatshirt, and slouchy white socks for an off-duty model downtime look.
These sneakers will make you feel like you're walking on clouds
Dad shoes have now become so iconic in their own right that they deserve an ugly shoe slide themselves. Several brands have delved into the ugly sneaker trend, but Balenciaga is a main player of the trend. Not only will Balenciaga sneakers give you an added height boost, but the mix of textures topped off by a thick rubber sole makes them wholly unique. Love them or hate them, the best way to wear ugly sneakers is to keep things street style ready — think cargos/ripped jeans and an oversized t-shirt.
These shoes may be a little ugly, but they're ideal for walking days
Teva sandals may look a little sad, but in the long run they will do your feet right. Plus, if you buy your sandals in different colors, you'll automatically add a splash of color to any outfit. Teva sandals go with mostly everything, which is why they're the perfect vacation shoe. However, if you want to make them appear slightly less orthopedic, style them with straight or slightly flared crop jeans like above. Cool, laidback vibes will take the focus off your sandals being ultra-sensible.
Extremely controversial, toe shoes are high up on the ugly shoe list
One of the most divisive choices on this list, the Vibram Fivefingers are sneakers with a twist. As these shoes are primarily designed for running, it's best to stick with a sporty vibe when styling. Running shorts and leggings will help to offset just how weird these sneakers really are. Alternatively, you can never go wrong with a few oversized street style essentials like baggy cargo jeans and lots of layers. An all-black look will make the toe aspect of the sneakers appear less obvious look, too.
These shoes are a twist on the popular balletcore trend
The Tabi shoes from Maison Margiela may look cute from a distance, but can also give the uncomfortable impression of the wearer having hooves due to the center split. Because of this, they can be considered an ugly shoe. Still, they do have some versatility due to being available in either shoe or boot form. For the ballet flat type shoes, a ruffled blouse with jeans will play into the trending balletcore look. If you're more of a boot person, classic tailoring never fails to look sophisticated, so start hunting for an oversized blazer now.
The ugly shoe trend takes on formalwear with these heels
If you're not sold on the ugly shoe trend yet, how about ugly heels? Though definitely not the worst of the bunch, the Camper Kobarah Sandals are inspired by their cobra namesake. Designed to wrap around your foot, the sandals are made from 100% recyclable EVA and have a playful, clunky look to them. They will add fun to any outfit, and you can create even more of a vibrant look by leaning into this quirkiness. Go crazy with contrasting colors — a dress or skirt will show off the wrap detail best.
Similar to clogs, mules can go either way on the ugly shoe scale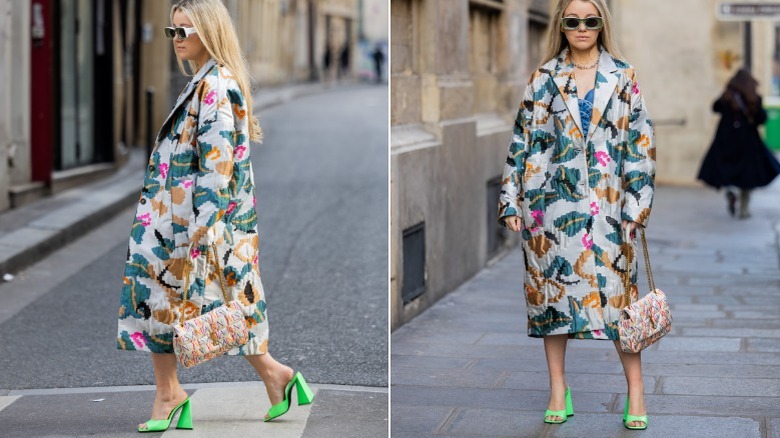 Christian Vierig & Christian Vierig/Getty & undefined
Last but not least are mules. A little more 50/50 than some of the others featured in the ugly shoe trend, mules can look chic, but they can also look a bit odd. Straight from the '90s, mules can be flat, heeled, or chunky, and it's the chunky variety that may cause you to receive a few side glances. Mules have a tendency to look clunky and awkward due to the lack of back, so wearing them with long jeans or a prairie-style long dress is a good way to combat this.