How To Style Your Favorite Pair Of Combat Boots For Any Season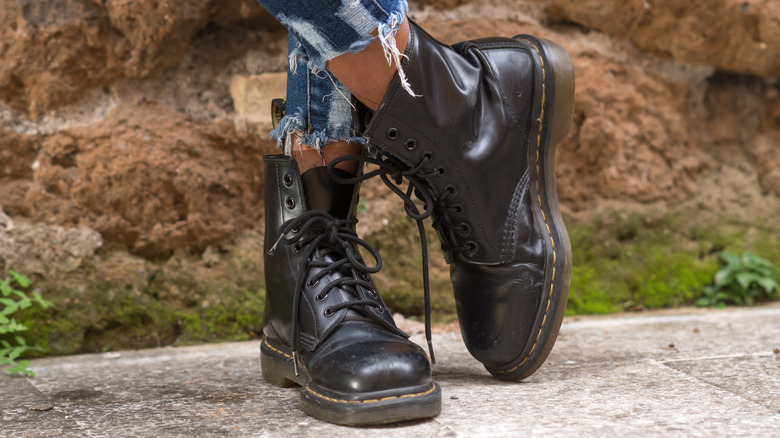 Cineberg/Shutterstock
Since their military beginnings in the 1940s, combat boots have evolved into a fashion staple. In the 1970s, these lace-up shoes became a symbol of the counterculture movement — most specifically, the growing punk scene. They were beloved by bands like The Sex Pistols and The Clash, who wore them with lots of leather, waist chains, and spiked hair. The shoe also became a staple in the LGBTQIA+ community, used by queer women to signify identity. By the 1990s, the grunge aesthetic was trending, and combat boots were accompanied by plaid and ripped jeans — given the recent resurgence of '90s fashion, not much has changed in the 2020s. As market editor Angela Koh explains to The New York Times, "A simple, black ankle boot, free from any excess designs or trinkets," will pretty much always be in style.
Best of all, combat boots are adaptable for any season (or occasion, for that matter). Wear them to work, to an apple orchard, or to an outdoor summer concert. Even pair them with a formal gown like "Squid Game" star HoYeon Jung. Given their versatility, combat boots are one of those shoes we just can't live without. If you're searching for ways to repurpose your favorite thick-soled stompers winter through fall, look no further. 
Wear them with an oversized blazer in the fall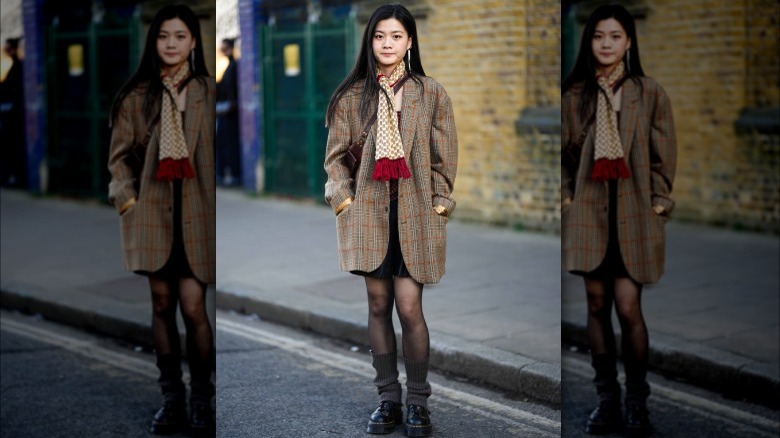 Edward Berthelot/Getty Images
Fall goes by many names. It's back-to-school season, sweater season, and pumpkin spice latte season ... Along with your hot coffee, make combat boots an autumnal staple by pairing them with an oversized blazer. For starters, check out this plaid style from Everlane, and dress it up for the office with tailored pants and a turtleneck. If you live closer to the equator — or if you're experiencing unseasonably warm weather — skip the pants altogether and style the blazer with bike shorts à-la Bella Hadid or with a mini skirt and leg warmers.
Leather jackets are perfect for spring coffee dates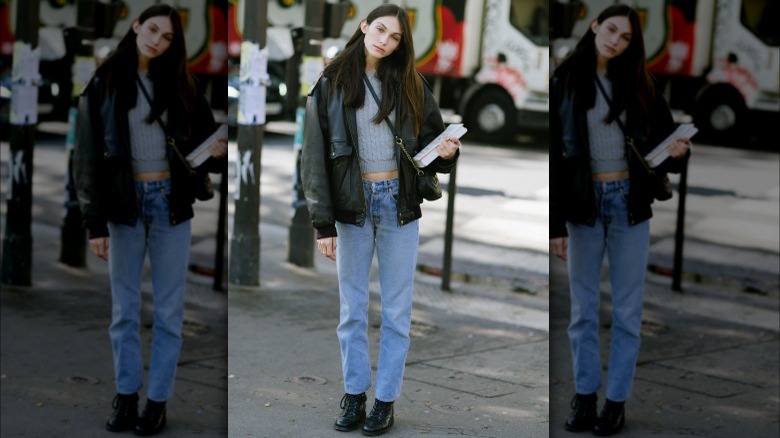 Vanni Bassetti/Getty Images
Along with combat boots, leather jackets were a 1970s punk staple. However, chances are your style is a bit more subdued than that of Sid Vicious. Match your leather jacket with straight-cut jeans, minimal makeup, and a cable knit sweater for a spring coffee date look. On warmer days, opt for a cropped tee and cuff your jeans to show off your shoes. Oversized bomber jackets are trending — just look to streetwear icons like Hailey Bieber for inspiration. Finally, transition the leather jacket into dinner date territory with the help of a slip dress.
Add contrast to your favorite sundresses
Though sandals and heels are often seen accompanying summer sundresses, add a bit of an edge to your look with the help of combat boots. This combination works for any dress length. Instagram creator Lydia Okello pairs their platform combat boots with a neutral-toned mini, but the powerful shoes also work well with flowing maxis like this bright green design from Mango. You'll be ready for a long day of errands, brunch, or a even long walk to get ice cream.
You can't go wrong with a trench coat between seasons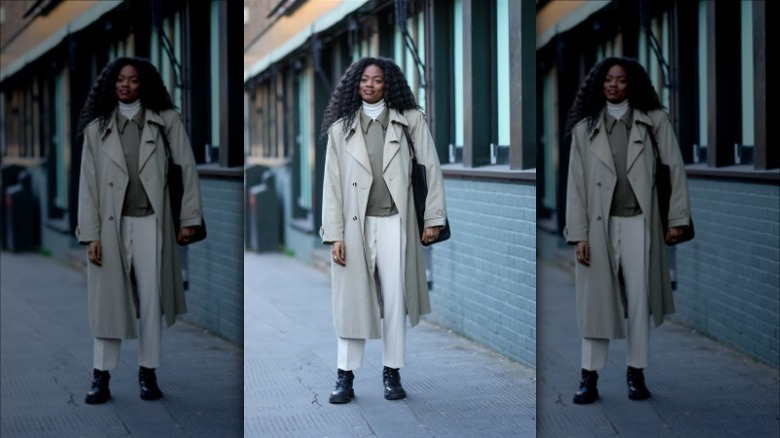 Edward Berthelot/Getty Images
In that slushy period between winter and spring, trench coats — especially those of the waterproof variety — are a must. They're not quite warm enough for sub-freezing temps, but they do the trick on gray days. Celebrities like Kendall Jenner are making statements with patterned long coats, but you can keep it simple with a tan or black style. Check out this design from Banana Republic, and pair it with your favorite weather-resistant combat boots. Underneath, layer oversized trousers, a vest, and maybe even a collared shirt.
Maxi skirts are in
Though Miu Miu micro minis took 2022 by storm, maxi skirts began trending as if in rebellion. From Y2K-inspired low-rise denim and cargo to patchwork '90s patterns, maxi skirts are a must no matter the season. "Maxi skirts feel particularly fresh as a new styling staple that offers an option other than grabbing the jeans you have been wearing all year," Stacy Smallwood, the owner of Hampden Clothing, tells The Zoe Report. In the summer, contrast flowing fabric with a cinched crop top and your favorite combat boots. In the fall and winter, don't shy away from layers.
Pair them with a casual graphic tee
Like the punks of the 1970s, style your combat boots with a band tee. Even today, graphic tee shirts are a streetwear staple among celebrities. During the summer months, wear an oversized shirt as a dress, adding fishnets or bike shorts underneath for extra coverage. In colder weather, layer the shirt over your go-to turtleneck, tucking it into a casual pair of jeans or cargo pants. Pro tip: to avoid that boxy look, tuck your shirt into the back or sides of your pants.
Layer thermal leggings and a mini skirt in the cold
Who says mini skirts can't be worn in the winter? Adapt to the colder weather with a pair of fleece-lined leggings. For starters, these thermal tights from The Cozy Crew give the appearance of opaque fabric with the benefit of warmth — it's all a trick of the eye. Complete the look with a warm sweater, thick crew socks, and maybe even fuzzy earmuffs. An extra-long Penny Lane jacket or leather trench will also help tie everything together.
Find a matching set for any season
From sweatsuits to formal wear, matching sets are trending. Their main appeal? They make putting together a fit super easy. For starters, check out this checkered Nasty Gal set for those 90-degree days. Alternatively, once it's officially sweater weather, invest in a two-piece fit with a bit more coverage. For formal occasions, wear a matching suit and blazer combo with powerful platform combat boots. Invest in this black suit from Mango, for instance, and top it off with bold '80s-style chandelier earrings.
Invest in faux leather leggings
With the exception of leather leggings, of course, the 2020s marked the end of slim-fit pants and the beginning of the oversized era. Switch up your yoga pants default, and opt for a pair with a bit of edge — check out this Topshop pleather design. Like TikTok creator Jenny Lliana (known under the handle @jennylliana), match the leggings with a form-fitting nude top and a denim jacket. This look is perfect for fall or even a temperate winter. Once it gets too hot, however, it's best to steer clear of leathery pants...
Complete your festival fit with combat boots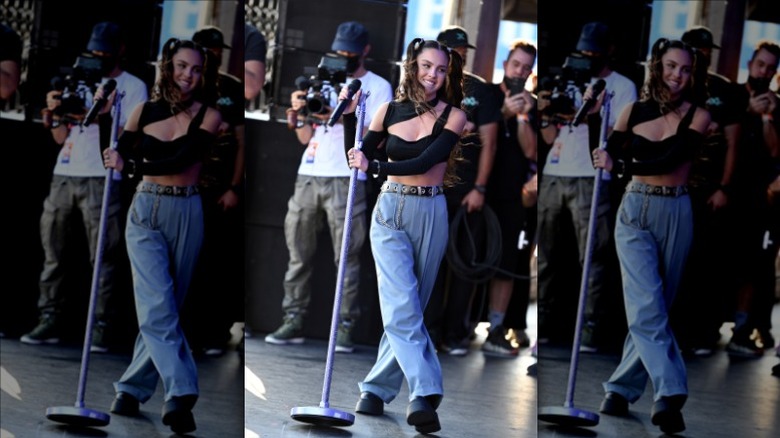 Denise Truscello/Getty Images
Spring through summer is officially festival season. Whether you're attending a weekend-long event like Coachella, or simply plan to stop by a casual park concert, combat boots have you covered. Invest in statement shoes like these pastel blue Dr. Martens or, if you're really feeling bold, butterfly-printed boots from Doll's Kill. Put together an Olivia Rodrigo-esque outfit with wide-legged pants and a cut-out top. Given your shoes, you'll be ready for whatever the weather throws your way.