Pearls Are The Latest Hot Accessory Trend Of 2023. Here's How To Incorporate Them Into Your Style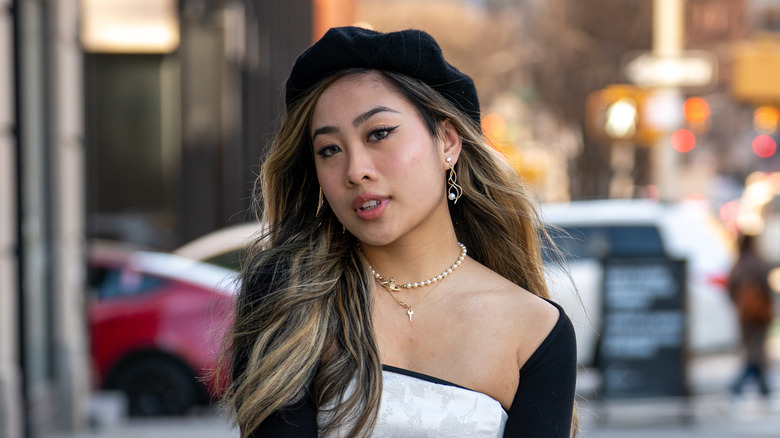 David Dee Delgado/Getty Images
Dainty and oh-so-pretty, pearls are having their moment in the spotlight. No longer just reserved for those born in June, the shimmering gemstone is popping up everywhere. Pearls are also part of the 2023 bigger and better jewelry trend, with Bella Hadid wearing jumbo pearl earrings at the S/S 2023 Vivienne Westwood show. Celebs love pearls, too — Harry Styles has been rocking pearl necklaces for years, changing things up slightly with a pearl earring look at the 2019 Met Gala.
The pearl trend has gained so much popularity that it has delved out into its own fashion sub-genre, known as "pearlcore". In fact, Pinterest reports that the search terms "pearl bracelet", "pearl choker", and "pearl dress" were all trending in 2022. Unlike the long strings of pearls that are popular for vintage-style looks, the pearl styles trending this time round are fresh, contemporary, and suitable for everyday fashion as well as formal attire.
Looking for a way to incorporate pearls into your outfits? We've got you covered with a few simple ways to style the trend in a way that suits you.
Pearl earrings are amazingly simple to style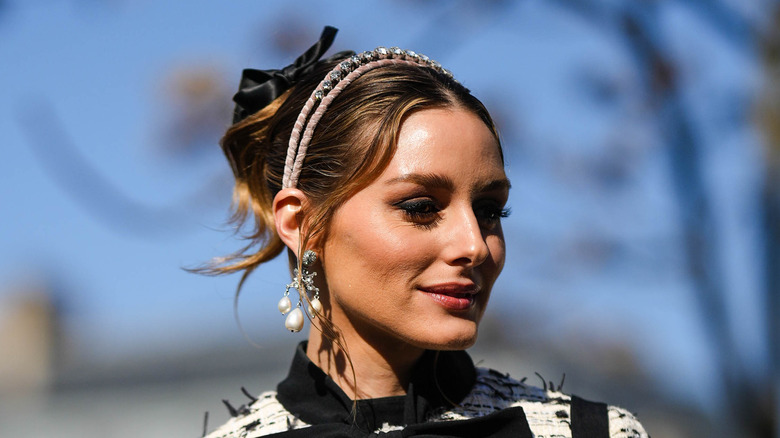 Edward Berthelot/Getty Images
If you're not the maximalist type, pearl earrings are the easiest way to hop on the pearlcore trend. Chic and sophisticated, you can go as big and bold as you like with the size of the pearls. Jumbo pearl earrings have a more modern edge, whereas smaller pearl earrings will give a subtle accent to a look. Pearl earrings always pair well with a preppy ensemble, but adding them to a blouse and jeans outfit will give your look an elegant edge instantly. 
A pearl headband is the perfect preppy finishing touch
Don't have your ears pierced? No worries, as another major accessory stemming from the pearlcore trend is the pearl headband. Not just for brides, a pearl headband is a great way to bring a more formal, preppy vibe to your look. Headbands look good on all types, lengths, and styles of hair, so adding one to your wardrobe rotation is definitely an investment you won't regret. If you don't like the look of an all-pearl headband, look for one with a velvet band that's dotted with pearls instead.
Pearls will instantly make an outfit feel dressier
Pearls aren't only reserved for jewelry. A cardigan or sweater embellished with pearls is a versatile wardrobe piece that will turn even the most basic of outfits into a chic ensemble. When styled with jeans and sneakers, a pearl cardigan can create a cute brunch look. When you swap out sneakers for heels, even if you're still wearing jeans, your outfit is now ready for evening drinks. You could even add a pearl headband to be extra on-theme for the pearlcore trend.
Not just clothing, shoes are part of the trend, too
Coinciding with the rise of balletcore, ballet flats have been huge lately, and they happen to match perfectly with the pearlcore aesthetic. Shoes embellished with pearls are a good way to nod to the pearlcore trend without going all out. For a typically feminine look, pair ballet flat shoes with a floaty prairie-style dress or skirt. Pearl ballet flats are also a great piece if you're trying to curate an elevated casual wardrobe — pair them with straight-leg jeans and a cropped cardigan or structured blazer for the ultimate Parisian look.
Even just a small nod to pearlcore will be on trend
For an unmistakably modern take on the pearlcore trend, look for a top with a pearl embellished neckline. This will add a little something to your look without being too formal or too casual. It's also a good alternative option if you don't like wearing skirts and dresses, as you can style the top with any pants you prefer. If you don't like lower necklines, a blouse with a pearl collar is also a subtle yet feminine nod to the trend.