Why Bigger Seems To Be Better For Jewelry In 2023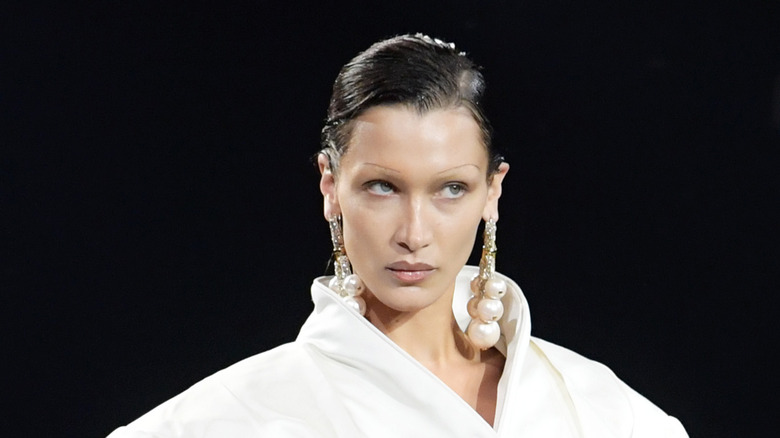 David M. Benett/Getty Images
Many of the fashion trends these days seem to be embracing the mantra "go big and go bold," and the jewelry forecast for 2023 appears to have taken that to heart. The hoops are getting bigger, the necklaces grander, and the bracelets more than simple chains. As founder of Oradina jewelry, Rachel Gindi, told StyleCaster: "We're going to see a big comeback of the '80s and still some of the '90s. Think lots of chunky gold jewelry, big hoops, and geometric shapes."
Partly due to the hit Netflix show "Stranger Things," '80s fashion trends have been creeping back into style recently, as have a multitude of '90s fashion trends. So, it makes sense both of these eras would be carried over into the jewelry world. Per The Zoe Report, vintage expert Jill Heller shared that while most people associate neons and bright colors, large earrings, and bright gemstones with the previous decades, these things are actually "timeless" and just as fresh as ever.
Here are the styles you need to know for 2023 and how to wear them.
Decorate your arms and wrists with oversized cuffs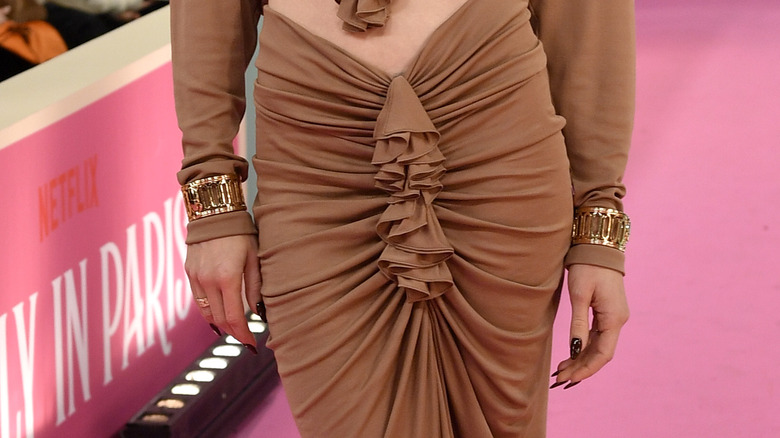 Kristy Sparow/Getty Images
In 2023, the cuff bracelet is back with full force. Typically worn on the wrists or lower arms as a bracelet, a cuff can turn a basic outfit into an edgy one almost instantly. For a more conservative look, wear your cuff underneath a sweater or long-sleeve top so that it will shine when your sleeve moves but isn't on full display. For a more daring look or party vibe, place your cuff on your upper arm where it will be easily seen.
You can spread love around with hearts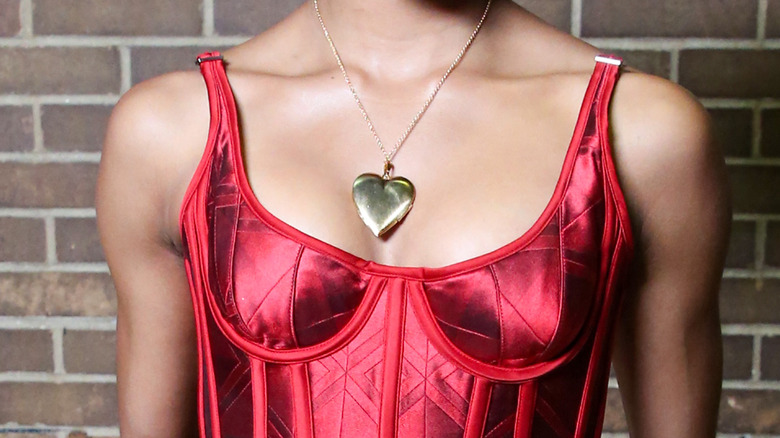 Rob Kim/Getty Images
Another huge trend is anything heart-shaped. Per Forbes, oversized hearts are the way to go, as seen on the 2023 Wiederhoeft Ready-to-Wear runway. Of course, you can wear the heart theme any way you like, but the main trend is to go big and bold — think literally wearing your heart on your sleeve in the form of a bracelet. Something like the Tiffany & Co Elsa Peretti Full Heart Mirror Pendant is perfect for everyday wear. It's a simple design that not only embodies the trend but incorporates the unconventional detail of an added mini mirror. 
Silver is overtaking gold for the first time in a while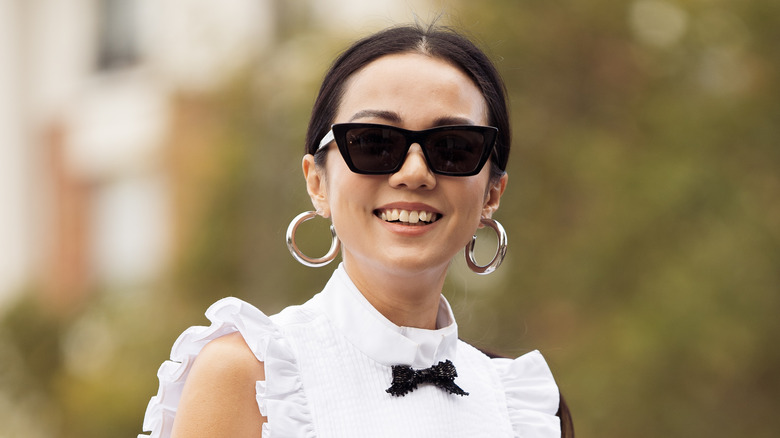 Raimonda Kulikauskiene/Getty Images
Silver hoops are another piece of jewelry making a comeback. Though it's gold hoops that have most recently been associated with the popular clean makeup aesthetic, silver and cool-toned metallic shades are set to be everywhere in the coming year. Oversized hoop earrings carry the 1980s flair that is a big part of the 2023 jewelry trend. However, regular hoops will always be in vogue and are a classic choice. There's a place in your jewelry box for both! 
Jewels will be everywhere, so you'd better start looking for your perfect stone match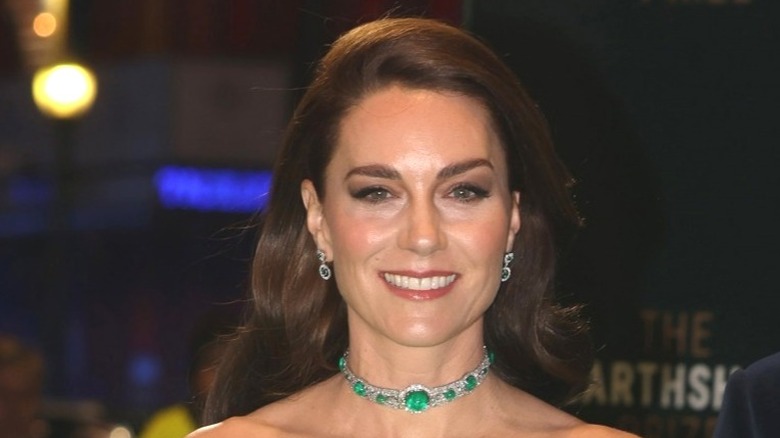 Pool/Getty
Another 2023 trend guaranteed to catch the eye of any passerby is the focus on gemstones. Per Vogue, an abundance of colorful precious stones was spotted on the Spring/Summer 2023 runway, meaning they're likely to be everywhere in the coming year. The beauty of this trend is that you can go as bold as you like or stick to a more delicate vibe. Plus, you can choose your jewels based on your birthstone for a personalized touch or match them to your outfit for total coordination.
Another birthstone-inspired trend, the pearl will shine brightly in 2023
Edward Berthelot/Getty Images
June babies rejoice — the humble pearl is back in style. Though many typically think of pearls as something your grandma would wear, jumbo pearls like these oversized pearl charm earrings from & Other Stories were spotted on several Spring/Summer 2023 runways. In fact, pearls have been making waves in the fashion world for quite a while now. Sweet, sophisticated, and compatible with many different looks due to their milky opalescent finish, pearls are finally having a well-deserved moment in the spotlight. 
So, why is everything suddenly on a larger scale?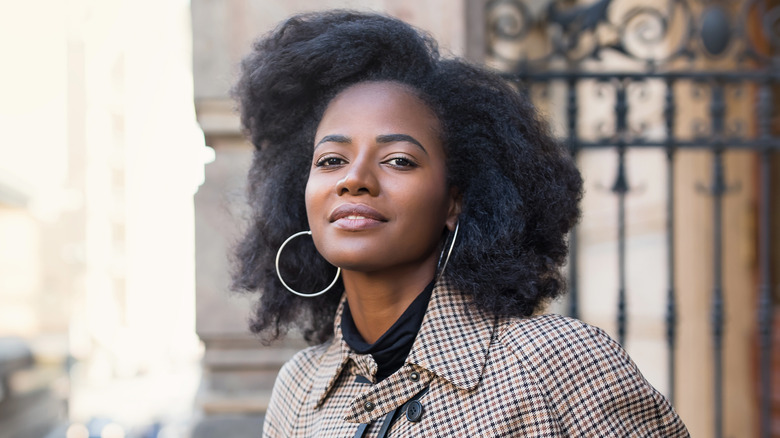 Anna Chaplygina/Getty Images
Now that you know some of the major jewelry trends for 2023, you may be wondering why everything is so big. One of the reasons could be that, as stated by Vogue, many of us wish to "free our minds and accessorize boldly" in a post-pandemic world. Jewelry has always been used as a way to indicate thoughts and feelings, and the larger silhouettes seen in many of the trends above could point to a desire for freedom and self-expression. After all, when has a pair of oversized hoop earrings not made you feel more confident?
You don't have to opt for expensive pieces to be on-trend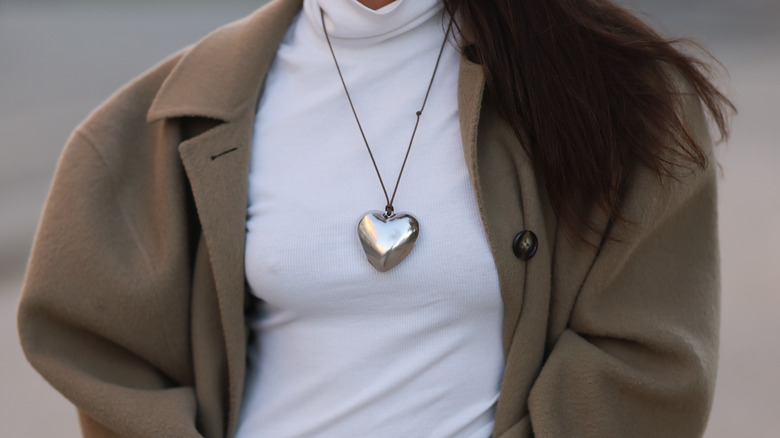 Jeremy Moeller/Getty Images
If you're worried that larger jewelry pieces may take a toll on your bank account, don't be. Speaking to StyleCaster, jewelry designer and curator Stephanie Gottlieb had some advice for those looking to build a collection of trendy pieces. She recommended buying costume jewelry to save cash as you begin collecting, then upgrade to pricier pieces down the line if your finances allow. This approach will allow you to experiment with striking arm cuffs and gemstone necklaces without buying expensive pieces you may not end up wearing often.
Maximalism is at the forefront of all 2023 jewelry trends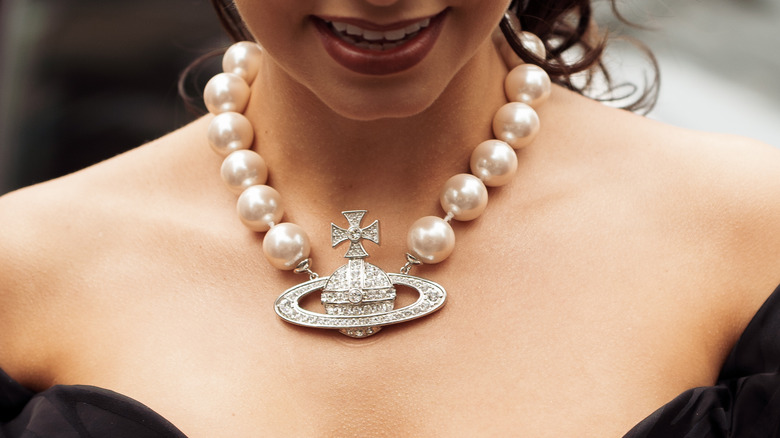 Raimonda Kulikauskiene/Getty Images
A lot of the jewelry trends of 2023 focus on loads of oversized, colorful gems and whimsical pieces for a bit of fun. The necklaces, earrings, and bracelets seen on the runway all carry a sense of unapologetic drama and joy, once again nodding to the theme of self-expression. This may sound intimidating, but it doesn't need to be. Think of pearls as an example. Once a delicate gem favored by Princess Diana, 2023's pearls are so front and center that you can't miss them due to their super-sized appearance and glistening finish.
Get a head start on learning how to layer
Edward Berthelot/Getty Images
If you have a selection of delicate jewelry pieces left over from previous seasons, don't throw them out — layer them instead. Layering will tap into the maximalist vibe of 2023 jewelry while allowing you to work with what you already have. If you're new to layering, jewelry expert Rachel Gindi has some tips. Speaking to InStyle, Gindi recommended layering no more than three necklaces at a time, starting with your shortest chain. She also shared that the middle necklace should be the simplest, so sandwich your daintiest piece in the center for the best results.
Don't get overwhelmed by all the different options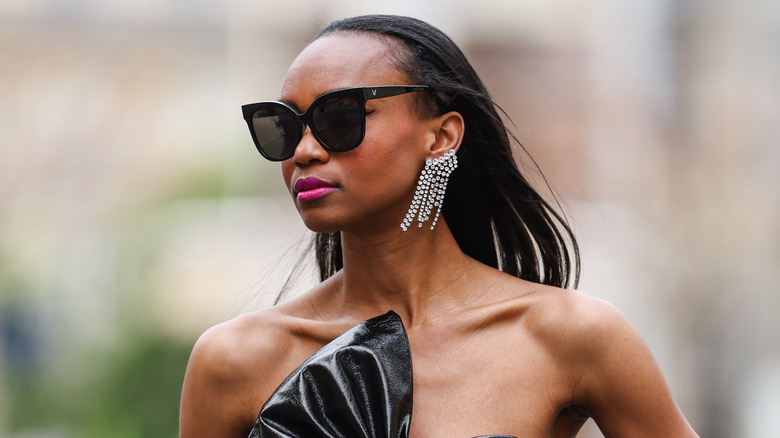 Edward Berthelot/Getty Images
Finally, though bigger is better for 2023, you should approach the trends with a clear final picture in mind. It can be tempting to wear all of your aligning pieces at once, but unlike the perfectly curated layering trend, the finished look will probably leave something to be desired. After all, certain pieces are best suited for certain occasions. For example, a pair of chandelier earrings will elevate a minimalist evening gown instantly, whereas a chunky pearl necklace will dress up a more casual knitted cardigan and jeans look.
The main thing to take away from the 2023 jewelry trends is to pick pieces that allow you to express yourself — the bolder, the better.