The Surprising Jewelry Trend Male Musicians Are Embracing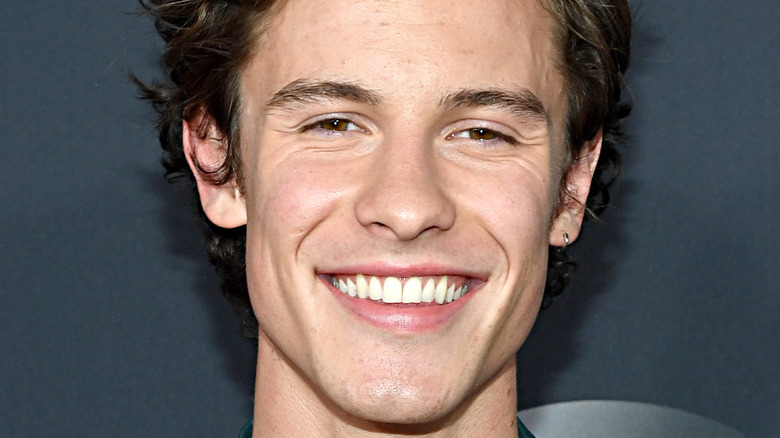 Kevin Mazur/Getty Images
Any fashionista knows how fast trends can come and go. From skinny jeans to oversized flares, it seems like there are new fads every day. But it's not just fashion-loving females who are game to test out new items, though. Men's fashion is just as trendy! Per the Daily Mail, celebrities like Harry Styles, Shawn Mendes, and Usher are constantly pushing boundaries and redefining what men's fashion means — and there's one specific jewelry item that they're gravitating to in particular.
There are no rules when it comes to fashion, and that's what makes it so fun. There are traditional ways of dressing when it comes to both sexes, which makes it all the more fun when people step out of the box and try something new. It's no secret that Styles is one of the few men bold enough to experiment with traditionally female fashion trends, but there are also other male singers who are following in his well-heeled footsteps. Here's a deep dive into the trend that Styles and his fellow fashionistas are loving.
Male singers are loving pearl necklaces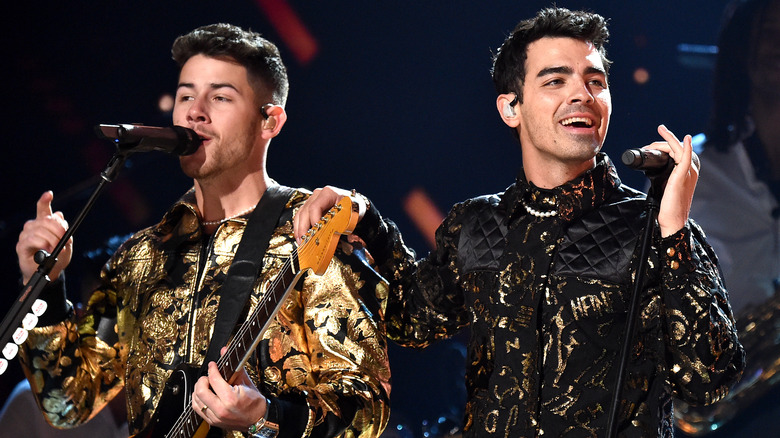 John Shearer/Getty Images
Move over "Bridgerton," because men are reclaiming pearls and looking great in the process. Though typically worn by females, some of our favorite male singers have been rocking pearl jewelry onstage in recent years. Take for example, singers Nick and Joe Jonas, who each sported pearl necklaces at the 2020 Grammy Awards for their performance of "What A Man Gotta Do," per Page Six. As stylist Andrew Gelwicks told the outlet, "The fashion and entertainment industry are entering a new period where it's not only the women who are getting to play around with trends based on gender binaries." He continued, "The fact that top male talent such as Shawn Mendes and Joe Jonas are experimenting with historically 'female' trends such as pearl necklaces is a clear indicator of how any and all trends are up for grabs, regardless of who has traditionally worn them in the past."
Men aren't just wearing pearl necklaces for performances, either. Celebrities including A$AP Rocky and Harry Styles are fitting the item into their everyday outfits as well, perhaps because pearls are traditionally associated with status and wealth. While you can snag knockoff pearl necklaces on Amazon, KBH Jewels reports that sustainable pearl chains can cost upwards of $4,500.
Harry Styles expresses himself through fashion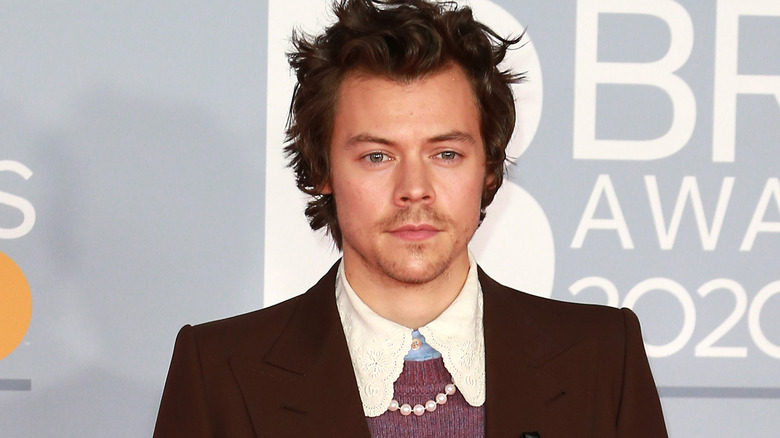 Cubankite/Shutterstock
Though male singers are increasingly paving the way for new fashion trends, fashion is simply a tool to express oneself. "For me, it's not like I'm doing it to send a message," Harry Styles told NPR in 2020, when asked about his 'bold' fashion choices. "Part of being on the last tour, when people came to watch the show, I realized, 'Oh, these people just want to see me be myself, and I'm telling them to be themselves," the "Watermelon Sugar" singer added.
The entertainment industry is often at the forefront of new trends. From pearl necklaces to bike shorts, celebrities are constantly trying out new looks to determine what works for them and what doesn't, while the rest of the world tries their best to keep up. In many ways, being an entertainer allows for more artistic freedom than in your typical 9-to-5 job, and Styles is well aware of this. "I'm lucky that I work in an industry that allows you to be creative and express yourself, and I'd encourage it to anybody," he shared with NPR. Perhaps this male fashion trend will become more mainstream and we'll see men piling on pearls in the future.