Want Face-Framing Color But Over The Money-Piece Trend? Try Halo Highlights
Warm weather is around the corner, which means new hairstyles and colors are set to become go-to trends for the season. There's no denying that highlights are in right now, and with so many different types of highlights you can ask for, it can be tough to choose one. If you're feeling indecisive and aren't sure whether to choose between blonde and brunette, you can get the best of both worlds with halo highlights.
Halo highlights are set to be the biggest new trending hairstyle that everyone is talking about, with celebrities like Michelle Keegan switching their natural brunette locks for this flattering highlight style. If you want to give your hair more dimension with a face-framing color but are over the money-piece trend, halo highlights are the next best thing. Money-piece highlights are face-framing highlights that brighten up your look, while halo highlights do the same in a much more subtle way.
Halo highlights are subtle and flattering
Speaking to PopSugar, George Papanikolas, a celebrity hair colorist, describes halo highlights as giving a "lighter face-framing effect by adding highlights closest to the face, leaving the rest of the hair darker." Instead of adding highlights all over your head, halo highlights are added around your face to accentuate your features for a blended look. This hair color is best for those who want to keep their natural look and don't want to deal with a high maintenance color that requires frequent and expensive trips to the salon.
Not only are halo highlights low maintenance and good for your wallet, they're also super easy to style and work with any hairstyle you're going for. Jason Hogan, Associate and Celebrity Colorist at Josh Wood Color, explains to Glamour UK that "the placement of this color and the way it blends from the natural hair means it grows out seamlessly. It also looks as good in an up do as it does worn down".
What to ask for at the salon for halo highlights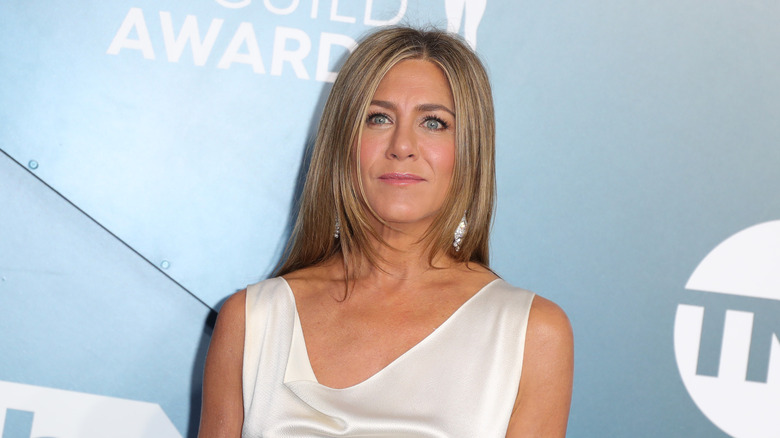 Leon Bennett/Getty Images
When you go to the salon to get your fresh halo highlights, ask your stylist for face-framing highlights with a soft root. Let them know you're looking to brighten up and accentuate your face with flattering, contouring halo highlights. Your hairstylist should know that you only want to lighten your hair color by a few shades to keep the look subtle and blended. As George Papanikolas suggests to PopSugar, "If you go with a stronger root, then the regrowth will be more obvious." A strong root will make the contrast between your natural hair and the applied color a lot stronger, and will mean more frequent trips to the salon for upkeep.
Head into your appointment with a few inspo photos to show your stylist your vision and make sure they get your hair just right. Search through Instagram using the tag #HaloHighlights, and browse through Pinterest for photos that match the look you're going for.