How To Achieve The Trendy Money Piece Hair Style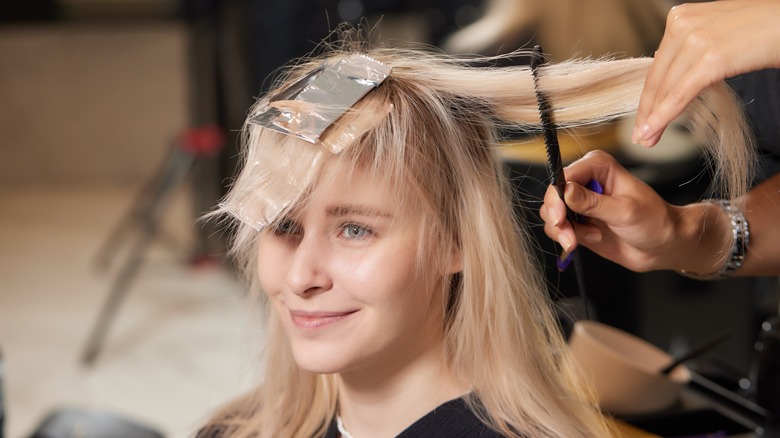 Vershinin89/Shutterstock
Switching up your hair is in the air at the moment, ranging from the trendy shaggy bob to Y2K-inspired tendrils and layers, per Town & Country. Now, a new hair trend has gained popularity, and the good news is that it's relatively easy to achieve. Called the money piece hairstyle, there's no doubt that the look even sounds expensive — but what does it actually entail? 
Speaking to Glamour, hairstylist Natalia Romaniuc described the money piece hairstyle as "a fuss-free way to change up your look without having to touch the whole head — it's all about face-framing and contouring the hair." She highlighted Spice Girl Geri Halliwell as a key inspiration, particularly her iconic '90s look. Halliwell was well known for the iconic ginger hair that earned her the moniker "Ginger Spice," often completing her look with bleach blonde front hair strands, though Romaniuc does note that the modern version of this look has been "refined and softened."
Here are some of the best money-piece hairstyles to inspire you for your own hair transformation. 
Money pieces can be any color you like, not just blonde
Before deciding to highlight your hair, you'll need to figure out the color you want your money-piece hair to be. You could take inspiration from supermodel Bella Hadid, who highlighted her brown hair with stunning face-framing strands in various shades of red, including copper, via Byrdie. The copper hair trend is everywhere, and taking on the trend in this way is both less expensive and less intimidating than going full-out red your first time. It's also an easy way to test if you like how copper looks on you before committing. 
Red isn't the only popular color for a money piece, though. Per Good Housekeeping, brighter colors like blue and pink will add pep to your look without being too daring. These colors aren't just for festivals and themed parties — actress Rachel McAdams proves you can still look chic with bubblegum highlights, especially if you prep your hair in a '90s or Y2K style, per Good Housekeeping. McAdams also shows that the money-piece trend isn't just for long hair, and looks just as good with both medium-length and short hair.
You can stick with blonde for an equally cool look
As pioneered by Geri Halliwell in the '90s, per Glamour, blonde money pieces are here to stay. You don't have to have any particular hair color to pull off the look, as blonde provides a good contrast for many different shades. Model Hailey Bieber paired her medium-brown hair with light blonde face-framing strands, whereas singer Ciara created a striking contrast with her chocolate brown hair and caramel money piece strands, via Cosmopolitan).
Another great thing about the money piece trend is that you can go more natural or create an out-there look. It also isn't that difficult to achieve. If you don't fancy a trip to the salon, some careful at-home bleaching can give you your desired money-piece look, though it's always best to enlist a friend for a more precise look. Keep in mind that bleaching your hair at home may not turn out exactly how you like though, so make sure to do your research if you're determined to do the money-piece hair trend yourself. 
No matter which color you choose, the money-piece hairstyle is a perfect way to switch up your look.