General Hospital's Adam Huss Weighs In On Nikolas' Supposed Last Scenes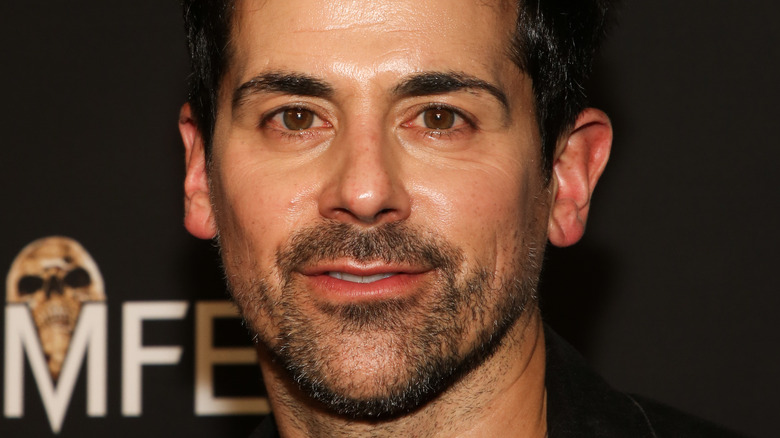 Paul Archuleta/Getty Images
The super-talented Adam Huss, "General Hospital's" relatively new Nikolas Cassadine, has appeared in several notable movies and TV shows over the years, including "NCIS" and "Drake & Josh," and he was a series regular on "Power" too. While Huss currently occupies the role of Nikolas, which was previously played by Marcus Coloma, who exited the show amid some controversy, he was already well-known to fans of "The Bold and the Beautiful" for portraying the ill-fated character Luke.  
In 2022, Huss substituted for Coloma a few times on "GH." Following Coloma's departure, Huss was tapped to play out the final phase of Nikolas's arc. He and Ava Jerome (Maura West) had recently divorced, and Nikolas was dealing with a great deal of other turmoil in his life too. Getting increasingly unhinged, Nikolas threatened to take Ava's daughter, Avery. Without even thinking, Ava bashed him on the head with a small statue, and believed she'd killed him. 
Dr. Austin Gatlin-Holt (Roger Howarth) stumbled upon the scene and gradually convinced Ava to tell him what happened. The good doctor helped her hide the body in a tack room in her stables, but when the police later came looking for Nikolas, they found the room mysteriously empty. We later learned that Austin's cousin, Mason Gatlin (Nathanyael Gray), had Nikolas hooked up to a life support machine at an undisclosed location. Are the character's days numbered?
The actor is incredibly grateful to be on General Hospital
Fans can now breathe a sigh of relief that Nikolas Cassadine isn't dead on "General Hospital," and actor Adam Huss was happy to talk about the role, suggesting he'll be sticking around Port Charles for a while. Huss posted some stills from the show on Instagram, writing, "I know what a big deal it is to the fans of this show to honor what I am stepping into." He praised the work of his co-stars too, stating, "I am one lucky, lucky guy." 
Huss also described stepping into the role of Nikolas as "just surreal" during an interview with Soap Opera Digest, acknowledging he knew the storyline well prior to doing so. Huss again praised the talent and professionalism of his colleagues too, remarking, "I just needed to be open to this amazing energy coming at me. It just felt like everything in my body came alive. ... It was just amazing to get to play with actors of this caliber."
When he got the call to take over as Nikolas, Huss canceled his holiday plans, jumping at the opportunity. "I get to come in and play all this juicy, well-written stuff, the culmination of this character's journey?" he wondered, adding that it was such a blessing. The actor was also overwhelmed with the positive fan response he got, exclaiming, "I know how passionate they are. It made me feel so grateful, to be embraced by the fans."