Aja Naomi King On The Impact Women Can Have On Their Communities - Exclusive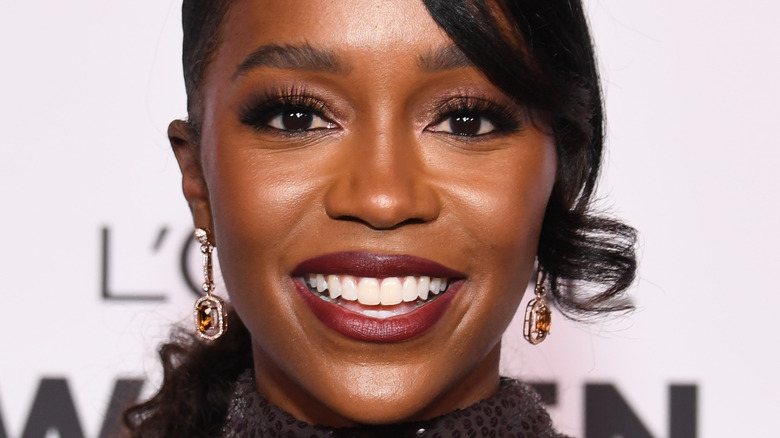 Jon Kopaloff/Getty Images
Aja Naomi King perfectly represents L'Oréal Paris. The actor, who played Michaela Pratt on ABC's "How to Get Away with Murder" from 2014 to 2020, is beautiful inside and out.
As the face of L'Oréal Paris since 2017, King contributes to L'Oréal Paris Women of Worth, a charitable program that annually honors 10 women who have launched nonprofit programs in their communities. Each "Woman of Worth" is awarded $25,000 to support their cause and receives mentorship opportunities and a national platform to better share their efforts with the world. At year's end, they are honored at a special event. King will be there for 2023 just as she did last year.
The List spoke with the actor and brand ambassador in an exclusive interview. In it, she talked about her love for the brand and the inspiring nature of L'Oréal Paris Women of Worth, which enables women to greatly impact their communities.
Her work with L'Oréal Paris Women of Worth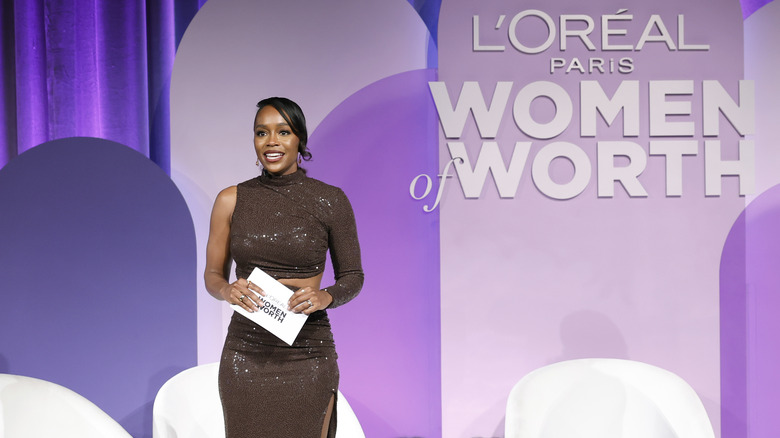 Stefanie Keenan/Getty Images for L'Oréal Paris Women of Worth
Hearing Aja Naomi King speak about her love for her work is inspiring. Since 2017, she's represented L'Oréal Paris and its philanthropic program L'Oréal Paris Women of Worth. This role has deeply impacted her over the years.
"Being in this space with these women and learning more about what they've accomplished — the lives they've been able to positively impact — gives you so much hope for us, hope for all of humanity," King said. "By L'Oréal Paris elevating them, it sends this clear message about how community-based projects are compelling and transformative and worth it."
Last year, King helped select the honorees. This proved to be a challenge on its own because L'Oréal had to settle on only 10 women out of all the worthy, prospective honorees. There are specific qualities the organization looks for in its applicants as well, including a commitment to their efforts and programs. 
"It's more about the impact each organization is trying to achieve and how L'Oréal can best amplify that," King said. "Bottom line, what we're looking for is tremendous passion and heart, which is what fuels these organizations in the first place because these women take on these years-long challenges to get these programs running. We're looking for passionate women trying to expand their outreach."
How women can enact positive change in their communities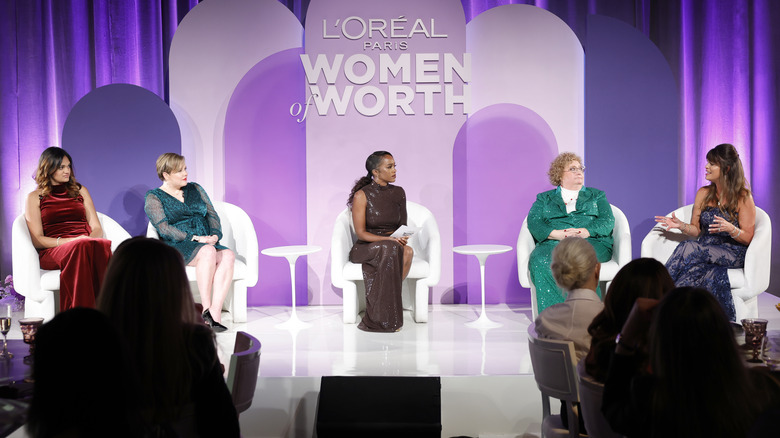 Stefanie Keenan/Getty Images for L'Oréal Paris Women of Worth
For Aja Naomi King, learning about each "Women of Worth" program is what she finds most inspiring. 
"A lot of the time, these women have created organizations to help people that are [not what] I ever thought of," King said. "I am in awe because I was so ignorant as to what some needs truly were in some communities."
King shared examples from last year's honorees, including Susie Vybiral, whose Room Redux redecorates the rooms of children who have been abused to help them heal. 
"How essential is that — to be able to make your environment, especially the environment of a child, feel safe," King said.
King also spoke about Mindy Atwood, whose Patches of Light helps parents of children with serious illnesses pay their bills. 
"It's these women," King said, "who make sure people who are truly struggling are being seen and heard and helped in ways that people like you and me may not understand or know about, which is why it's so tremendously necessary to amplify their work to help them have a larger impact."

L'Oréal Paris Women of Worth, now in its 18th year, is calling on people across the nation to nominate a fearless, female non-profit leader for a chance to be one of 10 honorees inducted into this year's class and receive a $25,000 grant to help advance their charitable causes, mentorship, and a national platform to grow their grassroots organizations. Nominations are open through March 8, International Women's Day, at WomenofWorth.com.