Queen Camilla Is Mourning A Heartbreaking Family Loss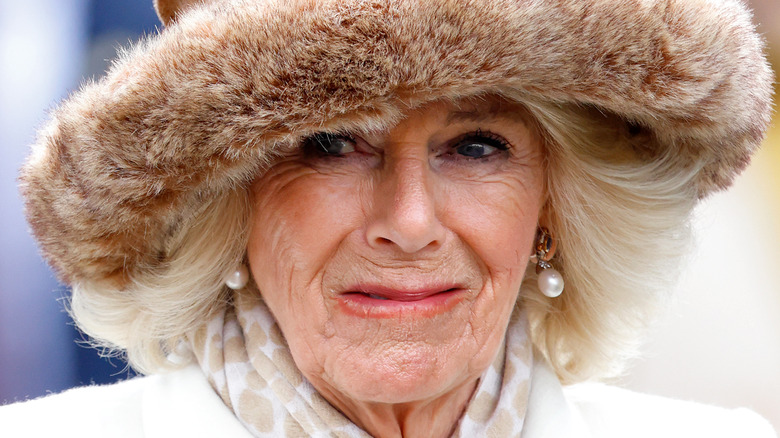 Max Mumby/indigo/ Getty Images
To begin the month of March, Queen Camilla has had a packed schedule filled with public event appearances. One of these recent events was hosting Buckingham Palace's celebration of International Women's Day on March 8. Royal Central reports that she led the crowd with optimism, proclaiming, "International Women's Day is a day to celebrate female achievement, to encourage and inspire one another, and to thank the women in our lives for their contribution to society." 
However, behind the scenes of this celebration and off-camera, the queen has had to deal with some heartbreaking losses in her family circle.
Just last year, the queen lost her cousin Charles Villiers at the young age of 59. Villiers was found dead at the Durrants Hotel in London. In the midst of this grief, as well as her many royal responsibilities, the monarch's brother-in-law, Simon Elliot, has died, reports The Sun in an exclusive.
Queen Camilla receives tragic news about her brother-in-law, Simon Elliot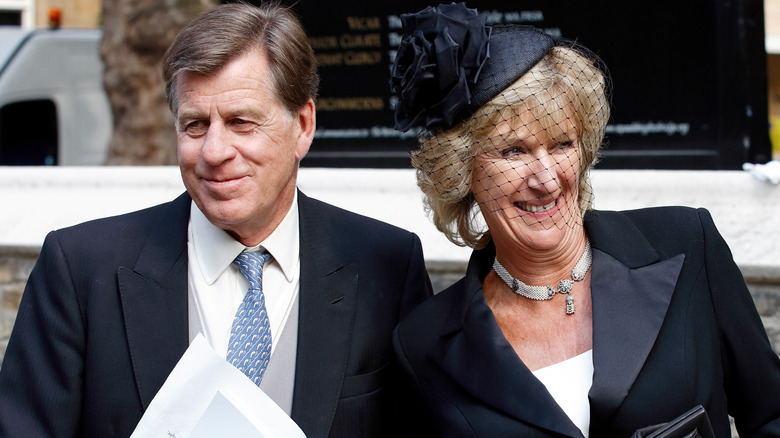 Max Mumby/indigo/Getty Images
Businessman Simon Elliot became an official member of Queen Camilla's family more than half a century ago when he married her sister Annabel in 1972. The couple had three children together, one boy and two girls named Ben, Alice, and Catherine. Camilla had a close bond with her brother-in-law. When the media went into a frenzy over her relationship with Charles in the '90s, E! News notes that she stayed with the Elliots to escape the public scrutiny. 
Camilla's brother-in-law also appeared to have a good relationship with Charles; Simon and Annabel even joined Charles and Camilla on their honeymoon in 2005. The two couples were also seen attending many events together over the years.
Elliot passed away at the age of 82, departing from his family members, including Queen Camilla. One can imagine this will be a time of great difficulty and sadness for the queen, especially considering the fact that her losses have occurred with U.K.'s grief over the death of the late Queen Elizabeth III as a backdrop. While she continues to uphold her position's responsibilities, Queen Camilla will likely carry a heavy heart.
The queen consort has a lot of her plate amidst another family loss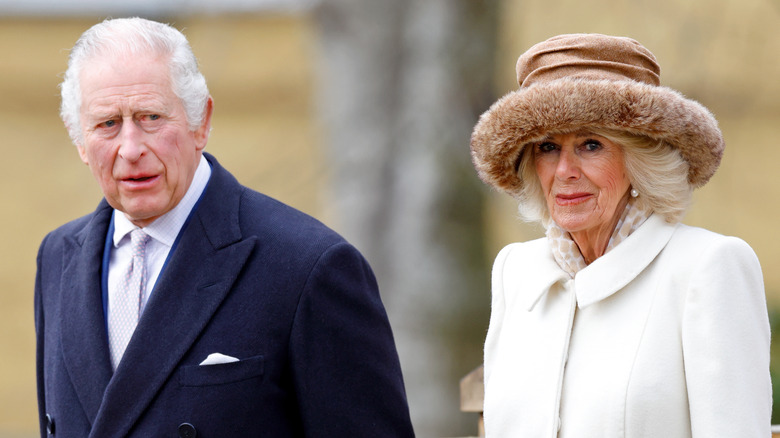 Max Mumby/indigo/Getty Images
Those who knew and loved Simon Elliot spoke highly of him, admiring his generosity and vibrant personality. One source shared (via The Independent), "He was beyond courageous in his last few months, his family and friends are devastated to lose a man whose middle name was loyalty. He was a fount of common sense and wisdom and it is a great sadness that he has gone so early."
This series of losses comes at a particularly busy time for the royal family, which is currently preparing for the coronation of King Charles III on May 6. It has been reported that the coronation will be "more modest" than the coronation of his late mother, Queen Elizabeth II, who had over 16,000 participants during her crowning procession. Buckingham Palace has made it clear that the coronation will reflect their age-old traditions, but will also honor their visions for the future of the monarchy.
In the midst of her navigating her grief and planning for her husband's coronation, Queen Consort Camilla may have plans to drop part of her title. According to the Daily Mail, many royal sources speculate that the queen consort will be known simply as "Queen Camilla" after her husband's coronation. While sources have said it would be "simpler" to remove consort from her title, doing so would against the wishes of her mother-in-law Queen Elizabeth, who called for Camilla to be "queen consort" when Charles assumed the throne.