General Hospital Star Jon Lindstrom Is Pragmatic About Ryan's Ultimate Demise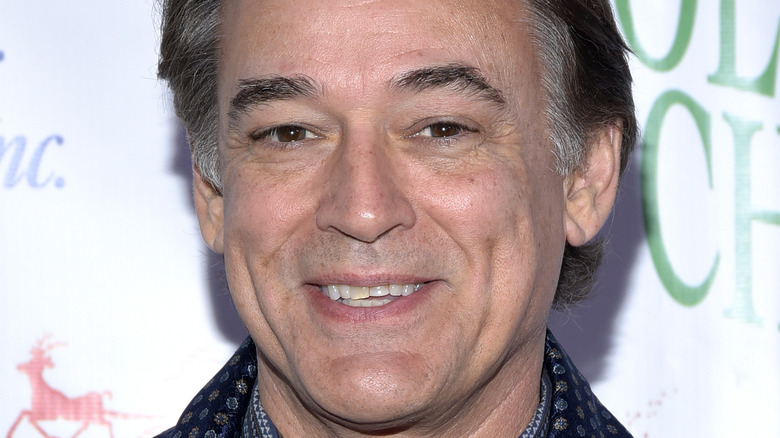 Michael Tullberg/Getty Images
Although psychiatrist Kevin Collins (Jon Lindstrom) desperately wanted to cure his deranged twin brother, Ryan Chamberlain (also Lindstrom), of his psychosis on "General Hospital," that was not meant to be. Ryan, a twisted serial killer, was beyond any kind of redemption and delighted in his murderous ways. Ryan recently connected with the equally demented Heather Webber (Alley Mills), and it was revealed that they'd hooked up in the past, producing a daughter named Esme Prince (Avery Pohl). While definitely not as unhinged as her parents, Esme racked up her own list of evil deeds in Port Charles until she suffered amnesia and became a kinder, gentler person.  
When Heather and Ryan revealed to Esme that they were her parents during a bold escape from the Spring Ridge sanitarium, Esme was mortified. The path to possible freedom took the trio to Wyndemere mansion on Spoon Island, where Ryan tried to convince the blonde object of his desire, Ava Jerome (Maura West), to join them. Ultimately, Chief of Detectives Mac Scorpio (John J. York) shot and killed Ryan, saving Ava's life. Ryan had been terrorizing Port Charles since 1992 and was believed to have been killed in 1995, only to return in 2018. But now, it seems his reign of terror has finally ended for good.
Lindstrom was open about his thoughts on the character being killed off.
Lindstrom went with the flow
Actor Jon Lindstrom spoke to TV Insider about Ryan Chamberlain's return to "General Hospital" in 2019, saying, "I'm having a blast. I haven't had this much fun since I started the show in 1992." He added that he loved how Ryan's reprisal brought things "full circle." Now that it appears Ryan is truly dead, Lindstrom opened up to Soap Opera Digest about the character's end, stating, "It's not my show. If the powers-that-be figure that there's a character that has to be taken off the canvas in order to move other characters forward, that's the way it is." He continued: "I would always be sad to say goodbye to such a terrific, colorful character, but as I'm fond of saying, 'Every show closes.' I've just been around too long to let something like this leave any kind of mark other than, 'That's just what we do,' or at least, 'It's part of what we do.'"
He reasoned that despite Ryan's evil ways, his twin Kevin would still see it as "a death in the family." Lindstrom explained that he played the part "as if there's a realization that this person is never coming back, which is what I think happens when you lose a family member, and that kind of hits you." Lindstrom also praised Alley Mills and Maura West for their willingness to find what truly brings the characters to life and said he'll miss Ryan's interactions with them.
Luckily, the talented actor will still be on "GH," playing the much more stable Kevin Collins.