Why You May Want To Steer Clear Of Matte Lipstick If You Have Mature Skin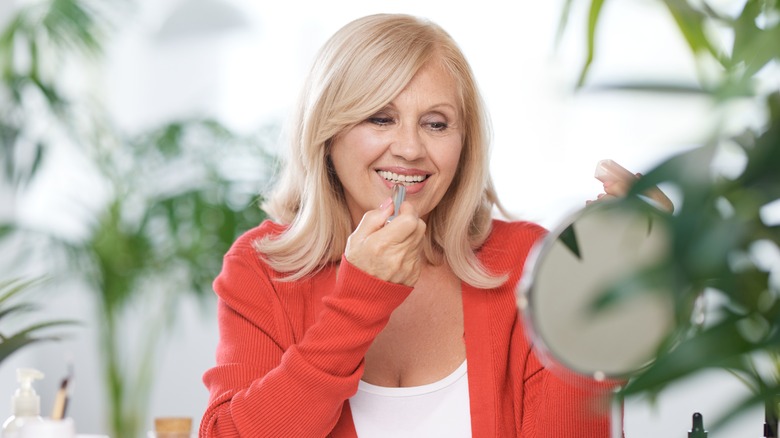 Milan Ilic Photographer/Shutterstock
No matter what you do to keep your skin supple and youthful, it's a fact that skin changes as you age. Subtle changes occur as early as your twenties and continue with each passing decade. By your 30s and 40s, you may notice fine lines around your eyes and when you smile. These changes occur from losing fat underneath the skin and the skin's decreased elasticity and volume (via WebMD).
However, there are various types of treatments available today, from topical creams and gels to professional dermatological intervention in the form of peels, lasers, and even surgery. While none of them can truly erase time, there are simpler ways to boost the texture of your skin with lifestyle changes. It helps to drink plenty of water to hydrate your skin, eat nutrient-dense food, and avoid foods that will inflame, like excess salt and sugar, which puff up delicate facial skin.
When it comes to makeup, you'll want to avoid one of the biggest makeup mistakes that make you look older, wearing harsh black eyeliner, and instead go with a softer brown. The right lipstick can be a lifesaver, but it's important to avoid wearing matte lipstick, especially a particular type.
Why mattes are no good for aging lips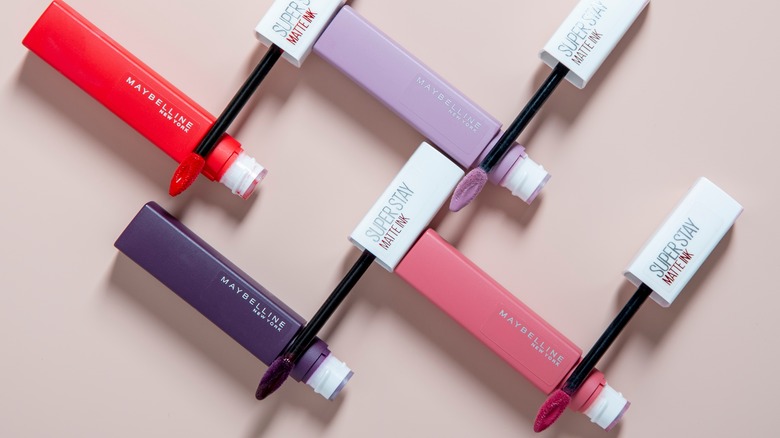 Katerina Dalemans/Shutterstock
Another inevitability of aging is that your skin loses moisture. Your body needs extra care to ensure you get enough fluids as you age, and the same goes for your skin. Skin tends to become more dry, worsening fine lines and wrinkles.
To get lustrous-looking lips, keeping them moisturized is vital. That's why you should avoid matte lipstick. Mattes are drier than regular lipsticks, something you may notice right away because when you roll matte lipstick across your lips, you may notice that it appears dry instantly. That's one reason why the long-lasting, all-day matte lipsticks that are so popular on the market today come with a clear glossy after coat.
"Many of the long-wear matte lipsticks are very drying and will draw attention to the dryness of the chapped lips," makeup artist Margina Dennis tells SheFinds. "The alcohol that aids in the dry down and the silicone which helps to give the long wear formula staying power also draw moisture out of the lips and don't allow moisture to penetrate, causing further dryness."
How to keep mature lips looking vivacious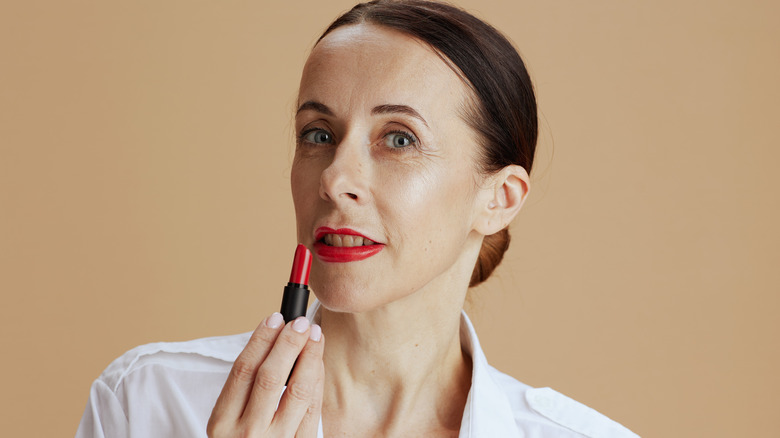 Centralitalliance/Getty Images
Getting your lips in the best shape possible starts with what happens before you apply lipstick. You need to make sure your lips stay hydrated on a regular basis. Once lips get chapped, they flake, and no lipstick will look good over dry lips.
To prevent dry lips, exfoliate your lips once a week. You don't need to necessarily buy an exfoliator and can easily use a washcloth to brush away the dry flakes, though many scrubs are available that do a good job, too. Once lips are exfoliated, apply a hydrating and nourishing lip balm, ideally one that contains ingredients that boost aging lips. Dermatopathologist Dr. Gretchen Frieling tells Good Housekeeping, "Look for hyaluronic acid, peptides, and fatty acids like cer­amides."
When choosing a lipstick, you don't have to skimp on lasting power just because you chose a cream-based version. Select one that is creamy, hydrating, and is also long-lasting. Additionally, many lipsticks now contain vitamins, including B vitamins which help protect against lips becoming chapped, and vitamin E, which is deeply hydrating and nourishing for the lips and makes them appear smoother but smoother plumper.