Kate Middleton & Meghan Markle: A Complete Timeline Of Their Feud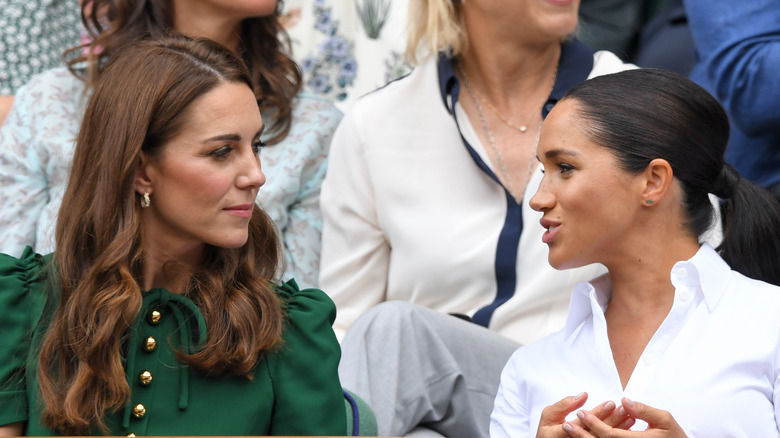 Karwai Tang/Getty Images
If you're bracing yourself for impact when it comes to a complete timeline of Kate Middleton and Meghan Markle's feud, you're not alone. From the get-go, the public — and certainly the royal family — wanted the two wives of Prince William and Prince Harry to not only get along but to be attached at the hip. Two duchesses working side by side, swapping outfits and royal life tips, raising their children together under the guise of the monarchy — it all sounds rather quaint. The two couples even earned the nickname "The Fab Four," and for a time — at least from the outside — it looked as though they lived in harmony with one another. The reality, as we have learned with time, was far from ideal.
Rumblings of tension between William and Harry started plaguing the headlines as the two brothers didn't see eye to eye when it came to the firm protecting Kate in ways Meghan wasn't granted — naturally a reported feud between the two women quickly followed. The two couples became increasingly at odds with one another, and by the time Harry and Meghan stepped down from royal life in January 2020, it was clear from photographs alone that things were not cordial between them all. Since then, interviews, books, and documentaries have further shed light on just how tense things became. So, brace yourselves and get ready to relive some royal drama, because this is Kate and Meghan's complete feud timeline.
William and Kate expressed concern about the timing of Meghan and Harry's relationship early on in 2017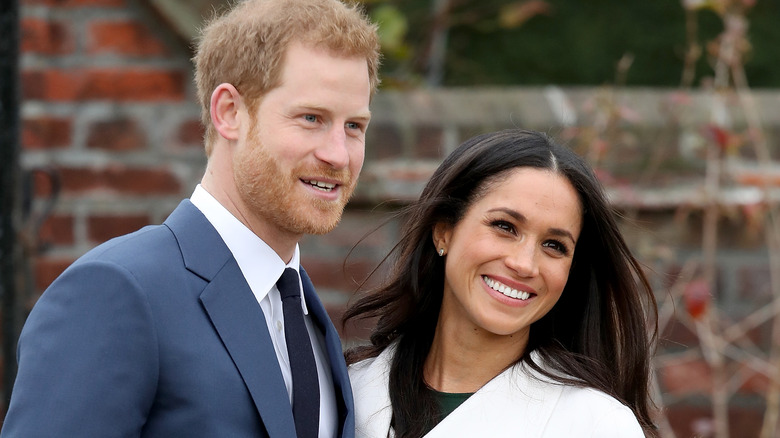 Chris Jackson/Getty Images
Royal watchers following the family for quite some time will be the first to tell you that Prince William caught quite a bit of flack for stringing Kate Middleton along. The two were on again, then off again, and by the time they were on again Kate had gained the nickname "Waity Katie." It was years before they got engaged and tied the knot, presumably because William took his role as heir to the throne — and his wife's role alongside him — into intense consideration. As for Prince Harry, his royal role has almost always excluded the chance of becoming monarch, and as such, he went about his dating life with more ease. When he and Meghan Markle were first introduced, things between them moved fairly quickly — the speed of their relationship was the first issue that William vocalized.
Things came to a brief head in 2017 when Harry confronted his brother and Kate about their reservations and hostility toward Meghan. "Harry felt William wasn't rolling out the red carpet for Meghan and told him so," said royal expert Katie Nicholl of the first hurdle in Kate and Meghan's falling out (via Marie Claire). "They had a bit of a fall out which was only resolved when [then-Prince] Charles stepped in and asked William to make an effort. That's when the Cambridges invited the Sussexes to spend Christmas with them."
Things began to go downhill in 2018 when Harry and Meghan moved out of Kensington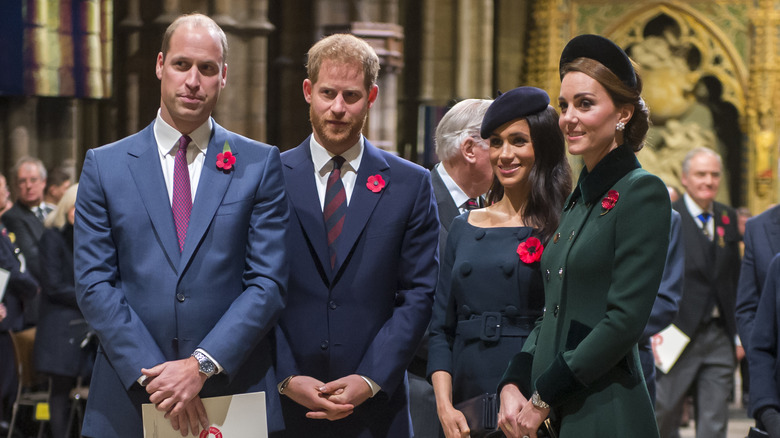 Wpa Pool/Getty Images
Royal residences are spread across both London and the United Kingdom as a whole, and the primary estates that many royals occupy include Buckingham Palace and Kensington Palace. Before their move to Windsor, Prince William and Kate Middleton made Kensington their home for years, living on the grounds with their children and creating a home there. When Prince Harry and Meghan Markle got married, they also moved to Kensington and the two brothers and their wives became neighbors. It seemed as though everything was moving in a positive direction for the Fab Four at this junction, but behind closed doors, things were getting icy between Kate, Meghan, and the two royal brothers.
Whispers had started making the rounds about the tension between Kate and Meghan, and when the Sussexes announced their intentions to move out of Kensington and into Frogmore Cottage, it was taken as a sure sign that relationships were going downhill.
"The Duke and Duchess of Sussex will move to Frogmore Cottage on the Windsor Estate ... [their] office will continue to be based at Kensington Palace," a spokesperson for them said at the time. However, a source told the Daily Mail amid the move that "Harry and Meghan don't want to live next to William and Kate and want to strike out on their own."
The bridesmaid dress fiasco in 2018 firmly placed a wedge between Kate and Meghan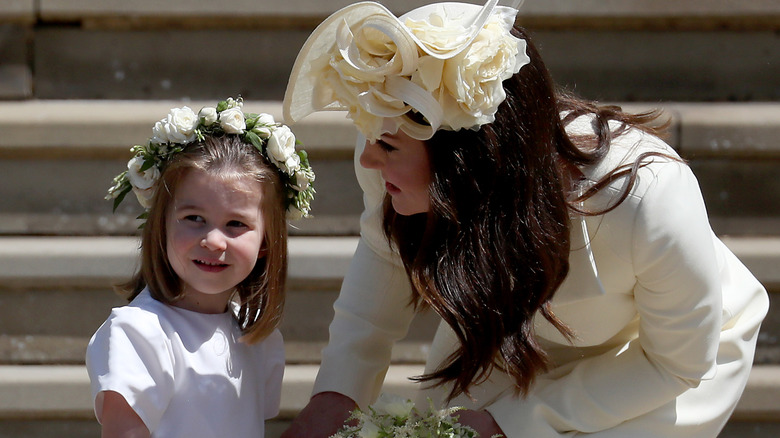 Wpa Pool/Getty Images
Where to even begin with the bridesmaid dress fiasco? Well after Prince Harry and Meghan Markle's wedding and their move from Kensington to Frogmore, a story came out in the Daily Telegraph that shed light on a truly royal row between Kate Middleton and Meghan ahead of Harry and Meghan's wedding. Following royal tradition, Meghan's bridesmaids were young children, and one of them happened to be Princess Charlotte, Kate and Prince William's daughter. According to the report — made legitimate at the time by royal correspondent Camilla Tominey — Meghan made Kate cry during a bridesmaid dress fitting that involved the young princess.
As the initial story went, Kate was under the impression that Charlotte and her fellow bridesmaids would wear tights under their dress, as that was royal protocol. Meghan, on the other hand, didn't think that tights were necessary and didn't want the young girls to wear them. What started as a small disagreement between the two women reportedly spiraled into a huge argument, with Kate left in tears — as initially reported. The headlines didn't come out until six months after the wedding, and Buckingham Palace did nothing to either correct the narrative or protect Meghan from an increasingly volatile royal rota. The argument quickly became the wedge that firmly separated the sisters-in-law.
The two appeared to put aside their differences for the cameras in 2019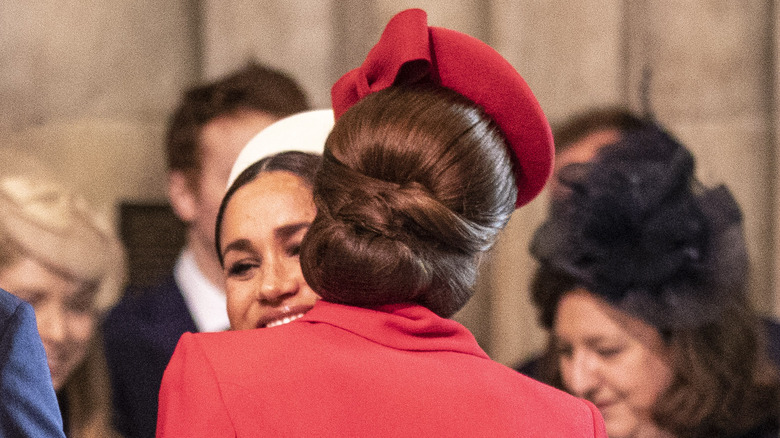 Wpa Pool/Getty Images
Despite the move from Kensington on Prince Harry and Meghan Markle's part and the bridesmaids' dress story that was ripping through the headlines, Meghan and Kate Middleton appeared to put their differences aside in March 2019 amid the Commonwealth Day celebrations. As Kate made her way through Westminster Abbey, she greeted Meghan with a kiss on both cheeks, and a palace source later shared that the warm welcome in such a public setting was deliberate. Kate was under the impression that such a display of warmth between her and Meghan would squash reports of a feud, but if anything, it brought more attention to the rumored distance between the sisters-in-law.
Commenting on the nature of their relationship at this time, royal expert Katie Nicholl shared that while the exchange was certainly thawing the icy tension, Kate and Meghan would never share the kind of relationship that Harry — and the public at large — wished for.
"I had heard that while Harry was very keen for the two of them to become best friends, there was never that sort of a friendship," Nicholl said (via Glamour). "They quite quickly realized they were two pretty mature women — quite different women — and really the only thing they had in common was they'd married princes. Not just Prince Harry, I think probably the world wanted them to become best friends."
Meghan and Kate's joint appearance at Wimbledon in 2019 was reportedly a PR move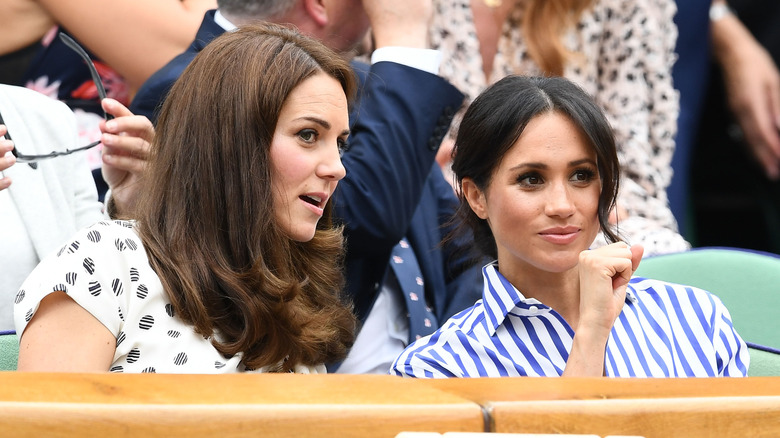 Clive Mason/Getty Images
By July 2019, it was clear that Kate Middleton and Meghan Markle were trying to put aside their differences for the greater good of the monarchy. The reported feud between both them and their husbands was heating up in the headlines, and a few choice outings made it obvious that they were trying to control the damage. In a joint outing that captured the attention of just about everyone, Kate and Meghan attended Wimbledon together, with royal expert Katie Nicholl telling ET at the time that the intention was to "hopefully put to rest the rumors that Kate and Meghan don't get along because they certainly look like two duchesses who had plenty in common."
Shortly thereafter, Meghan and Kate were seen together once again, this time with their husbands and children at a polo match. Such an obvious display of family unity was "very calculated and deliberate," Nicholl said, noting that the polo match seemed to calm concerns about the feud.
"We hadn't expected the duchesses to turn up with their children [at the polo match]," Nicholl said at the time. "The fact that they did is a wonderful treat for royal watchers, but I think those candid pictures were quite deliberately intended to snuff out those rumors of the feud between the foursome. And you saw them all very close, very happy, very comfortable with each other."
Kate reportedly reached out to Meghan after her heartbreaking interview in 2019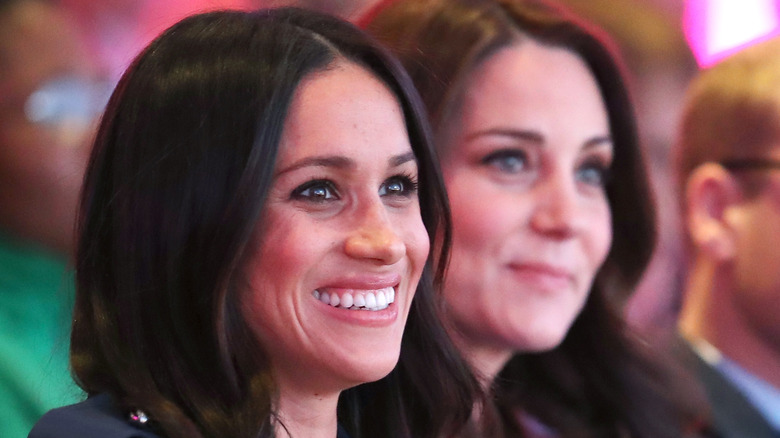 Chris Jackson/Getty Images
Though interactions between Kate Middleton and Meghan Markle squashed feud rumors in 2019, things were not ideal behind closed doors. Meghan's mental health due to the ongoing press scrutiny, the lack of support from the palace, and the pressures of raising a child in the public eye had taken a turn for the worse and brought an unexpected light to her struggles during an interview with ITV (via YouTube). When asked if she was alright, Meghan agreed that she was "not really okay." Her honesty was a rallying cry that things were not going well for her as a member of the firm, and according to royal author Phil Dampier, her message sparked Kate into action.
"Behind the scenes I'm told Kate is doing her best to bring everyone together and help Meghan," Dampier told Express at the time. "None of them want to let the queen down so Kate is trying to patch things up in private. I'm told she has reached out to Meghan and spoken to her on the phone. Kate feels sorry for her and knows that Meghan is struggling."
Despite any reported efforts, however, the firm and the press offices at large that worked with the royal rota continued to feed Meghan to the paparazzi wolves. By the end of 2019, she and Prince Harry had reached a breaking point in their relationship with Kate, Prince William, and the royal structure as a whole.
Things went from bad to worse between Meghan and Kate amid the royal exit in 2020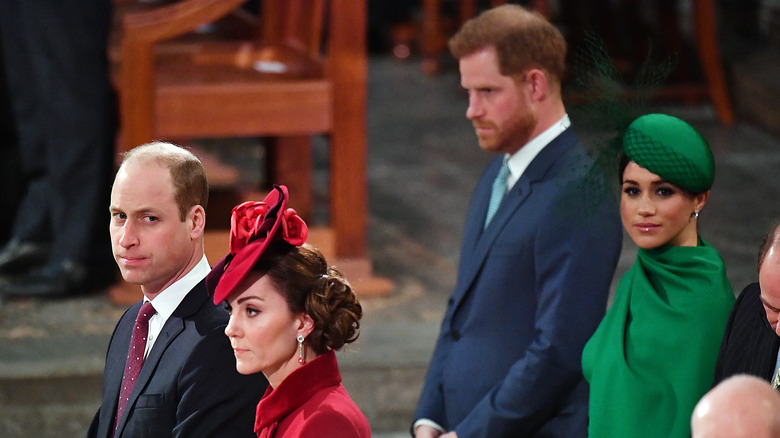 Wpa Pool/Getty Images
Though the signs were there, it still came as a shock when Prince Harry and Meghan Markle announced that they were stepping down from their roles as senior royals. It was January 2020, and despite years of trying to navigate the firm, pleading with press offices to protect Meghan, asking for institutional support, and more, Harry and Meghan were done. When it came time for Commonwealth Day 2020, the celebration marked the last time the Fab Four would be together — they say a picture is worth a thousand words, and Kate Middleton did not hide her disdain for Meghan and her brother-in-law.
Stepping in to "defuse the situation" as things were even tenser between Harry, Meghan, and Prince Charles at the time, Prince William and Kate sat with the Sussexes during their last event as senior royals, but the tension was palpable. According to Katie Nicholl, Kate was especially struggling with Harry and Meghan's decision to leave the firm, noting that she was heartbroken that Meghan had disrupted the trio mentality shared before she came on the scene.
"[Kate] didn't look overjoyed. To be honest I think Kate has taken it all badly. She, Harry, and William were once such a happy trio, she thinks what has happened is all very sad," Nicholl said at the time (via StyleCaster).
In 2020, Kate was apparently mad about her increased workload since the Sussexes stepped away from their duties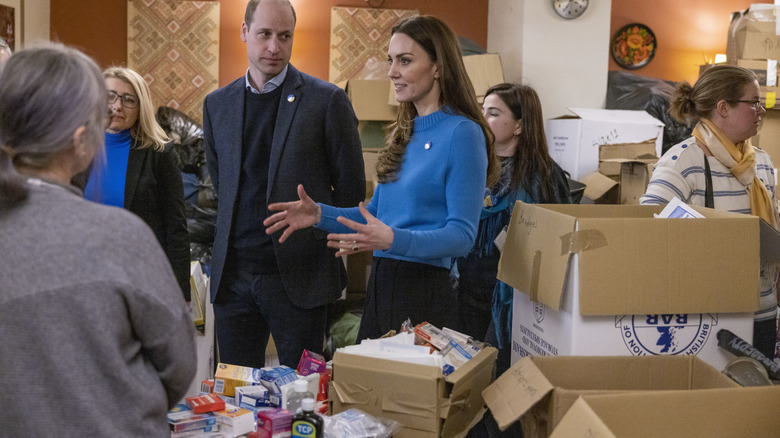 Wpa Pool/Getty Images
One of Prince Harry and Meghan Markle's biggest points of contention with the firm was that the press offices rarely, if ever, stepped in to correct false reports about Meghan. When Meghan and Harry stepped back from royal life and the feud between Meghan and Kate Middleton was at a high point, a story was published by the British magazine Tatler that painted Kate in a rather negative light. The story, titled "Catherine the Great," asserted through an anonymous source that "Kate is furious about the larger workload" created by Harry and Meghan's departure (via Insider). "She feels exhausted and trapped," the source said. "She's working as hard as a top CEO ... without the benefits of boundaries and plenty of holidays."
Such a report about Kate, her feud with Meghan, and her attitude toward royal life as a whole definitely rubbed Kate the wrong way. In a surprising move — especially given the palace's lack of action regarding stories about Meghan — a palace spokesperson refuted the story and said that Kensington Palace was not given the opportunity to comment before publication. However, Tatler's Editor-in-Chief, Richard Dennen, stood by the reporting with his spokesperson saying at the time: "Kensington Palace knew we were running the 'Catherine the Great' cover months ago and we asked them to work together on it" (via Insider). Yet another nail in the coffin.
The 2020 book Finding Freedom shed more light on Meghan and Kate's dynamic behind closed doors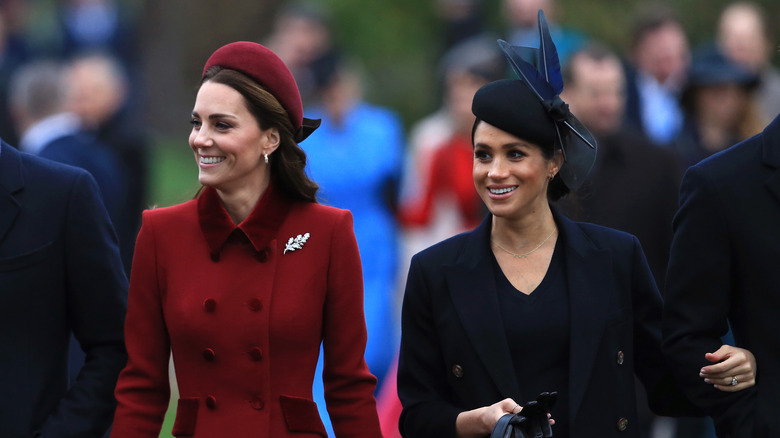 Stephen Pond/Getty Images
To say that 2020 was a stressful year is definitely an understatement. Kate Middleton and Meghan Markle's relationship was in tatters, and with more and more light being shed on their dynamic behind closed doors, Kate was certainly on defense. Things took a turn for the worst when the book "Finding Freedom" by Omid Scobie and Carolyn Durand was released. Though Prince Harry and Meghan denied having any involvement with the book, "Finding Freedom" included intimate details about the royals' lives while still members of the firm. The authors even took aim at Meghan and Kate's relationship, writing: "Though it was not necessarily her responsibility, Kate did little to bridge the divide" (via People). Further detailing that Kate and Meghan "were not at war with each other" during their joint lives as royals, "awkward moments" plagued their relationship.
To make their estimations sting even more, Scobie and Durand asserted that the only thing Meghan and Kate had in common was "the fact that they lived at Kensington Palace." In the wake of the book's release, royal author Andrew Morton told New Idea that Kate was left reeling and was "devastated" by the book, firmly placing an even larger wedge between her and Meghan — if that was even possible.
Meghan shed new light on the bridesmaid incident during her 2021 interview with Oprah Winfrey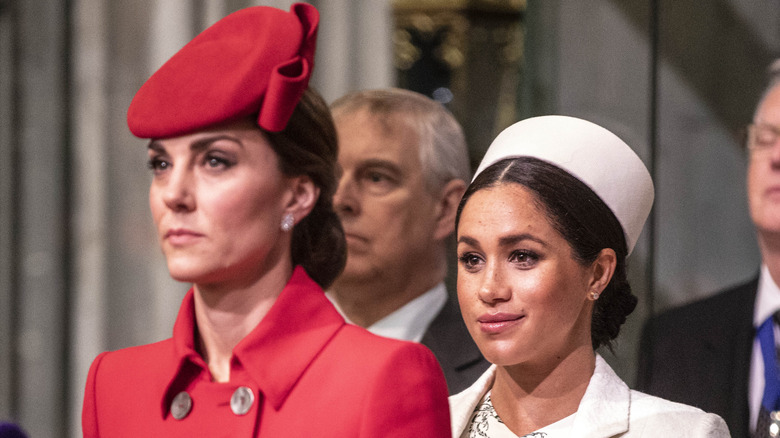 Wpa Pool/Getty Images
The bridesmaid incident truly is the aspect of Meghan Markle and Kate Middleton's feud that is never-ending. After the initial report pegged Meghan as the instigator and Kate as the victim, nothing was done to correct the narrative. When Meghan finally sat down with Oprah Winfrey in 2021 for an explosive interview, she gave a new take on the situation. "A few days before the wedding, [Kate] was upset about something pertaining to ... flower girl dresses. And it made me cry, and it really hurt my feelings," Meghan said (via Harper's Bazaar). "I don't think it's fair to her to get into the details of that, because she apologized. And I've forgiven her. What was hard to get over was being blamed for something that not only I didn't do, but that happened to me. And the people who were part of our wedding going to our comms team and saying, 'I know this didn't happen.'"
In the wake of the interview and Meghan's retelling of the famous story that arguably kickstarted their feud, Kate was said to be both "mortified and saddened" by Meghan's decision to air the truth about the argument. "Kate felt it was all sorted, so to have it brought up again was mortifying. Kate is not in a position to respond and Meghan and Harry know that," royal expert Katie Nicholl told OK! at the time.
The couple's 2022 Netflix documentary brought another layer of complication to the relationship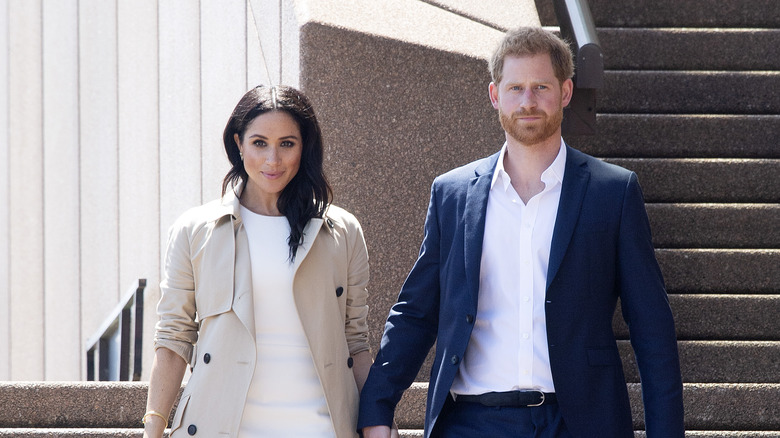 Pool/Getty Images
The longer Prince Harry and Meghan Markle were outside of the firm, the more they became willing to share what really happened with members of the royal family — causing a bigger headache and a more ferocious feud between Meghan and Kate Middleton. By the end of 2022, Harry's book, "Spare," and the couple's Netflix docu-series were gearing up to shed even more light on the inner workings of the royal family, and Meghan dished about her interactions with Kate on-camera.
"Even when Will and Kate came over, and I had met her for the first time... They came for dinner, I remember I was in ripped jeans and I was barefoot," she said during the Netflix docu-series, released in late 2022. "I was a hugger, always been a hugger. I didn't realize that that's really jarring for a lot of Brits. I guess I started to understand very quickly that the formality on the outside carried through on the inside. That there is a forward-facing way of being."
Kate, meanwhile, was not a fan of this narrative about her and quickly retaliated. Shortly after Meghan's on-camera admission, a friend of the princess' told People: "Kate's a big hugger. She is warm and friendly and greets everyone with a big hug and kiss. It comes naturally to her to be like that." Clearly, the war was not at all close to being over.
Experts have since weighed in on the two couples and where their relationship stands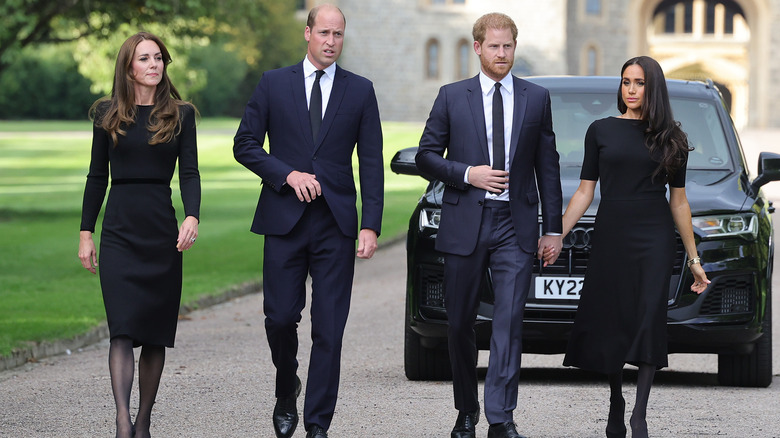 Chris Jackson/Getty Images
So where do things stand between Kate Middleton and Meghan Markle as of 2023? Well, according to biographer Tom Quinn, the feud between the two women and the tension with Prince Harry as a whole has pushed Prince William and Kate together in a unique way. "You're never closer than when you have a perceived enemy — 'enemy' is probably too strong a word — but they will feel that not just that they're under attack, but that they're more isolated," Quinn said (via Newsweek). "There's always this difficulty with someone that's far enough away to make criticisms, and clearly has a taste for making criticisms, that seems very unlikely to end."
Meanwhile, the two couples have not been seen together since their famous Windsor walkabout in the wake of Queen Elizabeth II's death in September 2022. In a shocking turn of events, William invited Harry and Meghan to walk the grounds with him and Kate and greet royal mourners — at the 11th hour. The Sussexes took him up on the invitation, and the public was welcomed with a sight that had not been seen in some time. Of course, much attention was paid to the body language shared between the couples — both individually and with each other — and it was clear that William and Kate followed royal protocol to a tee, whereas Meghan and Harry maintained their relaxed approach.