How To Dress For Jury Duty (And Embrace Your Inner Elle Woods)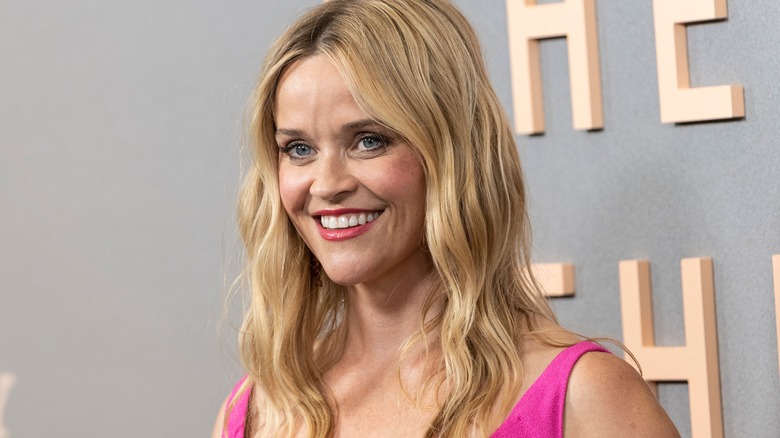 lev radin/Shutterstock
Let's be real — getting a jury duty summons is kind of a downer. Most people don't exactly love being told that they have to rearrange their schedule and spend their day in a courthouse. However, there is a hidden bright side to receiving that letter, and that's the fashion challenge that comes with it! If you have to make an appearance in court, you might as well do it in style. There are a variety of different ways to channel your inner Elle Woods from "Legally Blonde" and have a main character moment on jury duty day. After all, Woods kind of crushed her day in court with the right (very pink) ensemble.
It's a good idea to take some time before your date comes up to explore outfit options that make you feel like your best authentic and professional self. Whether you're more drawn to more traditional or edgy and daring looks, we have some en vogue suggestions for you to peruse.
Be cozy in a sweater or sweater dress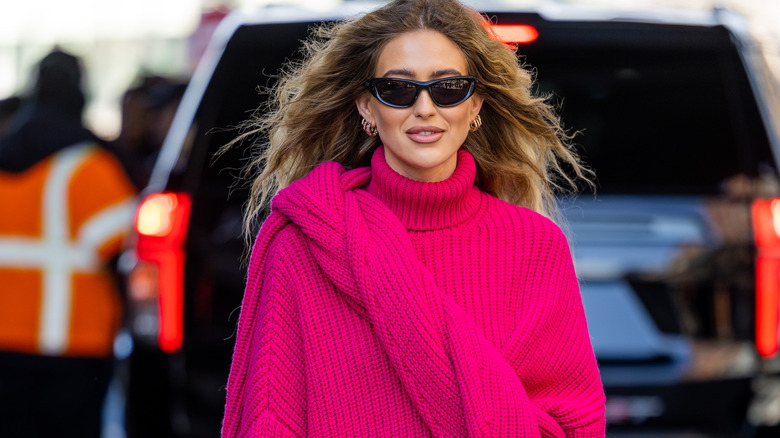 Christian Vierig/Getty Images
Sweaters may have a place at home by the fire, but they also have a whole other professional personality. It all depends on how they're styled. If worn the right way, a sweater or sweater dress in court can say, "I'm calm, focused, and taking this seriously." Wear a belt with a sweater dress to add just the right amount of spunk to the outfit, and pair a skirt and heels with a sweater to make it more formal.
Go simple in a solid dress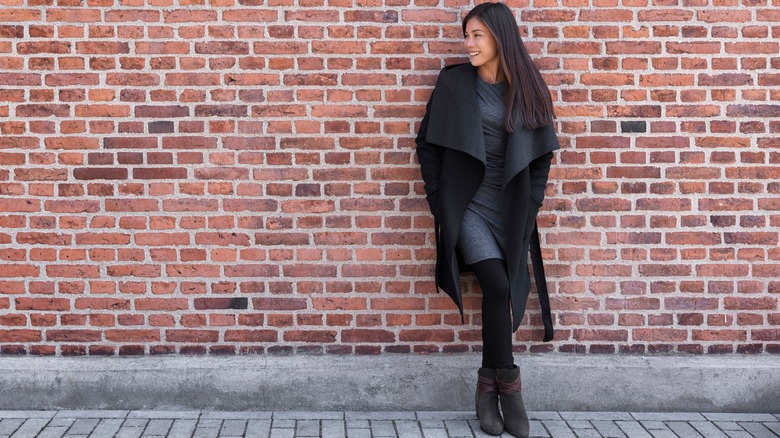 Maridav/Shutterstock
A solid dress in the color of your choosing offers a nice balance of stylish and serious for the occasion. For a professional effect, try one in green, blue, or brown that goes close to your knees or below. The fun of simple dresses is that they can be accessorized in all kinds of ways. Before your court date, take some time to experiment with jewelry, a blazer or jacket, and heels, wedges, or boots to see what feels right for you.
Throw on a black leather jacket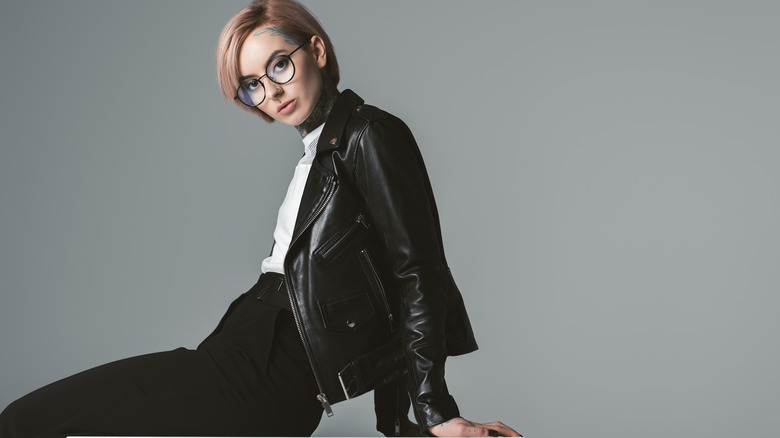 Lightfieldstudios/Getty Images
Nothing says chic, professional, and playful all at the same time like a classic black leather jacket does. The versatile accessory can be paired with a dress, a blouse, pants, a T-shirt — whatever makes you feel the most confident and courtroom-ready. The great thing about a leather jacket is that it's also perfect for wherever you're headed before or after jury duty; whether you're going to work, taking a walk, or having a girls night, this cute addition to any outfit is tried and true.
Have a power suit moment
A suit, especially a white one, is a statement on women. If you're looking to feel powerful and beautiful, this option might be an excellent choice. Wearing all white is more than just a sharp and gorgeous look, too — it's also historically a symbol of female solidarity (via Teen Vogue). That's always a positive message to send whether it's jury duty day or any other day. You can pair a white suit with a white or black button-down top and some black heels or other formal shoes.
Slip on some penny loafers
If there was ever a perfect dress shoe for court or any other professional occasion, it's the penny loafer. With this beloved and fashionable addition to your outfit, you don't have to worry about hurting your feet or walking noisily in heels. Not to mention, they complement dresses, trousers, tights, and most other formal wear. Penny loafers vary in the precise height of the heel, and there are a few different colors you can choose from, so go for the ones that call to you.
Wear a court-appropriate skirt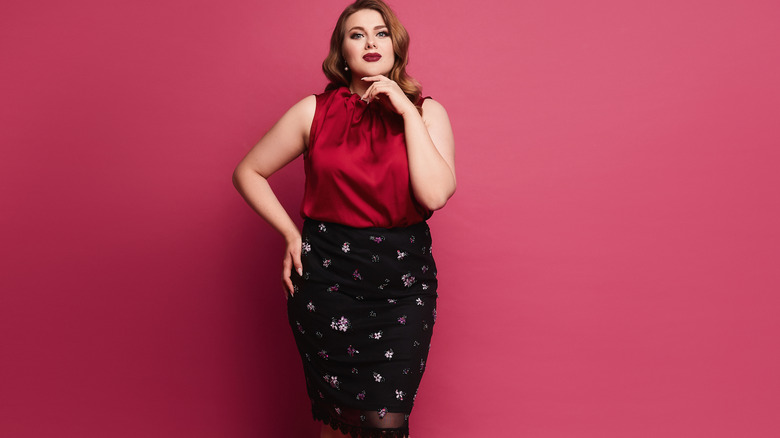 Reviaka Ina/Shutterstock
A skirt plus some tights and formal accessories is an immediate classic look that's perfect for court or the office. Pencil skirts and simple patterned skirts (probably not wild patterns with tons of colors) do the trick here flawlessly. The professional-with-some-edge look is easily elevated by slipping on a pair of heeled boots and a blouse, sweater, or turtleneck. Try out some small hoop earrings or your favorite studs, depending on what matches your vibe and the ensemble the best.
Rock a fun blazer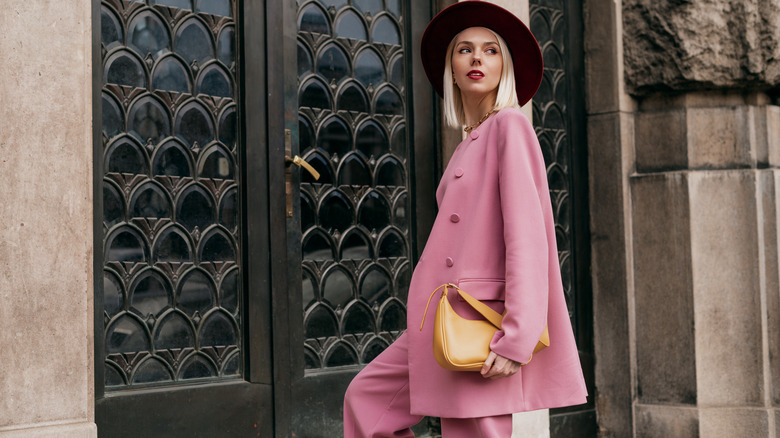 Victoria Chudinova/Shutterstock
Blazers are the best because they take an outfit to the next level and instantly add a smart and powerful energy. They also happen to go well with dresses, blouses, skirts, trousers, jeans, and most types of shoes and heels. Whether you try a traditional gray or black blazer, a fitted or oversized one, or a colorful plaid moment, you're probably headed in the right direction for a successful jury duty outfit. If you have long hair, a bun amplifies the cool blazer effect.
Channel Elle Woods with a colorful ensemble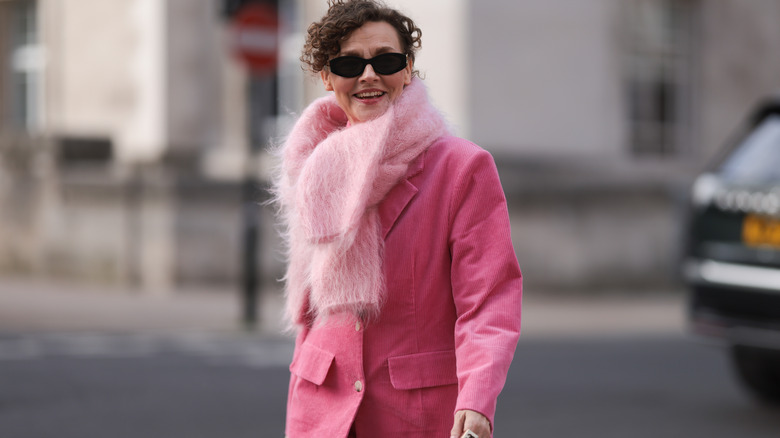 Jeremy Moeller/Getty Images
The infamous (fictional) Harvard Law student is notoriously a big fan of bright pink. While a bit unconventional, Woods styles a pink dress and a sparkly pink sash in her own way when she goes to court — and she does rock it. If you have the confidence and the styling finesse to pull off something a little more bold and unusual, you can opt for the Elle Woods court look. An all-pink ensemble like hers might just be your destiny.
Make a statement with a belt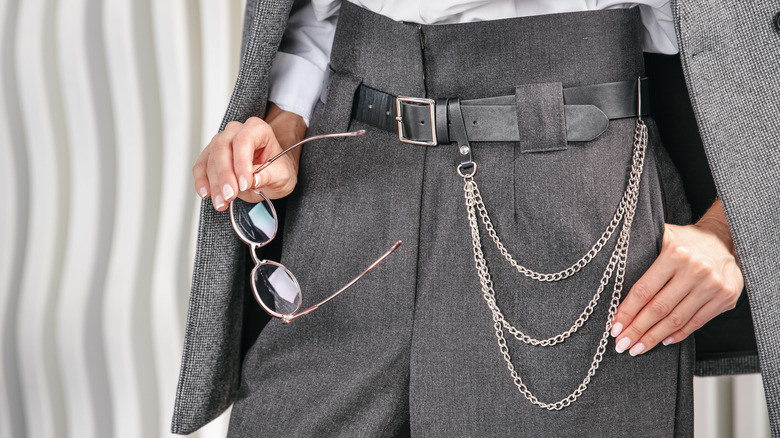 Elena Boltunova/Getty Images
A subtle, professional ensemble may call for one eye-catching addition to spruce up the look. A statement belt is a classy and edgy accessory to consider. If you're wearing a monochromatic outfit, a solid dress, a blouse and dress pants, a sweater and jeans, or a sweater dress, a belt is the ultimate final touch, so long as it matches your color scheme and complements the style of the rest of your outfit. Experiment with a chunky, sparkly, or colorful belt.
Look cute in a matching set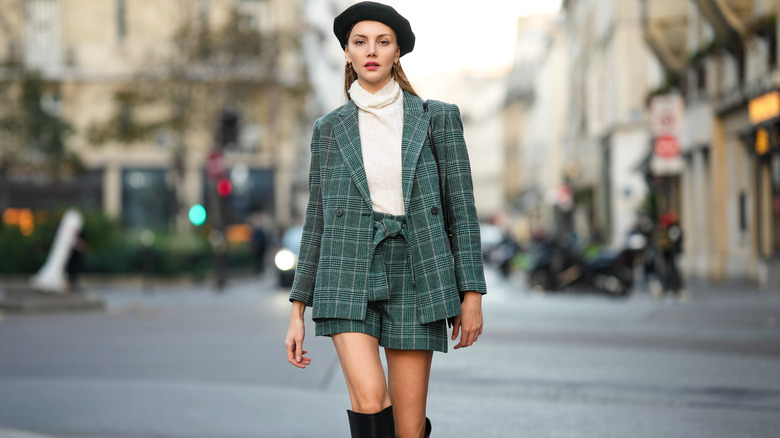 Edward Berthelot/Getty Images
Think Cher Horowitz in Clueless, but a touch more serious-looking. Matching sets are all the rage these days, so opting for one of these is a super trendy choice. This is the way to go if you want to have some fun with a day that's realistically not all that fun. Horowitz's particular shade of yellow may be too much, but any soft, more palatable colors will work just fine. Choose any formal shoes that match your color scheme and you're all set.
Go traditonal with a blouse and dress pants combo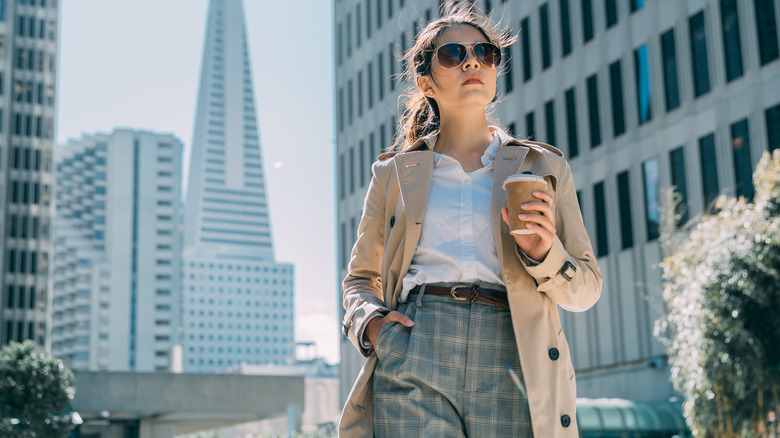 PR Image Factory/Shutterstock
There's always the good old-fashioned blouse and trousers outfit. This option offers lots of flexibility in terms of the fun to simple scale; it's all a matter of the color scheme and style of blouse you choose. Satin and wrap blouses are always chic, and you can't go too wrong with a pair of navy or black trousers. Chunky jewelry and heels or wedges can make the ensemble a little more feminine and playful, or you can make a "less is more" statement with flats and subtle accessories.
Feel fearless in a trench coat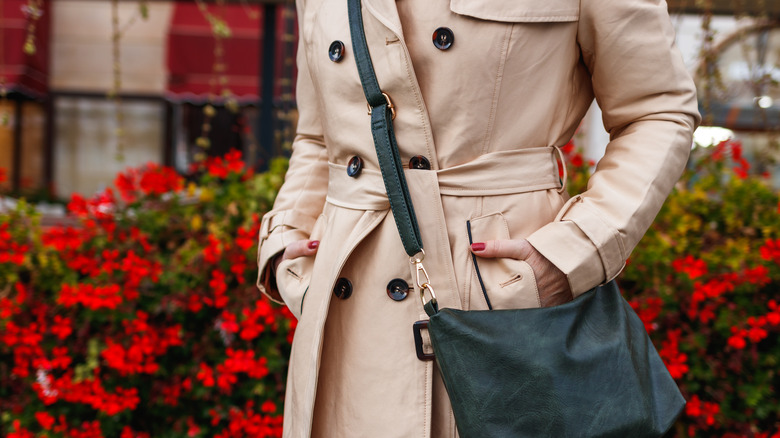 Zbynek Pospisil/Getty Images
Simply put, the trench coat is a power move — assuming the weather is cold enough for one. Trench coats work fabulously with jeans, trousers, skirts, long dresses, and more. While tan is the most common color to find these statement pieces in, you can also find the coats in black and various brighter colors. Before jury duty, throw on a trench coat that best suits your unique personality, and practice walking into court like a pro in the mirror.