The Viral Fabric Glue That Can Solve All Your Wardrobe Malfunctions - No Sewing Required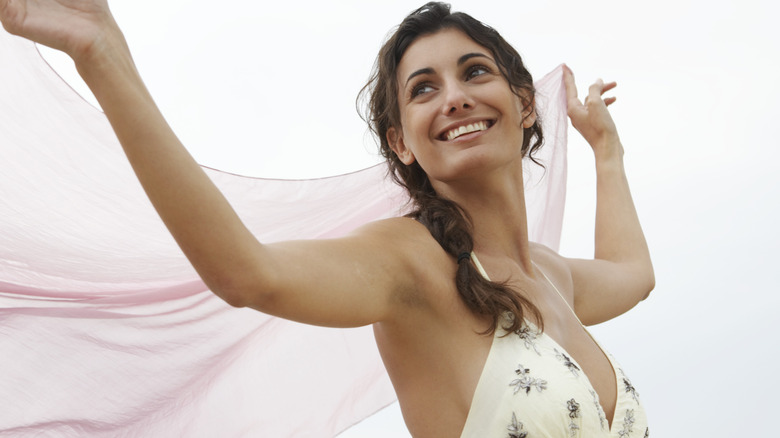 Maria Teijeiro/Getty Images
Whether you're heading out for drinks with friends, attending a show or concert, or getting all decked out for date night at a restaurant, you've probably put a lot of time and effort into choosing an outfit that exudes class and confidence. But if we're being honest, it's not always easy to achieve exactly the look you're aiming for. Nailing the perfect skirt slit and getting a scarf top to sit (and stay) right can be quite a battle. That's why we tend to opt for double-sided tape to secure chic garments to the skin. And while it's effective enough, double-sided tape has an undeniable downfall: Ripping off the tape at the end of the evening can be really painful. Fortunately, a new viral product from Sydney, Australia offers a solution to this long-running problem. We just might be entering a golden era of no more agonizing tape and no more mortifying wardrobe malfunctions!
What is CLUTCH?
The founder of CLUTCH, Annabel Hay, was inspired to create this exciting product because like so many women, she didn't see a proper way to ensure her outfit stayed put. She decided to take matters into her own hands by founding CLUTCH, an adhesive that "allows you to bond with your clothes like never before." The all-vegan clothing glue is hypoallergenic, water-soluble, and sweat-resistant. 
According to the company, the product is safe for sensitive skin and conveniently washes right out of clothes after use. You can apply it anywhere on your skin and use however much you need. It also comes in 100% recycled and recyclable packaging, making it a more sustainable choice than fashion tape, which generally requires single-use plastic. Hay developed the adhesive over the course of four years and believes it to be "a more reliable and effective alternative into a largely uninspired and unchartered business sector."
How to use it
To effectively use CLUTCH, begin by applying just a little bit to the area of clean and dry skin where you want your clothes to stick. After you've done that, wait about 30 seconds until it starts to feel sticky. The next step is to press your chosen garment onto the sticky area and try not to move too much for 10 minutes or so. (The product will be more effective as more time goes by.) And that's really all there is to it!
By following that simple process, you can enjoy wearing bike shorts, skirts and dresses with splits, tricky tops, and more without fearing any kind of wardrobe malfunction or an unpleasant undressing experience later on. Give it a try the next time your clothing is giving you a hard time. You deserve to have your clothes fit perfectly and to feel like your best self!