The Wardrobe Malfunction That Once Exposed A Contestant On The Price Is Right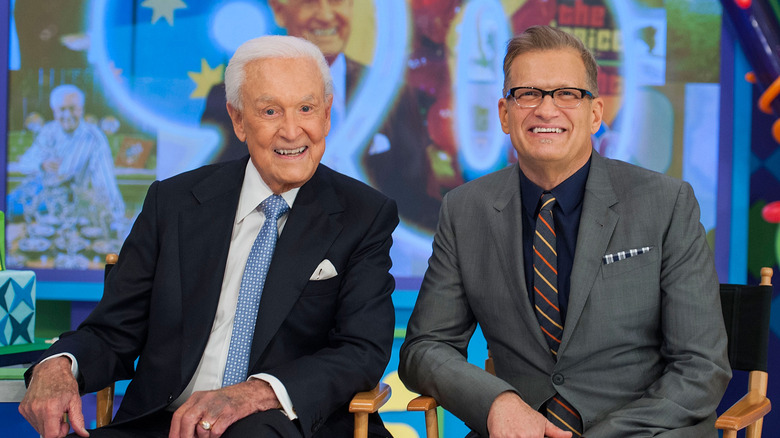 Valerie Macon/Getty Images
Every woman knows that a windy day and a cute flouncy skirt are mortal enemies. Ditto for low-rise jeans without a belt. But we've all been there before. Sometimes the weather just decides that day it's going to be against you and your fabulous outfit, and suddenly you're mooning the entire street with a passing gust of wind. Even though we can't always avoid wardrobe malfunctions in public, at least we have the comfort of knowing that most people will forget seeing your rear after a minute or two. But what if that moment was captured on television and in front of a live audience?
This is exactly what happened to one contestant on everyone's favorite game show "The Price is Right." We can't imagine a soul who's been told to "come on down" that hasn't gone wild with excitement. Just think back on the last episode you caught — how many people were nearly crying tears of joy when their name was called? Unfortunately for this unlucky contestant, her excitement at being called up landed her a noteworthy spot in "The Price is Right" history.
Her tube top slipped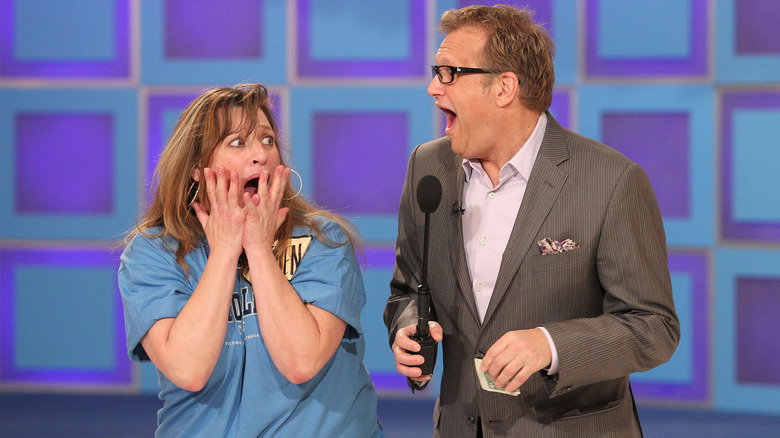 Frederick M. Brown/Getty Images
During a 1977 airing of an episode of "The Price is Right," it was everyone's favorite part of the show, especially if you are part of the live audience. It was time for the next round of contestants to be called up for a chance to play a game with legendary host Bob Barker. One of the lucky contestants who heard her name announced was a woman named Yolanda. As the crowd erupted into applause at the announcement, a giddy Yolanda jumped up and down and cried happy tears as she made her way toward the stage. We already stated before that a skirt and a windy day don't mix. Another pair that doesn't play nice? Tube tops and excessive jumping. See where we're going with this?
As Yolanda hurried down the steps, the unspeakable happened — her tube top slipped. Yolanda ended up flashing the entire crowd, including a stunned Bob Barker. Talk about creating a whole new definition for "boob tube."
Bob Barker lightened the situation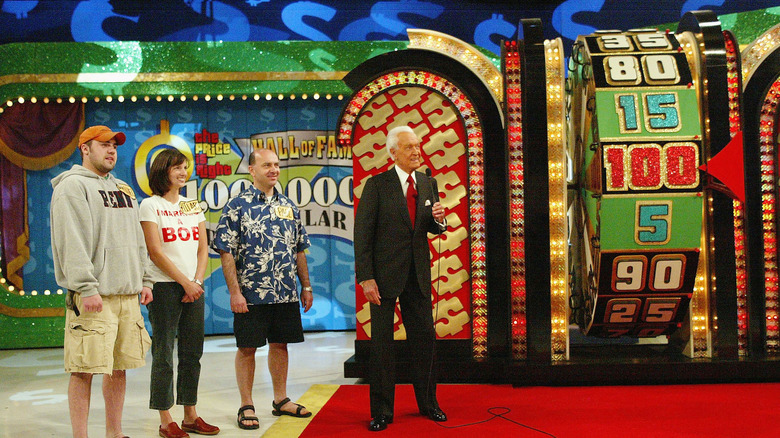 Frederick M. Brown/Getty Images
Fortunately, Yolanda's wardrobe malfunction was censored before the episode aired. Still, flashing the audience members must have been completely mortifying. But Bob Barker, who had been the host of the show for five years at that time, was ready with some jokes that turned an embarrassing situation into television history. Johnny Olson also got in on the fun, saying, "[The contestants] have given their all for [Bob Barker]." And he wasn't talking about the surprising amount of kisses Barker gets from contestants.
You can imagine how mortified Yolanda must have been. Luckily, she was on a show hosted by Bob Barker. The charming, wise-cracking host was quick to jump in and save the day once the crowd had settled down from seeing more of a show than they'd bargained for. But even he was shocked by the impromptu flashing.
"I've never had a welcome like this," Bob Barker announced to the studio audience, who was still giggling over the unexpected show. Barker was visibly still processing what just happened as he gazed around the room with a smile of disbelief on his face. Barker himself has had his share of humiliating moments on "The Price is Right." After hosting a show as insanely popular as "The Price is Right" for 35 years, you're bound to have more than a few mishaps. The crowd-pleasing host, who is now retired, has shown he knows how to make good television out of anything.