Avoid A Fringe Faux Pas With The Viral Hair Hack That Lets You Try Bangs Before Cutting Them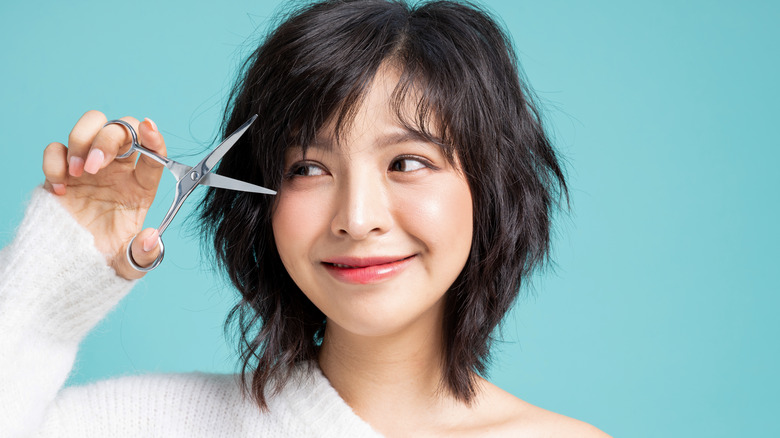 Pixpan_creative/Shutterstock
Bangs are one way to completely change your look, making cutting them tempting to someone looking for a complete makeover. If you find yourself thinking about whether or not you should get bangs, you might be held back because you can't picture them on your face. With the growing popularity of shows like "Wednesday" and "Emily in Paris" starring women sporting bangs and influential celebrities like pop stars Dua Lipa and Taylor Swift rocking timeless styles with fringe, it's no wonder bangs are fashionable and sought-after. 
Luckily, you don't have to just imagine what bangs will look like before cutting them. There's a viral hack that will let you see exactly what you'd look like with different styles of bangs. Utilize the trick before you commit to (and possibly regret) your bangs. There's not much haircut-wise that's worse than figuring out what to do with your bangs while you're growing them back out.
Use the hack to see how bangs will look before making the commitment
To complete the hack, section off the front of your hair, the part that would be your bangs if you cut them. Then, tie them in a small ponytail. Fold the hair back and clip it at the top of your head with a barrette or bobby pin. Fold the ends of the hair back over toward your face until you reach the length you're looking for, and clip them with more bobby pins. Finally, take a hair straightener over the bangs to flatten them to your liking. Lastly, hide all the clips with a headband. Follow TikTok creator Ayse Acun's (@ayseacun) video for a visual reference. 
You can even use the hack to try out different styles of bangs. If the first style doesn't look good on you, you could pull out more hair and try a curtain bang, or more side-swept bang look before deciding which to move forward with, if any. Try to pick the type of bangs that are most flattering for your face shape.
Consider giving clip-on bangs a try
If you're unsure about bangs, you can order clip-on bangs that look realistic and match your hair color. Though they may not match exactly, it's still one way to get a visual of what the bangs will look like on your face without cutting them. Christina Jones, who works in product development at Hair U Wear, tells Bustle, "Clip-in bangs work with all hair lengths and face shapes." 
However, there's a method to apply the clip-in bangs, so they look realistic. Jones advises making sure your hair is in a center part before snapping in the clip-ins. Brush them and style the hair around them as usual, but don't use tools to style the bangs themselves (via Bustle). When you decide to go forward with your bangs, hairstylist Harry Josh tells Allure, "Take off millimeters at a time. You can always cut more."