The Micro Bob Is The Super Short Hair Trend That Gives You A Sleek, Sexy Look
Looking for inspiration before your next trip to the hair salon, but over the '90s and other throwback hair trends that are still going strong? You might want to consider traveling back in time a little more for inspo. Those in the know are taking their style cues from the flappers and silver screen stars of the roaring '20s — specifically, their super-short micro bobs, which are popping up on celebrity style-makers like Emily Ratajkowski, Kaia Gerber, Kourtney Kardashian, and Hailey Bieber.
Short hair has been having a real moment lately, and bobs are no exception. While there are various styles of bob — and their cousin, the lob, or longer bob — from the extreme bob to the stacked bob, and the trendy shaggy bob, the micro bob is a relatively new phenomenon. Essentially, a sleek cut that lands anywhere from the high cheekbone down to the jawline, the micro bob is a daring, fashion-forward haircut that's also relatively low maintenance, since it requires less product and styling time. 
Maybe you want to make the cut because you're all about heading into a new season with a dramatic new look. Or you just got out of a relationship and you're ready to shake things up. In any case, a micro bob might be just the style for you. 
Who should rock a micro bob?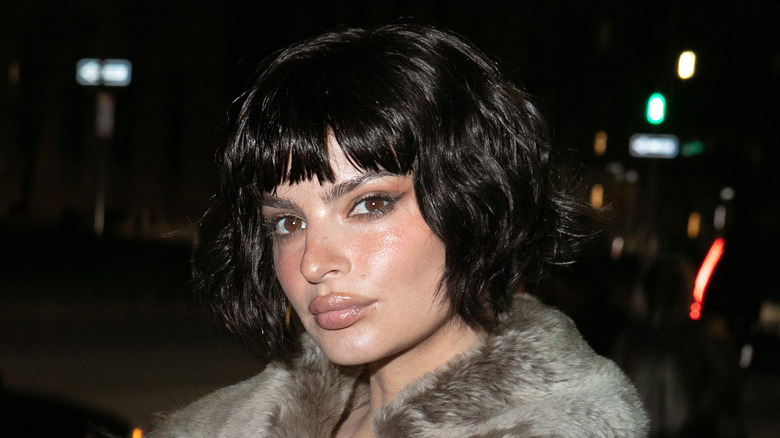 Hippolyte Petit/Getty Images
If you're considering a micro bob, experts advise first considering your face shape. In a Byrdie story about the best bobs for your face shape, Angela Soto, a hairstylist and the owner of Baja Studio in NYC, argued that a layered micro bob is best suited for square-shaped faces. "Because of the strong jawline, this length defines that line, bringing out the beauty of this strong feature as opposed to trying to take away from it," Soto explained. 
Round faces might want to opt for a longer bob, or a lob, while an oval-shaped face would be best suited to a chin-length bob. Of course, if you're really feeling the micro bob, you shouldn't let your face shape stop you. Another reason to consider the chop is if your hair desperately needs a refresh. Jack Hirst, senior stylist at SALON64, told Glamour UK that a micro bob is "a great excuse for girls who want to chop all their damaged hair off." 
How to style a micro bob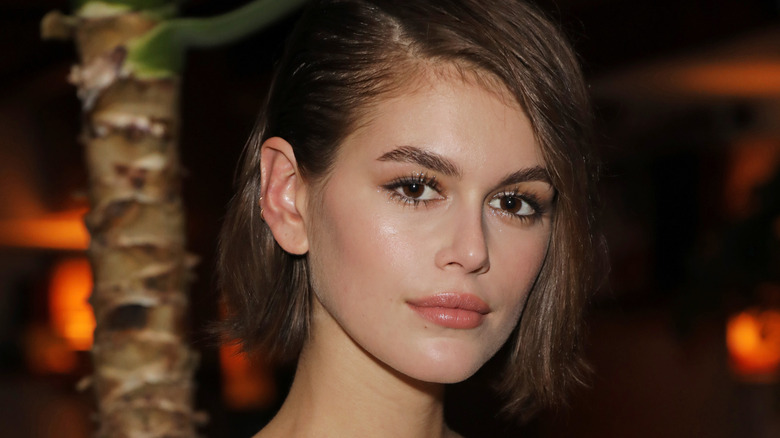 David M. Benett/Getty Images
A micro bob can be very versatile, depending on how it's styled. Texture is key with a micro bob, as is choosing where to part your hair. A side part will give you some extra volume, creating a more tousled, effortless look overall. A bob parted down the middle, meanwhile, can provide a more sleek, Old Hollywood look. Subtle layers and bangs add further dimension to a micro bob. 
While there are some downsides to the micro bob (you obviously won't be able to gather your hair up into a ponytail or bun anymore), there are plenty of bonuses as well. In terms of ease of styling and comfortability, a micro bob requires less product and less styling time, which makes it perfect for those who want to be trendy, but don't want the hassle of long hair. There are also a few styling tricks you can try with your micro bob, like updos and using accessories.
As hairstylist Syd Hayes told Glamour UK, another major benefit is that "The undone nature makes it look flattering and super wearable for every day." He added, "It's great as second-day hair, too, as it's so easy to adapt the texture." If you've ever had the urge to chop it all off, now might be the time.